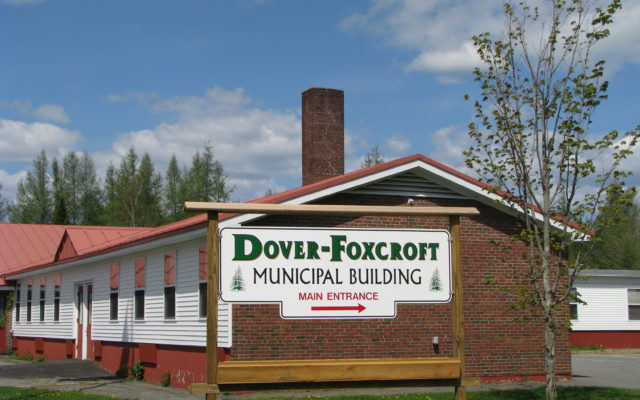 Morton Avenue
The Morton Avenue Municipal Building in Dover-Foxcroft
Dover-Foxcroft Fire Department to receive new air packs
DOVER-FOXCROFT — A FEMA grant seeking monies to replace nearly 20 air packs for the Dover-Foxcroft Fire Department was not successful. With the application being turned down, 19 Scott Air Packs will be purchased as part of a larger $1.4 million funding package for department vehicles and equipment approved during a February special town meeting.
The Dover-Foxcroft Selectboard authorized the purchase of 19 new air packs for $135,788 during a Sept. 27 meeting. This will pay for two additional air packs compared to the 17 that had been sought at an original estimate of $128,3000.
The air packs currently in service are about three decades old and are not as safety compliant as current models. The department applied for FEMA funds but wanted to secure the extra funding in case the application was turned down.
The selectboard also signed financial documents for the fire department vehicle purchases.
"This would just be, I believe, the final vote that we need," Town Manager Jack Clukey said. He said the ladder truck bought earlier in the year is now in service and a new pumper truck to replace a 1999 model purchased new before the turn of the century should be delivered next July.
Clukey said the only thing in question was the air pack funding, which is now in place. 'We will keep trying with that program for the next piece of equipment," he said.
At the start of 2021, Fire Chief Joe Guyotte, Lt. Brian Gaudet and other members of the department began working with three companies to replicate the features and size of the existing pumper truck, and ended up recommending Allegiance Fire & Rescue of Walpole, Massachusetts.
The company is manufacturing a Pierce Enforcer 1500 GPM Top Mount Pumper for $702,965. If all of $682,241 is remitted to the company within 15 days of a fully executed contract and performance bonds, the balance due at delivery will be zero dollars for a savings of $20,724.
Following the 128 to 13 affirmative vote — approximately 90.8 percent — at an early February special town meeting, Dover-Foxcroft officials proceeded with a plan to purchase the new ladder truck..
The vote was for a $1.4 million U.S. Department of Agriculture loan to immediately replace the 1993 ladder truck, and start switching out a 1999 pumper truck with a new, custom model, plus purchase replacement airpacks. Of the $1.4 million, approximately $590,000 is for the ladder truck, $690,000 for the pumper truck and $140,000 for airpacks.
The estimated interest rate is 2.125 percent and the estimated term is 30 years. The maximum interest to be paid over three decades is $507,540 for a combined total cost of $1,907,540.
The motor blew in December in the ladder truck the department has owned since 2015. Due to the age of the vehicle, a replacement motor is difficult to find and even more difficult to obtain a warranty for an extended period of time. New ladder trucks cost more than $1 million.
The 1993 ladder truck had been the only such vehicle in the region, needed to reach the top of the tallest buildings such as The Mill apartments, Foxcroft Academy dorm, Northern Light Mayo Regional Hospital roof, Piscataquis County Courthouse and Piscataquis County Ice Arena.
Gaudet began looking at dealers across the country in early December and a 2012 truck with a 100-foot ladder — which had been in service in Virginia Beach — was located at Brindlee Mountain Fire Apparatus. Guyotte, Assistant Chief Jerry Rollins and firefighter Timothy Perkins traveled to northeastern Alabama to inspect the ladder truck in person.
After some negotiating, a $590,000 price was settled on with the 2012 ladder truck to be delivered to Dover-Foxcroft. The current truck was included in the transaction by being sold for $40,000 and transported south. The newer truck comes with a three-year warranty that covers all components valued at $3,000 or more, and needed warranty work can be performed in Auburn.
In other business, Selectboard member Steve Grammont said the Nov. 2 municipal ballot includes four questions pertaining to adult use marijuana. Four types of establishments are presented separately for consideration: adult use retail marijuana stores, adult use marijuana cultivation facilities, adult use marijuana products manufacturing facilities, and adult use marijuana testing facilities being permitted in certain land use districts.
"It's basically an opinion poll," Grammont said about the four questions. "It sets a policy direction but not actual policy."
Should a majority of residents indicate they are in favor, then policies and ordinances would start to be developed for future town votes. If not in favor, then related measures would not be pursued.
The ballot will also include an article concerning the creation of ATV routes. The ATV article asks "Do you favor having the Select Board create snowmobile and ATV access routes on certain public ways in order to facilitate access to snowmobile and ATV trails?" A favorable vote would allow the Select Board to designate the specific access routes at a later date.
Polls will be open for the referendum vote from 8 a.m. to 8 p.m. Tuesday, Nov. 2, at Morton Avenue Municipal Building Gymnasium.
In July town officials, members of the Dover Rovers ATV Club and the public had a lengthy discussion about a proposed 1,400-foot extension of the current ATV access route on the Foxcroft Center Road. The extension would have lasted through the end of the season. The board did not approve the extension by virtue of a 3-3 tie vote.
A motion containing the Foxcroft Center Road extension, as well as directing the town to work with the Dover Rovers ATV Club to develop a question on ATV access on public ways to be placed on the November referendum, had a 3-3 vote and was not approved.
Clukey said the ATV club is putting together a report for funding to relocate the trail. "They did walk that area and they don't need to pursue any permits," he said.
The town manager said the Dover Rovers ATV Club members are also still talking with some abutting landowners.
About a month after classes began, Dover-Foxcroft officials heard an update on both Foxcroft Academy and the SeDoMoCha School.
"It's been a good start to the school year under pandemic conditions," Foxcroft Academy Head of School Arnold Shorey said. He said so far the secondary school has had just one positive case, resulting in only four people needing to quarantine.
"We haven't lost any games due to quarantine," Shorey said.
He said currently about 83 percent of staff are vaccinated, and around 200 students and employees are taking part in pooled testing. "Students are doing well with the COVID procedures we have to have in place," the head of school said.
Enrollment is up by 5 percent from last year to around 400.
Shorey said the Jim Robinson Field House construction is going well. "The skeleton is up and should be enclosed by winter," he said.
Plans are for the athletic facility to open in about a year for the 2022 Homecoming. Shorey said this weekend will also kick off the Foxcroft Academy Bicentennial. He said a Bicentennial committee, which will include members of the public, will be forming.
RSU 68 Superintendent Stacy Shorey said enrollment in pre-K to grade 8 is 627, 12 more than in 2020-21. She broke this figure down to 330 at the elementary school and 297 for middle school. The middle school enrollment is about 60 fewer than two years ago.
When asked, Shorey said this is partially due to the current fifth grade class being 16 students fewer than last year's grade 8 and likely due to some students continuing with homeschooling.
So far at SeDoMoCha there have been eight positive cases and 25 students quarantining — neither the school nor Foxcroft Academy has needed to switch to remote learning. Shorey said the staff vaccination rate is at 78 percent.