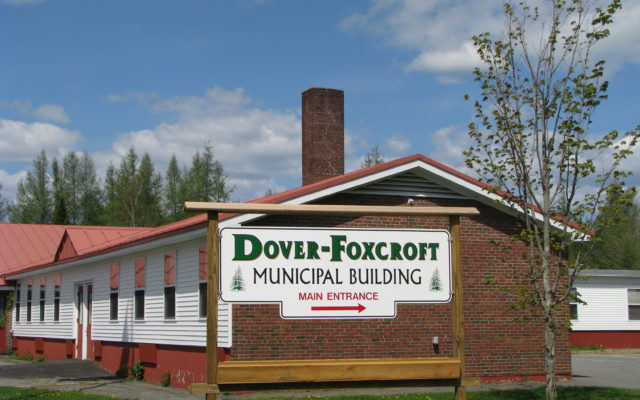 Morton Avenue
The Morton Avenue Municipal Building in Dover-Foxcroft
Dover-Foxcroft to vote on $1.4M for fire trucks and airpacks
DOVER-FOXCROFT — A special town meeting has been scheduled for 4 p.m. Wednesday, Feb. 3,in the Morton Avenue Municipal Building Gymnasium with the polls remaining open until 8 p.m. The vote is for a $1.4 million U.S. Department of Agriculture loan to immediately replace the Dover-Foxcroft Fire Department's 1993 ladder truck, start the process to switch out a 1999 pumper truck with a new, custom model and purchase replacement airpacks.
The ladder truck, which the department has had since 2015, blew its motor in early December. Due to the age of the vehicle, a replacement is difficult to find and even more difficult to have a warranty for an extended period of time. New ladder trucks cost more than $1 million-plus.
The 1993 ladder truck had been the only such vehicle in the region, needed to reach the top of the tallest buildings in town such as The Mill apartments, Foxcroft Academy dorm, Northern Light Mayo Regional Hospital roof, county courthouse and Piscataquis County Ice Arena.
"It's frustrating having it not be what we thought it would be," Fire Chief Joe Guyotte said on Monday morning, before the selectmen signed the special town meeting warrant that evening. Guyotte said the ladder truck has experienced problems over the last half decade with money needing to be put into parts and repair labor. He said a replacement motor is not available with any guarantee and new motors would not work in the 28-year-old model.
Guyotte said he has spoken with Town Manager Jack Clukey on the meeting procedures amidst the current gathering limits, and these have been approved by municipal legal counsel.The limit is 50 people in the gym to comply with state COVID-19 gathering limits.
"They will elect a moderator, the moderator will preside to entertain a motion to borrow $1.4 million with the understanding that $590,000 will be for the ladder truck, $690,000 for an engine and $140,000 for airpacks. After the initial vote, everybody can vote afterward. The polls will be open from that time until 8 o'clock that night. At 8 o'clock they will call a stop to the meeting and count the votes, that's how it's going to work," Guyotte said.
Fire Lt. Brian Gaudet said he wants the public to know, "Every firefighter is a town resident and every firefighter pays taxes like the person that's coming to vote and we wouldn't be asking for this if it wasn't very important. It affects us just like it affects everybody else. This equipment is not for the firefighters, this equipment and truck replacement are to protect the citizens of Dover-Foxcroft. It's not for us, it's for them and we want to make sure we have the best equipment that is needed when the townspeople call on us."
Gaudet began looking at dealers across the country in early December and a 2012 truck with a 100-foot ladder — which had been in service in Virginia Beach — was located at Brindlee Mountain Fire Apparatus in Union Grove, Alabama.
Guyotte, Assistant Chief Jerry Rollins and firefighter Timothy Perkins traveled to northeastern Alabama to inspect the ladder truck in person.
"The three of us all went down and spent eight hours at the plant with this truck and talked with the chief engineer that is responsible for this truck," Guyotte said. "We drove it on the highway. We ran a pump test, they have a big pond there where we could draft water. We drafted water, we operated the aerial and all the deck guns and everything that comes with the truck. We inspected it, underneath, inner compartments, over the top, every shape and form and we made up a list of needs and wants we thought we would need."
"This truck's going to last Dover-Foxcroft over 35 years — we want it right," he said, adding that he and the others were very impressed by Brindlee Mountain Fire Apparatus.
"They sold 380 used trucks in the last year alone to people like us who can't afford [new] and have to go used," Guyotte said. "When they leave the shop they are right. I have never dealt with a company that cares so much for their customers and their employees. Their employees were fantastic to work with."
After some negotiating, a $590,000 price was settled on with the 2012 ladder truck to be delivered to Dover-Foxcroft and the current truck included in the transaction by being sold for $40,000 and transported south.
"The original price when I started this was $689,000 and I started working with the salesmen and I tried to broker deals," Gaudet said. "That's when Joe and them came in to make the final deal of $590,000, but the asking price was $689,000 and they went down."
The truck is now on hold, pending the outcome of Feb. 3. Should the warrant article pass, a 10 percent deposit will be paid to Brindlee Mountain Fire Apparatus and an agreement signed.
The truck comes with a three-year warranty that covers all components valued at $3,000 or more, and needed warranty work can be performed in Auburn.
Residents will vote at the upcoming meeting whether to authorize the selectmen to borrow an amount not to exceed $1.4 million through the USDA. The estimated interest rate is 2.125 percent — a figure Guyott called "almost unheard of" — and the estimated term is 30 years. The maximum interest to be paid over three decades is $507,540 for a combined total cost of $1,907,540.
Guyotte said the funding will replace the ladder truck and "within six months, eight months, put an order in for a new fire truck, a new engine to replace our '99. We're trading our '99 in while it's still worth some money. In other words, every time we get rid of a truck it's on the breakdown verge, running till there's nothing left of it. This '99 that we have is still worth some money and this outfit in Alabama will broker it for us or buy it outright after I told him the details on it."
"We have 17 airpacks that we use for breathing air that are 29 years old," the chief said. Due to their age, the airpacks are not as safety compliant as current models.
"It's going to cost $128,000 to replace these airpacks," Gaudet said. He said he has applied multiple times for Federal Emergency Management Agency funding, but the applications have not yet been successful.
"The town wanted to secure the extra funding in case we get denied again to make sure we could purchase the new airpacks this year," Gaudet said.
The fire department purchased the 1999 pumper new before the turn of the century.
"We have had some minor issues with that," Gaudet said. "The last storm it wouldn't start so it sat in the station but other than that it's a good truck. But as Joe said when we get rid of our equipment it's time to go to the pasture with it and with this low interest rate we thought it was the best opportunity to get a brand new truck to replace the '99. I think this is going to be the only one-shot deal for this town to get brand new that is tailored to the town of Dover-Foxcroft specs.
"That '99 was a demo, they found it on the lot and bought it as a demo and what I mean by tailored to our specs is we will be able to sit down with the fire truck manufacturer and build this from the ground up. What size the frame rails are, what kind of wiring harness, what kind of tires, what kind of seat. This will be built for Dover-Foxcroft and our firefighters to meet our needs the best.
"We think everything has aligned right for the interest rate, the grant and the timing to make this happen. We just need the support of the town behind us."
The lieutenant said a pumper would be used for "everything — fighting fires, fire alarms, medical calls, car accidents. Probably on 95 percent of calls it will go out the door."