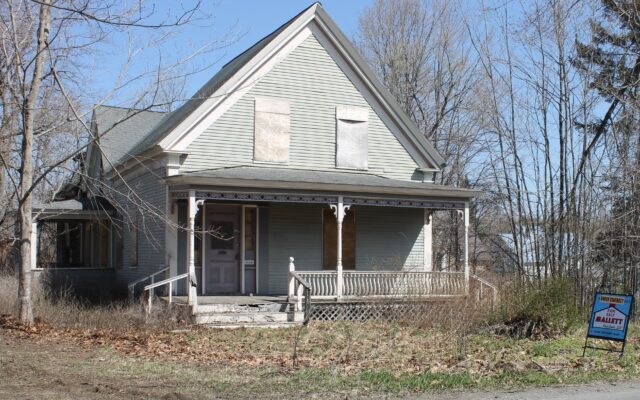 PO-doverfoxcroftlincoln-16-21
Observer photo/Stuart Hedstrom HOME RENOVATIONS -- A prospective buyer plans to tear down a barn behind the building and renovate the home at 72 Lincoln Street in Dover-Foxcroft into a multi-family building. The selectmen agreed not to take any action on a dangerous building order for the property as long as the prospective buyer's plan is followed.
Plan in place for dangerous building on Lincoln Street
DOVER-FOXCROFT — With a plan in place to tear down the barn and renovate the home portion of the structure closer to the road, the Dover-Foxcroft Board of Selectmen will not take any action pertaining to a dangerous building order for 72 Lincoln Street until Nov. 1, provided a plan submitted by a prospective property buyer to remedy the property is followed. A formal motion to this effect was passed during an April 26 selectmen's meeting.
Dover-Foxcroft Board of Selectmen approved a dangerous building order last month for an unoccupied house and attached barn at 72 Lincoln Street to address long-standing problems with the property. The family of the property owner has until June 30 to finish their plan to have a sales agreement in place so the work can be done.
The Lincoln Street property is owned by Alberta Luchetti of Little Falls, New Jersey. Her grandson Nick Bartley had previously said she is in poor health and could not take care of the situation on her own. Bartley has power of attorney for Luchetti. Bartley said there is a prospective buyer in place through Mallett Real Estate with a plan to tear the barn down and fix up the house.
"I want to maintain its original structure and I understand the barn is a safety and security risk," prospective buyer Paul Shea said. Shea said he intends to convert the home into a multi-family building as an investment.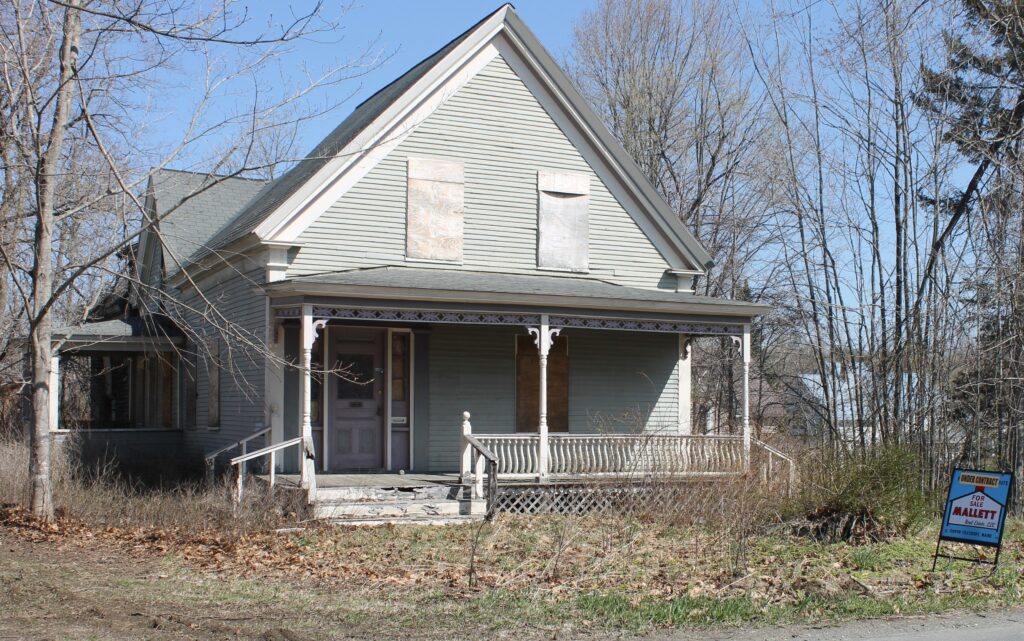 "Back on March 8 the board passed the order that the building be demolished by June 30," Town Manager Jack Clukey said, saying required fencing and signage was also put in place. "It's an order to the property owner and it follows to future owners of the property."
Clukey said the dangerous building order says the selectmen could vote to take action on July 1 "but there's nothing in the order that says if and and when the board would do that."
"I want to make it clear the board is in favor of the property being taken care of and the building redeveloped," Select Vice Chairperson Cindy Freeman Cyr said. She said if the barn is taken down then it would show the current/prospective owner is moving forward with a plan to renovate the home.
Shea said he has an agreement in place for a contractor to take the barn down, and housing work could be done by mid to late fall.
"If we're in communication and we're seeing progress, that's what the board wants to see," Freeman Cyr said. "We are willing to provide in writing the agreement we are making here tonight to you."
The selectmen authorized Code Enforcement Officer Brian Gaudet to issue any and all permits necessary for the 72 Lincoln Street project upon his review.
In other business, Clukey reported the town has formally been approved by USDA for a fire truck and equipment lease.
Following an affirmative 128 to 13 vote — approximately 90.8 percent — at a special town meeting in early February, Dover-Foxcroft officials began proceeding with a plan to purchase a new ladder truck for the fire department.
The vote was for a $1.4 million U.S. Department of Agriculture loan to immediately replace the Dover-Foxcroft Fire Department's 1993 ladder truck, and start the process to switch out a 1999 pumper truck with a new, custom model and purchase replacement airpacks. Of the $1.4 million, $590,000 will be for the ladder truck, $690,000 for an engine truck and $140,000 for airpacks.
The estimated interest rate is 2.125 percent and the estimated term is 30 years. The maximum interest to be paid over three decades is $507,540 for a combined total cost of $1,907,540.
The motor blew in December in the ladder truck the department has owned since 2015. Due to the age of the vehicle, a replacement is difficult to find and even more difficult to obtain a warranty for an extended period of time. New ladder trucks cost more than $1 million. A replacement motor is not available with any guarantee and new motors would not work in the 28-year-old model.
The 1993 ladder truck had been the only such vehicle in the region, needed to reach the top of the tallest buildings such as The Mill apartments, Foxcroft Academy dorm, Northern Light Mayo Regional Hospital roof, Piscataquis County Courthouse and Piscataquis County Ice Arena.
Fire Lt. Gaudet began looking at dealers across the country in early December and a 2012 truck with a 100-foot ladder — which had been in service in Virginia Beach — was located at Brindlee Mountain Fire Apparatus in Union Grove, Alabama. Fire Chief Joe Guyotte, Assistant Chief Jerry Rollins and firefighter Timothy Perkins traveled to northeastern Alabama to inspect the ladder truck in person.
After some negotiating, a $590,000 price was settled on with the 2012 ladder truck to be delivered to Dover-Foxcroft in late May, and the current truck included in the transaction by being sold for $40,000 and transported south. The truck comes with a three-year warranty that covers all components valued at $3,000 or more, and needed warranty work can be performed in Auburn.
Later this year, fire department officials plan to put in an order for a new, customized fire truck to replace the 1999 pumper. The department purchased the 1999 pumper new before the turn of the century.
Seventeen airpacks are 29 years old and are not as safety compliant as current models. The department has applied for FEMA funds but wanted to secure the extra funding in case the application is turned down. Clukey said the town should learn in June whether the application is successful.
Every year Dover-Foxcroft celebrates Arbor Week, and the selectmen declared the 2021 event will be from Sunday, May 16, to Saturday, May 22.
The board also appointed Dani Dow, code office/planning clerk, as deputy code enforcement officer.
Dow, who will undergo training over the next year to get fully certified, can issue permits when applicable if Gaudet is not available.
Clukey reported Sangerville has given verbal notice that the community intends to withdraw from its solid waste agreement with Dover-Foxcroft as of May 1. He said the neighboring community has been advised that such an early withdrawal needs to be made in writing in accordance with the contract terms.
"We had communicated that we are not recognizing May 1 as the end date," Clukey said, saying he hopes the towns can find a different date for Sangerville to withdraw.
Selectmen Steven Grammont said he has heard from Sangerville residents upset with the decision, as instead of heading to Dover-Foxcroft they have to travel to Dexter to get rid of their trash and recycling. Grammont wondered if non-resident passes can be issued for the transfer station.
"I don't think we can immediately do something day one," Clukey responded. He said this can be looked at as a long-term consideration for the transfer station.