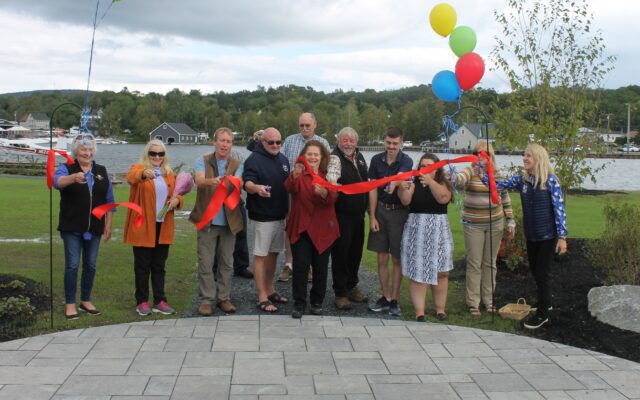 PO-parkribbon-37-21
Observer photo/Stuart Hedstrom CRAFTS LANDING AND PARK -- Members of the park committee cut the ceremonial ribbon for Crafts Landing and Park at the East Cove of Moosehead Lake in downtown Greenville on Sept. 10. The green space is now preserved for the public and provides access to Maine's largest lake throughout the year.
Crafts Landing and Park opens in downtown Greenville
GREENVILLE — A green space providing access to Maine's largest lake is now preserved for the public. Crafts Landing and Park, which is part of a larger downtown revitalization effort, was formally opened with an early afternoon ceremony on Sept. 10.
During the presentation before the ribbon cutting, Moosehead Lake Region Economic Development Corporation President Steve Levesque said he is excited to celebrate Crafts Landing and Park at 3 Lakeview St. near the corner with Pritham Avenue with several hundred feet of shoreline on the East Cove waterfront of Moosehead Lake.
The space is named for the Crafts family, whose history has been indelibly intertwined with the town of Greenville for more than a century.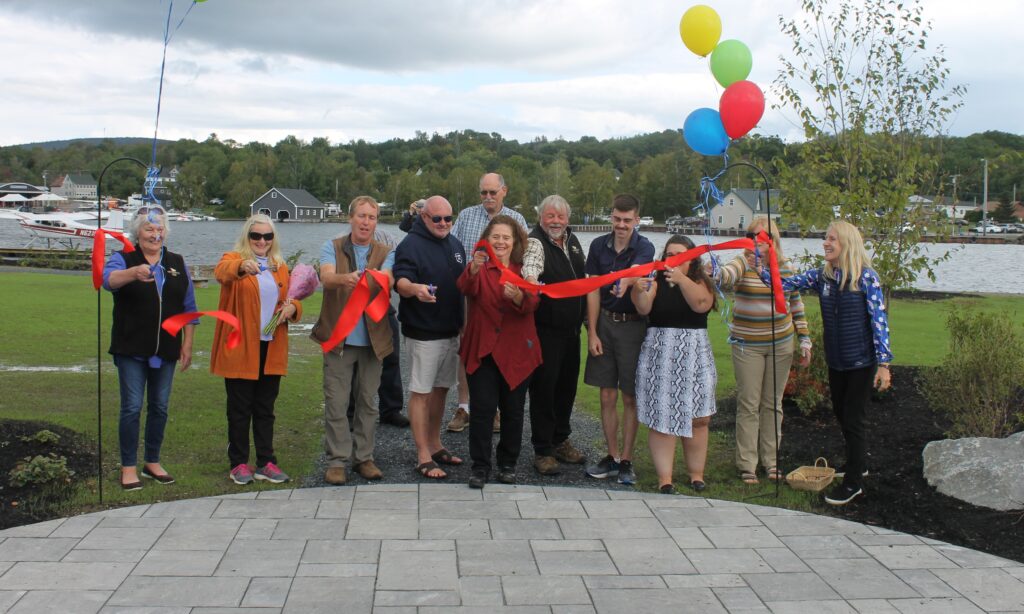 Speaking over the sound of aircraft landing and taking off during the 2021 International Seaplane Fly-In, Levesque said the area is "a key element in the revitalization of downtown Greenville, that's the opening of Crafts Landing and Park."
He said plans to establish the green space were announced two years ago. "The role of the Moosehead Lake EDC is really to serve as a catalyst to spur economic growth in this region," Levesque said. "We believe that new investment in this region creates jobs, increases property values, and adds quality of life amenities and helps foster community and memorable experiences that draw people to this special place to live, work, and play."
A few years prior, the town of Greenville developed a downtown plan that was approved at the 2019 annual town meeting.
"What you're seeing around you here in Greenville, the park, the buildings that are being revitalized are key elements of that plan," Levesque said. "Mainly to facilitate new capital investment into a revitalized downtown to enhance public access to and from the lake and to conserve an important downtown green space. All we're doing is carrying out the vision that the town had."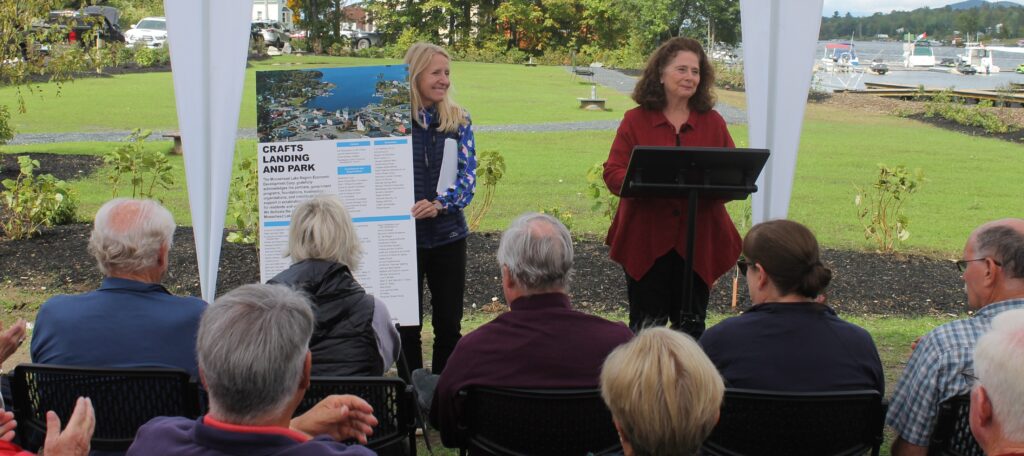 He said through negotiations with previous land owner, the Richardson family, the lot was split in two with half being the park and the other portion being built on. "This was a shared vision of EJ Richardson, who has been a strong partner of ours through and through," Levesque said.
"We purchased the actual park in July of 2020," the MLREDC president said, saying about $475,000 of a near $500,000 fundraising goal has been met. He said once the purchase was made, surveys and appraisals were carried out and a landscape architect was selected for the site plan and a contractor hired to do the property work.
Levesque then mentioned some of the highlights of Crafts Landing and Park. "We have eight public docks for boats and float planes," he said, with the new access point a stone's throw from downtown. "We have native trees and plants in the park, open green space for residents and visitors to relax and enjoy the lake and to also host out events on this property, but it's really about public access to and from the lake so people can come down on their boats from up the lake or just hang out and do different things and enjoy the downtown."
He said in the winter the park will be a snowmobile access point and others can also get onto the frozen Moosehead Lake for cross country skiing, snowshoeing, and ice skating.
"This fall we will be installing lighting thanks to CMP that meets Dark Sky Standards, we will have a kiosk thanks to the generosity of the Watt family at the entrance," Levesque said. He said next summer there will be more picnic tables and flowers and a bike rack to join the existing walking path and benches."
"We have had some great partners that have made this happen. This has been a team effort," he said in thanking all the contributors.
"It was apparent from my very first introduction to Miss Margarita Contreni that this project will be a success," Land for Maine's Future Executive Director Sarah Demers said about Contreni. Contreni and Karin Tilberg, executive director of the Forest Society of Maine, served as co-chairpersons of the park committee.
"Our partnership has been a wonderful example of how the Land for Maine's Future program works with local organizations to achieve their conservation, recreation and economic development objectives while ensuring public access for all," Demers said. "It is the hundreds of projects just like this one that give our Legislature and Governor the inspiration and confidence to commit new funding to the Land for Maine's Future program. We are so very thankful for that commitment and we look forward to working with you all to make that next dream come true."
Contreni, who also serves as MLREDC vice president, thanked everyone who contributed to the near $500,000 park costs. "We greatly acknowledge all of you, every single individual here today for your support in establishing this public park for our residents and visitors to enjoy forever," she said, mentioning a forthcoming park kiosk will include a list of donors.
"This park rose from a lot of effort from the community," Tilberg said. She said Crafts Landing and Park will strengthen the connection between the town and Moosehead Lake.
Previous landowner Richardson then took a turn at the podium and gave a history of the park site. He said his parents acquired the property in the 1980s and decided not to develop the land with new buildings. Richardson said he and his brother Stuart would later decide to go forward with the park concept after operating several businesses on both properties until 2019 after the space had been passed on to them a decade prior.
"I have lived on the lake my whole life and I have been able to use private property freely but those days aren't what they used to be, so to have more public access like this is so important to me," Richardson said. "I would love to see more property on Moosehead available to the public, whether it's a small island or something like this."
"First of all I have to thank EJ and his family for their long history of generosity to this community, they have traded many opportunities over the years for personal gain into opportunities for our community," said Tom Watt, who told the audience he is a lifelong Greenville resident and current junior at the University of Southern Maine.
Watt said his family has a long history on Lakeview Street and has seen how the land that now is Crafts Landing and Park had been used for generations. "This park is a continuation of a long-standing tradition," he said.
"As a young person with deep ties in Greenville and a future in Greenville, this park represents a very bright future," Watt said. "We are all fortunate to be members of such a unique and beautiful community and Greenville's future rests on its ability to share its natural beauty and culture with travelers and tourists but we have to take care to maintain the natural environment and way of life that attracted those visitors for generations.
"This park is an excellent display of undevelopment, as EJ likes to say. We have been able to take an underutilized space in Greenville and provide an important service to community members all the while bringing more native and environmental space back to downtown Greenville. These kinds of projects are where our future rests on."
Watt said the future success of Greenville rests on a delicate balance between development and conservation, public and private land, native traditions and tourist culture. "This park assists with the balance providing public access to private businesses, native green space and ensuring that the public can enjoy this space in perpetuity," he said.
Levesque concluded the program by saying, "Greenville is a very special place, that's why we're all here and being able to celebrate something like this and all of the hard work that's gone into that is just amazing."