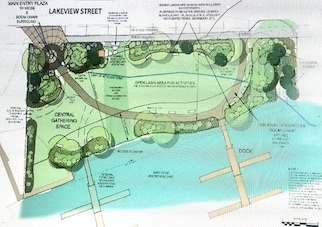 IMG_7271
Rendition of Crafts Landing Park. Courtesy of MLREDC
CMP partners with Moosehead Lake Region EDC to light Craft Landing Park
GREENVILLE — The Moosehead Lake Region Economic Development Committee is delighted to announce a gift of $25,000 from Central Maine Power to fund lighting for the Crafts Landing Park in Greenville. This gift will ensure visitors and locals are able to enjoy the park after the sun sets, which is key to the success of the MLREDC'S downtown revitalization efforts in Greenville.
Plans for the park also include a paved plaza with an informational kiosk, as well as plantings of native shrubbery and flowers. The lit walking path with strategically placed benches will add to the enjoyment of all who visit. There are also plans to add docking slips for boat traffic, enhancing the experience of visitors and locals alike who prefer traveling by boat to downtown Greenville in the warmer months.
"This park was envisioned in the Downtown Master Plan commissioned by the Town of Greenville," MLREDC President Steve Levesque said in an interview in May of this year. "It is part of our effort to help revitalize downtown, drawing more folks to the downtown from around the lake to shop, bank, dine or enjoy musical performances, as well as arts and crafts events, community celebrations, or simply relaxing time at the shorefront."
"At CMP, we are committed to investing in the communities we live and work in each day," said CMP President and CEO Doug Herling. "This partnership with MLREDC is exciting because we are able to directly help enhance the economy in this region, setting locally-owned businesses up for success and creating more opportunity for the folks who call this area home. CMP is proud to utilize our company's shareholder dollars to build a strong future for Maine through projects like this."
The Moosehead Lake Region Economic Development Corporation has the goal to grow and sustain local businesses, attract and create new jobs and enhance the economy of Maine's famous Crown Jewel – the area surrounding and including Moosehead Lake. For more information visit their website at www.mooseheadlakeedc.com and friend them on Facebook. The MLREDC continues to appreciate donations from the community to help with their goal of enriching economic opportunities in this beautiful part of the world.