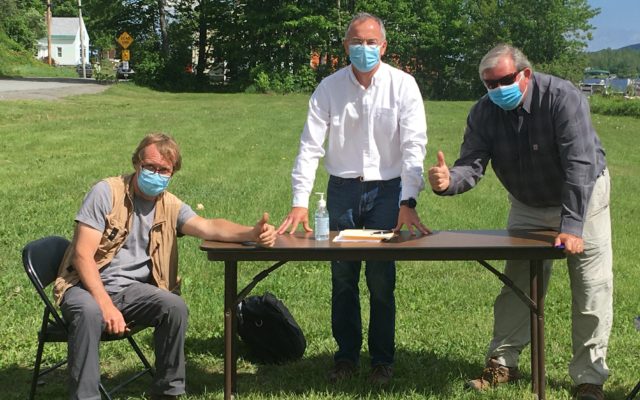 PO-greenvillepark-25-20
Photo courtesy of Shelagh Talbot CRAFTS LANDING AND PARK -- From left, EJ Richardson, property owner, attorney Bill Fletcher and Steve Levesque, president of the Moosehead Lake Region Economic Development Corporation give a thumbs up at the signing of papers for the Crafts Landing and Park, the new waterfront park being developed in downtown Greenville.
Document signing in downtown Greenville signifies waterfront park is one step closer to reality
GREENVILLE — On the morning of June 12, the long-awaited project for creating a waterfront park at the beginning of Lakeview Street in Greenville has come closer to completion with the signing of documents between landowner EJ Richardson and Steve Levesque, president and executive director of the Moosehead Lake Region Economic Development Corporation (MLREDC), which spearheaded this ambitious project for the people of Greenville and those that visit this beautiful part of the world.
The park now has a name -– Crafts Landing and Park –- recalling the indelible imprint the Crafts family has had on Greenville. Julia Crafts Sheridan, the only daughter of business tycoon Arthur A. Crafts and his wife Rebecca, took after her father in the business world and worked side by side with him on their properties which included the Squaw Mountain Inn. According to an article on the Center for Moosehead History's webpage, Crafts Sheridan "was independent and career-oriented, maintaining a retail business, the family real estate and participating in political and public affairs." Her heart remained firmly ensconced in her beloved hometown and she gave generously to many causes and organizations there including a bequest of her home – the Eveleth-Crafts-Sheridan house where the Moosehead Historical Society is headquartered and a number of waterfront properties for town folk to enjoy access to Moosehead Lake. It is fitting that this new park bears her family name.
In a prior announcement Margarita Contreni, MLREDC's vice president and co-chair of the park planning committee commented, "We are so delighted to enter the last phase of our project, thanks to our partners – EJ Richardson, the property owner; the Land for Maine's Future Program; the Forest Society of Maine; and the Piscataquis County Economic Development Council – and the more than 100 individuals, businesses, foundations, and Board members who have contributed time, talent, and resources." 
Plans for the park include a paved plaza and informational kiosk, along with plantings of native flowers and shrubbery surrounding a walking path and benches strategically placed to savor the views of East Cove stretching north to the main body of Moosehead Lake. When funding is complete, there are also plans for a dock system, which will enable both motorized and non-motorized watercraft and seaplanes to access directly to downtown. 
Karin Tilberg, executive director of the Forest Society of Maine and also co-chair of the park planning committee, reflected on the significance of the waterfront park, "This project opens a door of access between people and Moosehead Lake — benefiting boaters coming into town from the water and those who wish to spend time lakeside with families and friends in a beautiful setting.  The park will benefit winter use access as well.  The Forest Society of Maine has been proud to be a project partner in this community strengthening initiative."
Other partners who have worked to see this project come to fruition weighed in as well.  Sarah Demers, Director of the Land for Maine's Future (LMF), expressed pleasure at this milestone: "Our partnership with the Moosehead Lake Region Economic Development Corporation is a wonderful example of how the Land for Maine's Future Program partners with local entities to achieve their conservation and recreation objectives while ensuring public access for all," she said. "This may well be our first partnership with a Maine economic development organization and reflects our commitment to support initiatives that enhance community scale economic development."  
Jason Bulay, LMF project manager added that "it has been a pleasure to work with MLREDC on this acquisition.  The thoroughness of their application and their attentiveness to every part of the process has made this project successful.  The fact that MLREDC was able to complete the acquisition process in just nine months is a testament to their commitment to making this property an asset to the people of Greenville and the Moosehead Lake region."
If you have questions or comments regarding this exciting new downtown park on the shores of East Cove on Moosehead Lake, please contact Contreni at her email address westcove@myfairpoint.net.