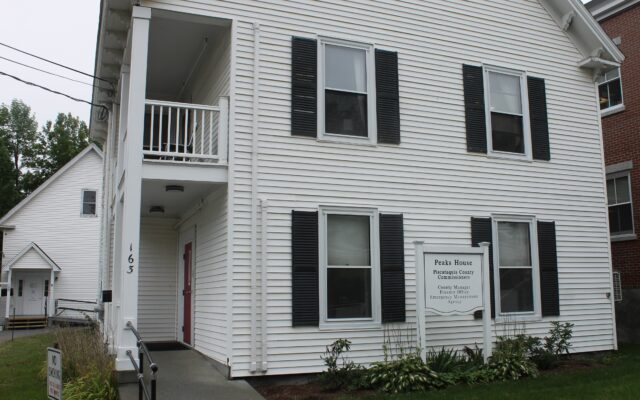 PO-EMAapp-35-21
Observer photo/Stuart Hedstrom EMERGENCY APP -- The Piscataquis County Emergency Management Agency, which is located on the second floor of the Peaks House on the county's Dover-Foxcroft campus on East Main Street, has a new app to share information with employees and residents.
County officials looking for new EMA director
DOVER-FOXCROFT — A month-plus after the retirement of long-time Piscataquis County EMA Director Tom Capraro, the county may be close to hiring his successor.
At the end of the Sept. 7 Piscataquis County Commissioners meeting were a pair of executive sessions for personnel matters related to the EMA position. "Anything that is decided in one of those executive sessions will be voted on at our next meeting, if needed," Commissioners Chairperson Jim White said.
The next regular meeting will be on Tuesday, Sept. 21.
Since Capraro's retirement as of July 30, after nearly 14 years with Piscataquis County EMA as both deputy director and then director, Deputy Director E-911 Addressing Officer Debra Hamlin has been leading the agency.
In other business, Piscataquis County Sheriff's Office Chief Deputy Todd Lyford said, "The open house that we had planned for Friday has been canceled due to COVID cases. That would be rescheduled at some point I hope, because we would really like the public to see our new building."
In 2020 the sheriff's department patrol and investigations division began working out of the former KeyBank building in downtown Guilford. The open house had been scheduled for 11 a.m. to 1 p.m. on Friday, Sept. 10.
County Manager Michael Williams has an agreement for area fire departments to provide fire protection services for nearby Unorganized Territories to present to the commissioners, to run from Sept. 1 through Aug. 31, 2024.
"I worked with the different chiefs between the three departments and Kathy White, the Brownville town manager," Williams said.
He said the fire protection services agreement is nearly the same as before, with the one change concerning catastrophic fires and the county now paying more for these rare calls. Williams said there was such a blaze in Atkinson but "it was the first one I could tell since the agreement was signed in 2013."
The county paid an additional $2,200 to the Dover-Foxcroft Fire Department for the Atkinson fire, Williams said.
He said he is adjusting the UT budget to reflect the additional rates and this will be discussed during upcoming budget advisory committee meetings. The commissioners approved the agreement and Williams will now meet with the various town boards and fire departments as these entities vote.
"The drought task force is still reporting that less than 30 percent of the state is not experiencing drought, but I still haven't received any calls about dry wells" Hamlin said. She said three years ago there seemed to be more water in rivers compared to 2021, but back then county EMA had about a dozen calls concerning dry wells.
The commissioners also heard from Greenville Junction resident Randy Trefethen about purchasing a piece of land. Trefethen told the commissioners he is interested in buying all or or a portion of the ATV/snowmobile park and ride property across from his Depot Street home. He also said he would be willing to let some of the parcel be used for parking.
"The land really is not for sale, and if it was for sale we would have to offer it up," White said, such as putting the land out to bid and advertising a potential sale. The Depot Street property is also an emergency helicopter landing site.