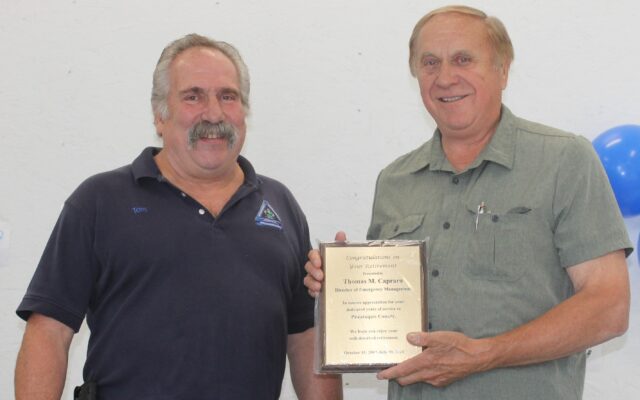 PO-capraro-31-21 – Copy
Observer photo/Stuart Hedstrom SALUTE TO RETIRING EMA DIRECTOR -- Piscataquis County EMA Director Tom Capraro, left, is presented with a plaque from Piscataquis County Commissioner Wayne Erkinnen congratulating him on retirement during a celebration on July 30 in the EMA garage in Dover-Foxcroft. Capraro had been with the agency for nearly 14 years, as deputy director and then director.
Piscataquis County EMA Director Capraro retires
DOVER-FOXCROFT — Piscataquis County EMA Director Tom Capraro has retired, following nearly 14 years with the Piscataquis County Emergency Management Agency and a public service career dating back half a century to when he became a junior firefighter at age 15.
Capraro was recognized during a July 30 retirement ceremony at the agency garage, a three-bay structure he was instrumental in getting built several years ago on the county campus.
Following the presentation of a plaque from Commissioner Wayne Erkinnen on behalf of the Piscatauqis County Commissioners — indicating Capraro's time with the agency spanned from Oct. 15, 2007, to July 30, 2021 — he was recognized at the state level.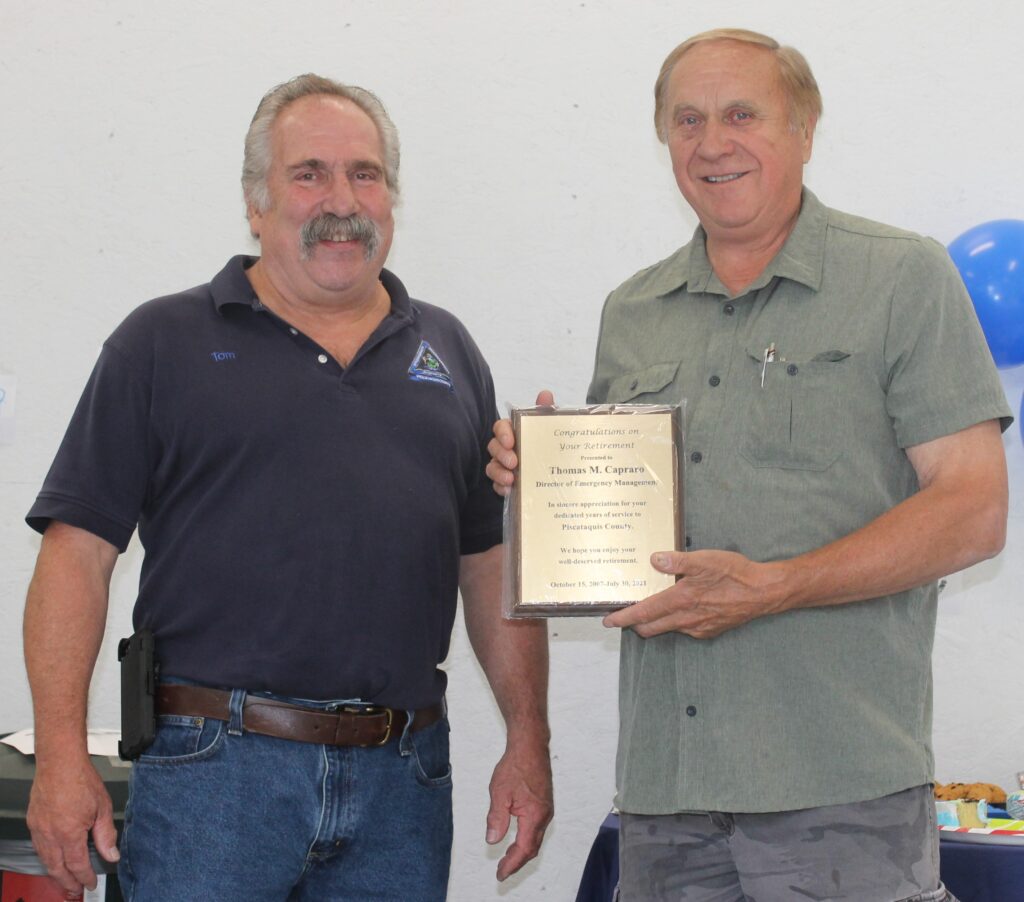 Maine EMA Director Pete Rogers and Deputy Director Joe Legee traveled to Dover-Foxcroft to honor Capraro.
"It's a sad day for us. Tom is an outstanding county director," Rogers said. "Tom you've been a friend, you've been a go-to guy for me to be able to call and say 'hey, am I way off base here?''
"And Tom will say 'yup,'" Rogers said, as attendees, representing area police and fire departments, various county departments and regional communities, laughed at Rogers' retelling of Capraro's direct response.
The Maine EMA director said Capraro is "a great voice of reason. We will really miss you, you've done a great job."
Rogers had a certificate of appreciation acknowledging Capraro's "nearly 14 years of exceptional, selfless service to the citizens of the state of Maine. You're a true professional, mentor and friend."
He said MEMA "recognizes and appreciates your exceptional career, your contributions to emergency management and the state of Maine will ensure the safety of Mainers for many generations."
Capraro was given a Maine State Flag as well as a newly minted MEMA Challenge Coin, the first given out by the agency.
Following the opening of gifts, Capraro thanked everyone for coming. He said the job "is something I almost accidentally walked into when I first retired," following his career as a firefighter in Providence, Rhode Island.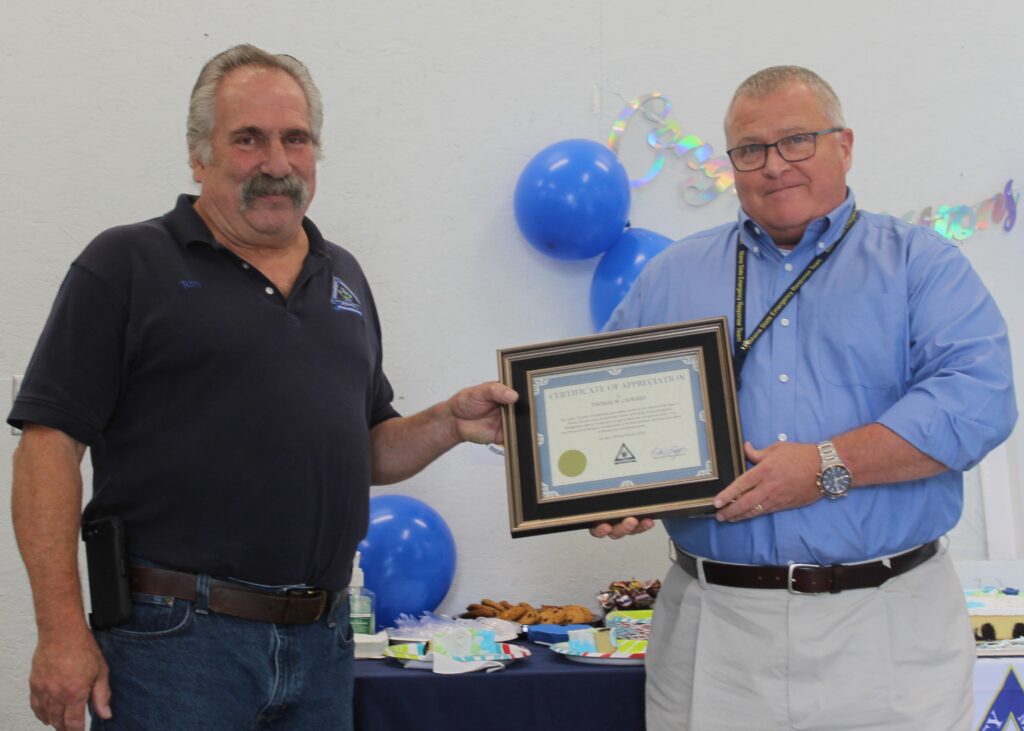 Soon after Capraro and his wife Denise moved to Willimantic, he attended a selectmen's meeting to get involved and there he met his predecessor at Piscataquis County EMA — Tom Iverson.
"He was talking about how the town needed an emergency management director and I had all the qualifications," Capraro said. "My wife kind of gave me a nudge and I talked to Tom Iverson."
Capraro soon stopped by Iverson's office, the two had discussions and soon Capraro was volunteering. "Next thing you know I was hired and became deputy director and then I've been here ever since," he said.
"It was totally an accidental thing and it's probably one of the greatest things that could happen. I met so many great friends," Capraro said. "I hope I made a difference. I just can't believe the dedication you people have. Everyone I have met has just been great between the county workers, fire and police, EMS, everybody and it just makes me feel very proud we had the chance to live and work here."
"We'll be moving to the western mountains," Capraro said about his plans for retirement as the Capraros will be living at Flagstaff Lake.
"Thank you all, it's been a great run," he said. "I started as a junior firefighter at 15. I'm going to be 65 so 50 years of helping people, I think now I am going to help myself."
A July 30 post on the Piscataquis EMA Facebook page congratulated Capraro upon his retirement. "Tom has dedicated his life to public service and has certainly helped Piscataquis County. Over the years, Tom has secured Homeland Security grants that provided generators for the Dover-Foxcroft Police Department and Fire Department, Medford Community Center, Three Rivers Ambulance, Sebec Fire Department, Greenville Town Office and police department as well as the American Legion Post 94 in Greenville.
He also added radios to the Dover-Foxcroft Fire Department, Brownville Fire Department, (Piscataquis County Sheriff's Office) and the PC Search & Rescue Team. He got body cams and a video system for the Dover-Foxcroft Police Department and sensor cameras for the Dover & Foxcroft Water District.
"He bought trailers for the PC Sheriff's Office, Greenville and Milo Police Departments as well as containers for the Milo Fire Training Center and Brownville Fire Department. Tom has used the grants to provide PC law enforcement, fire departments and the county complex with much needed safety equipment as well as training employees and local businesses on hazard mitigation. Tom has worked tirelessly to do what is best for this community and its citizens and he will be sorely missed. We were lucky to have him."