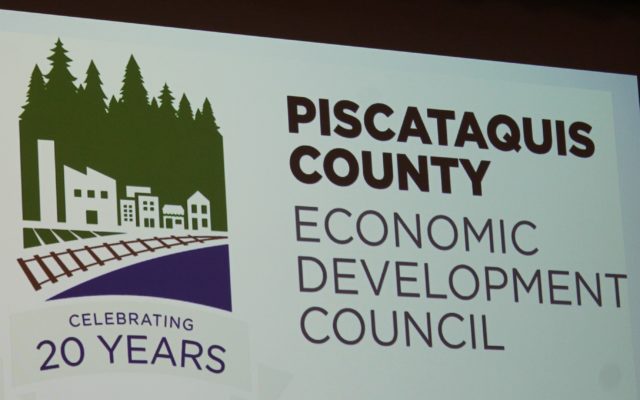 PO-pcedclogo-51-18
Observer photo/Stuart Hedstrom NEW PCEDC LOGO -- In recognition of the organization's 20th anniversary, a new logo for the Piscataquis County Economic Development Council was unveiled during the annual meeting on Dec. 10 in Dover-Foxcroft.
PCEDC working on economic development strategy, broadband planning
DOVER-FOXCROFT — Among the many efforts of the Piscataquis County Economic Development Council to improve the region are the development of an economic development strategy and a broadband planning grant project.
PCEDC Executive Director John Shea discussed both with the Piscataquis County Commissioners during an Aug. 17 meeting.
The PCEDC is seeking resources for the economic development strategy to help bring together all stakeholders for a shared vision. Stakeholders are government entities, businesses, economic development organizations, community groups and elected representatives.
"Basically it's creating a road map for the county for the next 10 years," Shea said, with the strategy identifying priorities, challenges and more for the region. He said the state has a plan of its own and Eastern Maine Development Corp. also has a strategy, but neither are as specific as the one for the PCEDC would be.
"Then we bring the final product before you for the final approval and that would be six to 12 months from now, my estimate," Shea said.
Once adopted, the economic development strategy will be regularly reviewed and can be revised as needed.
Earlier this year the PCEDC was awarded a $30,000 broadband planning grant from the ConnectMaine Authority for a study to identify specific broadband issues in the region. Having documentation in place would aid in applying for larger sources of funding to rectify identified issues.
"I expect we'll be complete in two to three months, countywide," Shea said.
The commissioners showed support for the initiative by agreeing to cover about two-thirds of required matching monies — $19,890 in America Rescue Plan monies awarded to the county — during a June meeting. The county commissioners asked that the PCEDC request that the 18 organized municipalities in Piscataquis County contribute the remaining $10,110, divided proportionally.
"It's not like we have a lot of opposition to doing the study, broadband's on everyone's minds," the executive director said about county community support.
"We're doing this because it's going to open up a lot more opportunities," Shea told the Dover-Foxcroft Selectboard last month. The grant will produce a study of the region and gap analysis that will be in place as grants and other monies are sought for broadband projects across Piscataquis County.
The survey will cover all parts of Piscataquis County that have telephone service. The information will be used to produce GIS maps showing gap areas and other locations with service in place. The maps will help determine costs to extend broadband access. With this in place, communities can use the information to negotiate with service providers.
In other business, the commissioners met with new EMDC Workforce Development Specialist Barbara Skinner and Senior Workforce Development Specialist Kim Donovan. Skinner, a long-time resident of the region, will help the organization serve Piscataquis County after being short staffed in recent months.
"We are trying to get reestablished here in Piscataquis County," Donovan said. She said EMDC is partnering with Center Theatre to host a youth event next Monday on available services pertaining to career and education opportunities.
"Today we're also going to Whitney's in Guilford to look at them being one of our on-the-job training centers," Skinner said.
Donovan said programs such as this benefit not only the participants but the businesses as well, and EMDC can work with interested establishments.
The county and Unorganized Territory budgets are starting to come together and County Manager Michael Williams said he is working on both 12- and 18-month spending plans. The two currently follow different timelines, with the county on a calendar year while the UT budget runs from July 1 to June 30. The county is considering changing it so that both budgets will follow the same fiscal year schedule.
Williams said he has asked department heads to plan for both 12 and 18 months.
County Treasurer Johanna Turner said the auditor is confident the budget switch can be ready for Jan. 1, 2023.
Piscataquis County Sheriff's Office Chief Deputy Todd Lyford mentioned a feasibility study for a Piscataquis County public safety radio system in his report.
"We still would like to address that at some point," Lyford said.
Upgrades cited in the first phase of the study will cost $4,994,080. This does not include a potential move of the Piscataquis County Sheriff's Office dispatch center out of the cramped conditions inside the jail in Dover-Foxcroft and up Route 15 into the patrol and investigations division building in Guilford.
Lyford said the sheriff's department would like consultant Normand Bouchard of Communications Design Consulting Group of Barrington, New Hampshire, to determine the exact cost of such a move — a second phase of the study. Once a figure is known, this could be presented to the commissioners for planning purposes.
The commissioners accepted a $27,000 bid by Communications Design Consulting Group in November for a radio study to find solutions to long-running communications problems for fire and police departments in and around Piscataquis County. Many of the issues stem from the hilly and mountainous terrain of the region.
Piscataquis County Emergency Management Agency Interim Director Debra Hamlin said, "Part of Piscataquis County is still in severe drought and we don't expect it to get any better in August."
She said residents with dry wells can contact the agency for assistance.