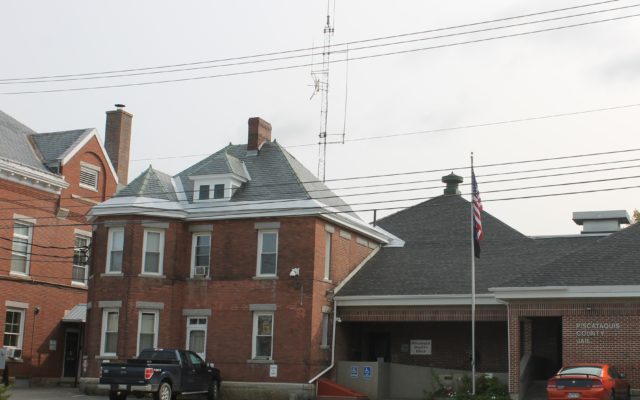 PO-countytower-38-20
Observer photo/Stuart Hedstrom BETTER COMMUNICATION -- Piscataquis County officials have sent out a request for proposals for a public safety radio system study to solve long-running communications problems for the region's fire and police departments.
County radio system upgrade would have $4.99M cost
DOVER-FOXCROFT — Upgrades cited in the first phase of a feasibility study for a Piscataquis County public safety radio system will cost $4,994,080. This does not include a potential move of the Piscataquis County Sheriff's Office dispatch center out of the cramped conditions inside the jail in Dover-Foxcroft and up Route 15 into the patrol and investigations division building in Guilford.
"This is to get the system up to a prime working system," Piscataquis County Emergency Management Agency Director Tom Capraro told the county commissioners during a July 6 meeting. He said the price tag is in the $5 million to $6 million range that was estimated before the study commenced.
Capraro said he, Piscataquis County Sheriff Bob Young, Chief Deputy Todd Lyford and Dispatch Sgt. Gary Grant have been meeting with Normand Bouchard of Communications Design Consulting Group of Barrington, New Hampshire, over Zoom as Bouchard has worked on the study. Capraro said Bouchard is now working on phase two — the dispatch center move — but he believes the expenses would be minimal because of all the previous work done. Capraro has said before that the Guilford building is already about 85 percent equipped for such a transition.
The first phase includes about $1,661,000 for new radio equipment and tower equipment and a microwave radio system. "Once one's talking, they're all talking together," Capraro said.
The study calls for new towers, but Capraro said this could be placing equipment on existing structures, such as those used for cell service, rather than erecting new towers.
"Again it's a ton of money, but where we started out it's around that," Capraro said. How radio system upgrade costs would be covered is to be determined.
A final report with both phases will be presented to the commissioners at a future meeting.
The commissioners accepted a $27,000 bid by Communications Design Consulting Group in November for a radio study to find solutions to long-running communications problems for fire and police departments in and around Piscataquis County. Many of the issues stem from the hilly and mountainous terrain of the region.
Objectives include meeting with Capraro, Lyford and Grant and emergency personnel from around Piscataquis County to review the communications systems and look at current and potential sites.
The study would identify upgrade costs, future recurring costs and the feasibility of a simulcast system.
Bouchard has met with a number of police and fire chiefs to learn more about the communications challenges they face. The county has provided some incident tapes for Bouchard to hear the calls directly.
In other business, the commissioners approved $300 between two special county warrants to cover PTSD training sessions for sheriff's department employees.
"Sometimes we don't recognize some of the issues corrections officers or dispatchers go through because they are not the ones on the scene," Lyford said. He said Young wants everyone to be aware of potential mental health issues and the training sessions were for all department employees.
"We will continue to check in to make sure people are doing alright," Lyford said, saying efforts are being made so employees know where to go if they need assistance.