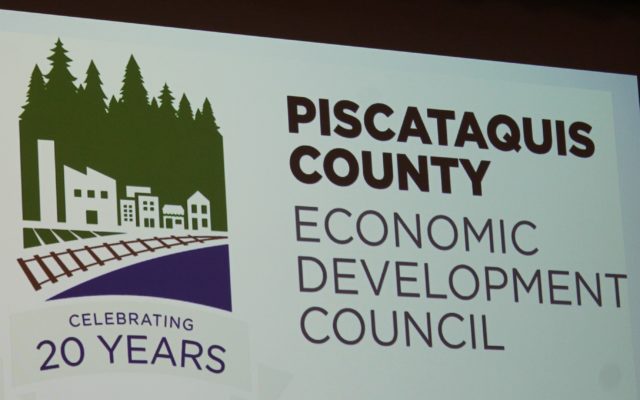 PO-pcedclogo-51-18
Observer photo/Stuart Hedstrom NEW PCEDC LOGO -- In recognition of the organization's 20th anniversary, a new logo for the Piscataquis County Economic Development Council was unveiled during the annual meeting on Dec. 10 in Dover-Foxcroft.
County study would aid broadband grant applications
DOVER-FOXCROFT — The Piscataquis County Economic Development Council recently submitted a grant application to the ConnectMaine Authority seeking a $30,000 grant for a study to identify specific broadband issues in the region. Having documentation in place would aid in applying for larger sources of funding to rectify identified issues.
The Piscataquis County Commissioners showed support for the initiative by agreeing to cover two-thirds of required matching monies during a June 1 meeting, should the PCEDC grant application be successful.
PCEDC Executive Director John Shea, who was joined remotely by Casco Bay Advisors of Gardiner's Brian Lippold, said the grant application was submitted last week to ConnectME. Shea said the application would fund an infrastructure study and gap analysis to then be used as grants and other monies are sought for broadband projects across Piscataquis County.
"It's a very small grant. It's $30,000," Shea said. "If we get it we will need to identify $30,000 in matching funding."
"When I came to the budget meeting in September, broadband was the No. 1 issue in everyone's mind," he added.
Lippold said all towns would need such a study in place to apply for funding through ConnectMe. "The data that's produced by this effort is used to support infrastructure grant funding," he said. There will be about $300 million for projects across the state, he said.
"If you don't do the study you can't apply for the funding," Commissioner Wayne Erkkinen said.
County Manager Michael Williams said he drew up a proposal in which two-thirds (approximately $20,000) of matching funds for the grant would come from America Rescue Plan monies awarded to the county. The remaining approximate $10,000 would be covered proportionally by the 18 organized municipalities in Piscataquis County.
"It's always a struggle to get individual communities to contribute but with a grant and the county doing two-thirds it should be easier," Lippold said. He said much of Dover-Foxcroft, Monson and a portion of Greenville are already covered but gaps remain in these three towns.
Shea said he has already spoken with town officials in six of the largest Piscatquis County communities and he thinks Williams' plan is equitable.
"Broadband, it's definitely needed throughout the county," Piscataquis County Emergency Management Agency Director Tom Capraro said.
In other business, Capraro provided an update on a feasibility study for a Piscataquis County public safety radio system.
"The first draft for the whole project is in," Capraro said.
The EMA director said the week before that he, Piscataquis County Sheriff Bob Young, Chief Deputy Todd Lyford and Dispatch Sgt. Gary Grant met over Zoom with Normand Bouchard of Communications Design Consulting Group of Barrington, New Hampshire. The group went over some aspects of the document, including moving the Piscataquis County Sheriff's dispatch center out of the Piscataquis County Jail in Dover-Foxcroft and up Route 15 to the building now housing the patrol and investigations division in downtown Guilford.
Moving the dispatch center would alleviate cramped conditions in the current communications space inside the jail. Capraro had said the Guilford building is already about 85 percent equipped for such a transition.
The group and Bouchard are scheduled to meet in person within the next week to go over the study for a final draft to be prepared.
"It is tough because of the terrain, we all knew that, but he's got some recommendations," Capraro said. In a few weeks the final draft will be presented to the county commissioners.
Earlier in the month Capraro said Bouchard's report would indicate that ideally all the region's radio towers would be linked, but realistically they could be divided into at least two different pods to get around the mountainous terrain and other geographic hurdles.
In November the commissioners accepted a $27,000 bid by Communications Design Consulting Group for a radio study to find solutions to long-running communications problems for fire and police departments in and around Piscataquis County.
Objectives include meeting with Capraro, Lyford and Grant and emergency personnel from around Piscataquis County to review the communications systems and look at current and potential sites.
The study would identify upgrade costs, future recurring costs and the feasibility of a simulcast system.
Bouchard has met with a number of police and fire chiefs to learn more about the communications challenges they face. The county has provided some incident tapes for Bouchard to hear the calls directly.