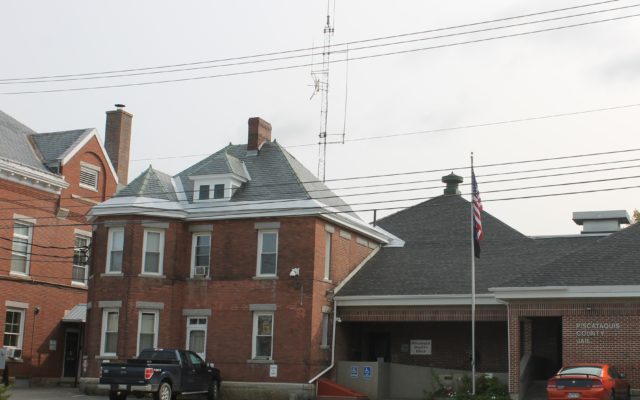 PO-countytower-38-20
Observer photo/Stuart Hedstrom BETTER COMMUNICATION -- Piscataquis County officials have sent out a request for proposals for a public safety radio system study to solve long-running communications problems for the region's fire and police departments.
County officials considering budget calendar alignments
DOVER-FOXCROFT — The Piscataquis County and Unorganized Territory budgets follow different timelines, with the county following a calendar year while the UT budget runs July 1-June 30. The county is looking into what's involved to shift these to follow the same fiscal year schedule.
County officials discussed the proposal with RHR Smith & Company of Buxton Managing Partner Ron Smith during an audit report in October and again during a March 9 meeting conducted over Zoom.
"I'm still a big fan of it. It gets you closer in line to your other entities such as your jail and your UT," Smith said. Previously he said the difference in budget calendars has provided challenges such as with payroll and transferring funds between accounts.
He said a potential switch of the county budget to a fiscal year could be completed by 2023 or 2024 and either a six- or 18-month budget could help with the adjustment.
"I think 18 [months] would be more reasonable, more logical to give us some time to work on things," Smith said. He suggested when the budget advisory committee starts its work both timeframe options be presented leading up to a calendar change.
"I just think it's going to help with a lot of the business decisions," Smith said.
"The change in the fiscal year, it seems pretty far out but we all need to keep it in mind because there will be a lot of details to work out," Piscataquis County Finance Director Johanna Turner said. "I believe it will be for the best as Ron does."
Commissioners Chairperson Jim White asked in October how problematic it would be to change the budget timelines. Smith said it would not be too difficult, and he said the commissioners have the authority to make the adjustment rather than this being done at the state level.
In other business, Piscataquis County Emergency Management Agency Director Tom Capraro said the feasibility study for a Piscataquis County public safety radio system has been going well.
He said Normand Bouchard of Communications Design Consulting Group of Barrington, New Hampshire, has sent coverage maps to the various emergency services departments for feedback. "It's been showing us our dead spots, which we knew," Capraro said.
The EMA director said Bouchard has met with a number of police and fire chiefs to learn more about the communications challenges they face. Capraro said Piscataquis County Sheriff's Office Chief Deputy Todd Lyford has provided some incident tapes for Bouchard in order for him to hear the calls directly.
In November the commissioners accepted a $27,000 bid by Communications Design Consulting Group for a radio study to find solutions to long-running communications problems for fire and police departments in and around Piscataquis County.
Objectives include meeting with Capraro, Lyford and Dispatch Sgt. Gary Grant and emergency personnel from around Piscataquis County to review the communications systems and look at current and potential sites.
The study would identify upgrade costs, future recurring costs and the feasibility of a simulcast system. Another area to be looked at is potentially moving the sheriff's dispatch center out of the jail and into the new department building in downtown Guilford.
The commissioners also tabled a decision to the next meeting on a letter of support for an application being made by the Center Theatre to USDA Rural development for assistance on a structural update. Commissioner Andy Torbett wondered about the use of federal dollars for a business so the commissioners opted to not make a decision that morning.
"Most of the theater is built on 30-foot columns over the river banks," Center Theatre Executive Director Patrick Myers said. "Each spring flood brings a little deterioration," Myers said, mentioning roof runoff also has aged the columns which were installed about 20 years ago.
"Because of the difficulty and location it's going to be an expensive job," Myers said. He said Sewall of Old Town is working on an engineering study for the columns and accompanying stabilizers.
The project would go out to bid in the spring and "hopefully the work would be done this summer or if not then next summer," Myers said.