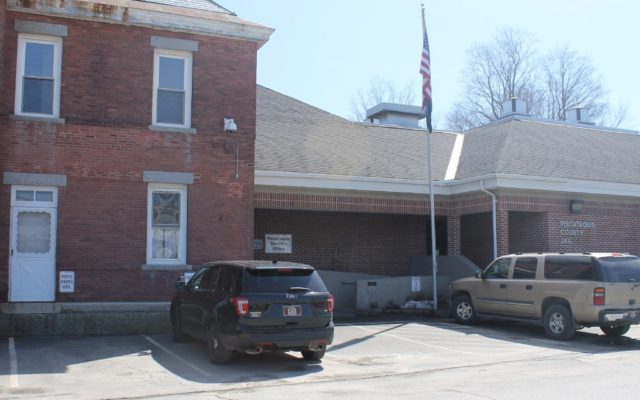 AX017_033D_9
The Piscataquis County Sheriff's Office in Dover-Foxcroft
Study has sheriff's dispatch center moving from jail to Guilford
DOVER-FOXCROFT — A feasibility study for multiple aspects of a Piscataquis County public safety radio system is nearing completion and the document soon to be presented to the Piscataquis County Commissioners will include information on moving the Piscataquis County Sheriff's dispatch center.
The center would be moved out of the Piscataquis County Jail in Dover-Foxcroft to the building now housing the patrol and investigations division in downtown Guilford.
"I have received a draft of the part of the radio study with the 9-1-1 center being moved to Guilford," Piscataquis County Emergency Management Agency Director Tom Capraro told the commissioners during a May 18 meeting. He said he has passed this along to Piscataquis County Sheriff Bob Young, Chief Deputy Todd Lyford and Dispatch Sgt. Gary Grant and the group would be speaking again with Normand Bouchard of Communications Design Consulting Group of Barrington, New Hampshire.
"Once we review and finalize it, that will be one part of the study done," Capraro said.
Moving the dispatch center up Route 15 would alleviate cramped conditions in the current communications space inside the jail. Capraro had said the Guilford building is already about 85 percent equipped for such a transition.
"To me it seemed clear cut, it's an easy thing to do," the EMA director said.
He also said that Bouchard's report would indicate that ideally all the region's radio towers would be linked, but realistically these would likely need to be divided into at least two different pods to get around the mountainous terrain and other geographic hurdles.
In November the commissioners accepted a $27,000 bid by Communications Design Consulting Group for a radio study to find solutions to long-running communications problems for fire and police departments in and around Piscataquis County.
Objectives include meeting with Capraro, Lyford and Grant and emergency personnel from around Piscataquis County to review the communications systems and look at current and potential sites.
The study would identify upgrade costs, future recurring costs and the feasibility of a simulcast system.
Bouchard has met with a number of police and fire chiefs to learn more about the communications challenges they face. The county has provided some incident tapes for Bouchard to hear the calls directly.
In his report, County Manager Michael Williams said Young told him the sheriff's office is planning an open house for the home of the patrol and investigations division on Friday, Sept. 10 — an event that had not been previously scheduled during the coronavirus pandemic.
Last July Maine Highlands Federal Credit Union was revealed as the previously anonymous benefactor who contributed $145,000 to enable the county to purchase the former Key Bank building on Hudson Avenue in downtown Guilford to house the Piscataquis County Sheriff's Office patrol and investigation divisions. The donation was the largest in the business' five and a half decade history.
The approximate 7,200-square feet between the first floor and lower level — where the sheriff's office moved into during the early fall — provide room for deputies to work, evidence processing and storage and expansion if need be. The structure had been maintained since the bank closed, being heated over the winter and having the lawn mowed regularly.
The donation from Maine Highlands Federal Credit Union rendered a July 2020 ballot question moot. The question for county residents concerned a bond for the $145,000 property purchase price, which would have come with an additional $29,100 in interest over a decade. The ballot question was written and approved by the Secretary of State well before the donor came forward.
The question passed with a vote of 2,549 to 1,378 total, equaling an approval percentage of just under 65 percent.
In other business, the commissioners heard an update from the Northeastern Workforce Development System and Workforce Innovation team.
Northeastern Workforce Development Board Program Coordination Benjamin Hawkins said he is working on a list of recovery-friendly employers in the five counties served by his organization.
"It really helps people in recovery know which direction to start looking," Hawkins said. He said for employers the inclusion shows they know the importance of recovery for those coping with substance abuse disorders and they support these efforts.
Hawkins said there are three steps to be listed, filling out a short form, attending a brief workshop and for company management to notify current employees. When asked, he said so far no Piscataquis County businesses have come forward to be included on the to be published list.
Eastern Maine Development Corporation Assistant Director of Workforce Services Leah Gulliver said she continues to work on a youth academy program. She said students think about "where they are now to where they would like to be in their career goals."
Gulliver said she also is working with Puritan on recruitment as the company needs more employees to keep up with demand for its medical products produced at multiple locations.