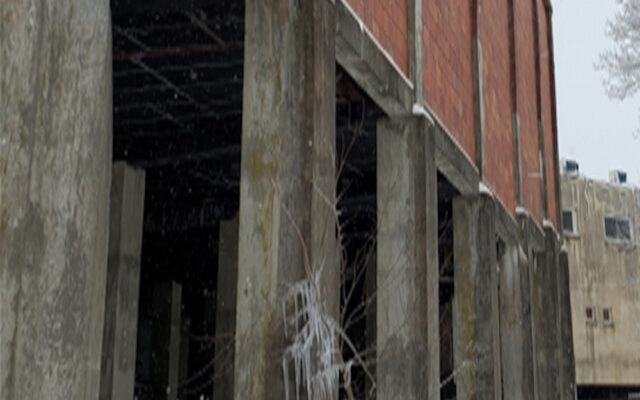 PO-theatresupport-10-21
Photo courtesy of Center Theatre The Center Theatre auditorium and lobby are supported over the banks of the Piscataquis River by a series of columns. As part of a grant application to repair the columns, the Theatre is asking for the public's support so that they can obtain a letter of support from the Piscataquis County Commissioners.
Commissioners turn down letter of support for Center Theatre
DOVER-FOXCROFT — The Piscataquis County Commissioners voted down a request for a letter of support for an application being made by the Center Theatre to USDA Rural development for assistance with a structural update after tabling a decision earlier in the month. 
The decision was made during a March 23 meeting. The vote was 2-1 with Commissioner Andy Torbett and Chairman Jim White opposed and Commissioner Wayne Erkkinen in favor.
Torbett wondered about the use of federal dollars for a business so the commissioners opted to not make a decision on March 9.
During the March 23 session, Torbett said constituents have spoken to him about their concerns over actions taken by theater board members and wondered if a grant could be awarded to an entity with a political agenda. He also wondered about funding for other buildings along the Piscataquis River in need of structural repairs.
"I think it's pretty obvious the theater as an organization has never been antagonistic to other businesses," Center Theatre Executive Director Patrick Myers responded. "I think it's clear the theater is an asset in Piscataquis County, which is what this letter needs to say."
"The Center Theatre supports the community every day," he added.
Myers said any political opinions or actions by himself or board members have been done as private citizens. "It has no bearing on this letter of support," he said.
Torbett also said he has concerns about past grants for the Center Theatre and Central Hall Commons. He said these need to be addressed before a letter of support could go forward.
Torbett brought up a pair of related motions, first requesting the district attorney and/or the Office of the Maine Attorney General audit the Center Theatre and Central Hall Commons and their financial institutions. "If there's something there we find it or otherwise we clear it up," he said, such as grant funding being used for purposes other than what the funding was intended for.
Torbett's second motion requested the pursuit of potential funding to address structural issues for buildings located on both sides of the river in Dover-Foxcroft.
In the fall election, Torbett defeated Myers for the District 2 seat on the Piscataquis County Commissioners by a count of 1,704 to 1,430. District 2 represents Atkinson, Bowerbank, Dover-Foxcroft, Medford, Orneville and Sebec.
Piscataquis County Emergency Management Agency Director Tom Capraro said funding sources such as those Torbett suggested fall under the FEMA Hazard Mitigation Grant program. Capraro said the town of Dover-Foxcroft would need to apply and Piscataquis County EMA would assist if asked.
"You have to have a disaster and part of that money goes into grant projects," he said. The EMA director said he called Maine EMA and the application timeline has closed but another could open in October with funds to be released in September 2022.
Capraro also said the feasibility study for a Piscataquis County public safety radio system has been going well.
He, sheriff's Chief Deputy Todd Lyford and Dispatch Sgt. Gary Grant met with Normand Bouchard of Communications Design Consulting Group of Barrington, New Hampshire, to go over coverage maps for portable radios.
"We started working on an improvement plan so we can get ways to improve our coverage," Capraro said, saying the next step is to review maps for the region's fire departments.
"It's looking really good for the radio study and we're getting things done," he said.
Bouchard has met with a number of police and fire chiefs to learn more about the communications challenges they face. The county has provided some incident tapes for Bouchard to hear the calls directly.
In November the commissioners accepted a $27,000 bid by Communications Design Consulting Group for a radio study to find solutions to long-running communications problems for fire and police departments in and around Piscataquis County.
Objectives include meeting with Capraro, Lyford and Grant and emergency personnel from around Piscataquis County to review the communications systems and look at current and potential sites.
The study would identify upgrade costs, future recurring costs and the feasibility of a simulcast system. Another area to be looked at is potentially moving the sheriff's dispatch center out of the jail and into the new department building in downtown Guilford.