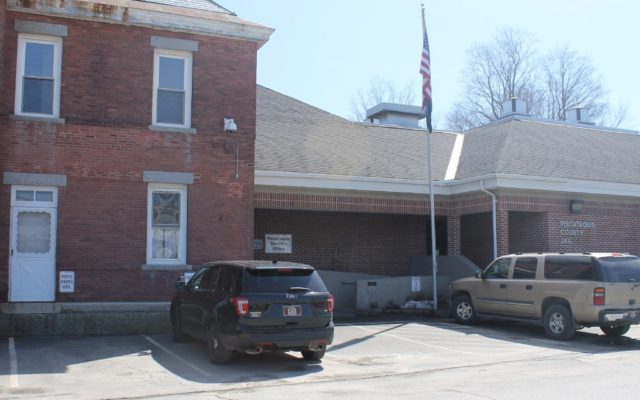 AX017_033D_9
The Piscataquis County Sheriff's Office in Dover-Foxcroft
Work continues on public safety radio system study
DOVER-FOXCROFT — A feasibility study for a Piscataquis County public safety radio system is nearing completion and should be presented to the Piscataquis County Commissioners in the near future.
Piscataquis County Emergency Management Agency Director Tom Capraro told the commissioners during a May 4 meeting that the previous week he, Piscataquis County Sheriff's Office Chief Deputy Todd Lyford and Dispatch Sgt. Gary Grant met again with Normand Bouchard of Communications Design Consulting Group of Barrington, New Hampshire.
"The study is just about complete. Probably in two weeks we will have a final report," Capraro said.
He said the county group and Bouchard discussed the possibility of moving the sheriff's dispatch center out of the Piscataquis County Jail in Dover-Foxcroft and into the new department building in downtown Guilford. Capraro said the building is already about 85 percent equipped for such a transition.
"The radio system, that's got some issues which we know," Capraro said.
"We look forward to the study," Commissioners Chairman Jim White said. "If we had it for a couple of weeks and then the presentation, that should work out well."
In November the commissioners accepted a $27,000 bid by Communications Design Consulting Group for a radio study to find solutions to long-running communications problems for fire and police departments in and around Piscataquis County.
Objectives include meeting with Capraro, Lyford and Grant and emergency personnel from around Piscataquis County to review the communications systems and look at current and potential sites.
The study would identify upgrade costs, future recurring costs and the feasibility of a simulcast system.
Bouchard has met with a number of police and fire chiefs to learn more about the communications challenges they face. The county has provided some incident tapes for Bouchard to hear the calls directly.
Capraro said the county EMA office has assisted Northern Light Health with vaccine distribution in the region
"This week is the last week for mass vaccines at the ice arena," he said. "Any vaccine now will be given at a smaller venue or office visits."
In other business, Sheriff Bob Young said, "We are in the beginning process of a K-9 program."
"A K-9 is very good to have but very hard to find," Young said.
He said Investigator Rob Cook may now have a dog that will meet the standards and the handler and animal will be going through training.
Young said the plan is for the sheriff's office K-9 to be used for scent work, notably drug detection both in the field and in the jail. The sheriff said a K-9 cage for a cruiser has been donated to the department.