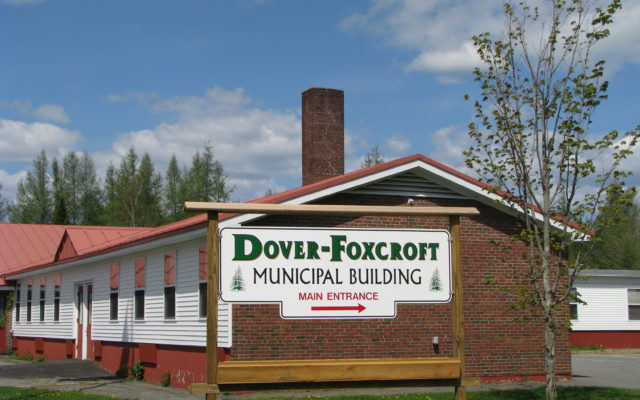 Morton Avenue
The Morton Avenue Municipal Building in Dover-Foxcroft
Warrant signed for June 8 Dover-Foxcroft referendum
DOVER-FOXCROFT — Residents of Dover-Foxcroft will be completing the two-part process to approve a 2021-22 municipal budget when they head to the polls for a referendum vote on Tuesday, June 8.
The question will ask if a proposed $6,840,330 budget for 2021-22 set at last month's annual town meeting be approved.
Absentee ballots are also available through the end of the work day on Thursday, June 3.
The figure will be offset by $3,198,760 in nontax revenues for a net amount of $2,903,750 to be raised. The total appropriation is up by $772,875 (14.5 percent) from 2020-21, while revenues are $664,604 (26.23 percent) more than the current fiscal year. The near net $3.2 million to be raised represents an increase of $108,271 (3.87 percent) from 2020-21.
The municipal election includes voting for a pair of three-year seats on the board of selectmen, with current Vice Chairperson Cynthia Freeman Cyr, Barry G. Hutchins and Michael S. Sutton listed on the ballot. One position for a one-year term for the Thompson Free Library Executive Committee will be decided on, and incumbent Barbara Buerger has her name listed on the ballot. Citizens will also vote on three, three-year RSU 68 school board seats as incumbents Joel A. Pratt and Timothy G. Smith are listed along with Stephen G. Robinson.
In other business, Town Manager Jack Clukey said a new ladder truck for the fire department is scheduled for delivery later in the month.
"We had a couple of our firefighters look at our new ladder truck," Clukey said. The firefighters traveled to Brindlee Mountain Fire Apparatus in Union Grove, Alabama. "Almost everything is done and what's left can be done in a day."
"We finally sold the old heavy rescue truck," Clukey said about a department vehicle replaced last fall. He said the old truck has been sold to a department in Kentucky for $15,000.
Following an affirmative 128 to 13 vote — approximately 90.8 percent — at a special town meeting in early February, Dover-Foxcroft officials proceeded with a plan to purchase a new ladder truck for the fire department.
The vote was for a $1.4 million U.S. Department of Agriculture loan to immediately replace the Dover-Foxcroft Fire Department's 1993 ladder truck, and start switching out a 1999 pumper truck with a new, custom model, plus purchase replacement airpacks. Of the $1.4 million, $590,000 will be for the ladder truck, $690,000 for an engine truck and $140,000 for airpacks.
The estimated interest rate is 2.125 percent and the estimated term is 30 years. The maximum interest to be paid over three decades is $507,540 for a combined total cost of $1,907,540.
The motor blew in December in the ladder truck the department has owned since 2015. Due to the age of the vehicle, a replacement motor is difficult to find and even more difficult to obtain a warranty for an extended period of time. New ladder trucks cost more than $1 million.
The 1993 ladder truck had been the only such vehicle in the region, needed to reach the top of the tallest buildings such as The Mill apartments, Foxcroft Academy dorm, Northern Light Mayo Regional Hospital roof, Piscataquis County Courthouse and Piscataquis County Ice Arena.
Fire Department Lt. Brian Gaudet began looking at dealers across the country in early December and a 2012 truck with a 100-foot ladder — which had been in service in Virginia Beach — was located at Brindlee Mountain Fire Apparatus. Fire Chief Joe Guyotte, Assistant Chief Jerry Rollins and firefighter Timothy Perkins traveled to northeastern Alabama to inspect the ladder truck in person.
After some negotiating, a $590,000 price was settled on with the 2012 ladder truck to be delivered to Dover-Foxcroft in late May. The current truck was included in the transaction by being sold for $40,000 and transported south. The truck comes with a three-year warranty that covers all components valued at $3,000 or more, and needed warranty work can be performed in Auburn.
Later this year, fire department officials plan to put in an order for a new, customized fire truck to replace the 1999 pumper. The department purchased the 1999 pumper new before the turn of the century.
Seventeen airpacks are 29 years old and are not as safety compliant as current models. The department has applied for FEMA funds but wanted to secure the extra funding in case the application is turned down. Clukey said the town should learn in June whether the application is successful.
"We're on track to get our new flagpole installed before Memorial Day," the town manager said about the addition for Monument Square planned for next week.
"There is not going to be a parade but there's going to be a Memorial Day ceremony," he said about plans for Monday, May 31. American Legion Post 29 will host a small ceremony at its Park Street Post home and conduct a wreath-laying ceremony on the Piscataquis River.
"The [Dover-Foxcroft Shiretown Homecoming Committee] met probably two weeks ago to decide what it wanted to do or not do in 2021," Clukey said. "The group felt at this time it was best to plan for 2022, which is our anniversary year."
Next year will mark the 100th anniversary of the union of the towns of Dover and Foxcroft.
Clukey said the Downtown Committee met the week before and an order has been placed for a 9-foot replica moose to be displayed on the traffic island at the intersection of East Main and Pleasant streets. The moose will be up for the summer months.