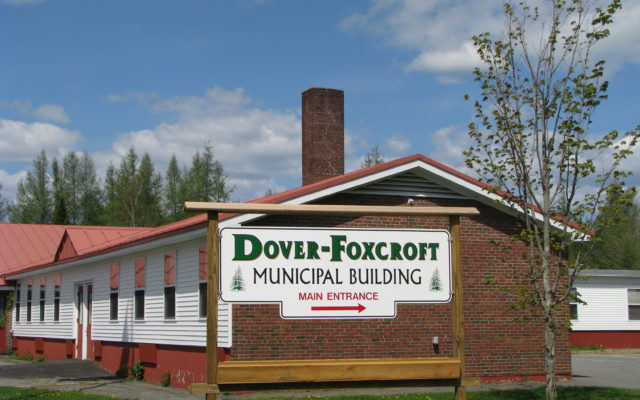 Morton Avenue
The Morton Avenue Municipal Building in Dover-Foxcroft
D-F residents approve $6.1M budget at town meeting
DOVER-FOXCROFT — A proposed budget totaling $6,102,510 for the 2021-22 fiscal year was approved at the annual town meeting in the Morton Avenue Municipal Building Gymnasium on April 24.
The figure will be offset by $3,198,760 in nontax revenues for a net amount of $2,903,750 to be raised.
The budget approved on Saturday is now moved to a referendum vote on Tuesday, June 8, for final approval, and a public hearing on the final ballot is set to be part of the Monday, May 24, selectmen's meeting.
The total appropriation is up by $772,875 (14.5 percent) from 2020-21, while revenues are $664,604 (26.23 percent) more than the current fiscal year. The near net $3.2 million to be raised represents an increase of $108,271 (3.87 percent) from 2020-21.
All 10 items making up the town meeting warrant were passed as written at the first session held in person since 2019, with the meeting process altered by COVID-19 last year. The articles passed included a little more than $5 million for town operations which after $1,107,455 in revenue and surplus equals a net total of just over $3.9 million to be raised.
One person asked about $111,170 for equipment leases, and Town Manager Jack Clukey said leases from various municipal accounts were consolidated into this line item. "It's a new line we're showing in the budget but it's not new money," he said, mentioning street lights and public works equipment as examples of included items.
Also approved was $385,000 for a reserve account for capital equipment, another $90,000 for town buildings and facilities and $737,820 for sewer operations, debt repayment and capital.
A combined sum of $600,000 was approved, with $400,000 for local road improvements and $200,000 for bridge improvements. The $600,000 is made up of $310,000 raised and appropriated, $200,000 from surplus and $90,000 anticipated from the state.
"We've been working much more, paving annually since 2016," Clukey said about a 10-year paving plan. "We put together $400,000 a year for paved roads."
He said Dover-Foxcroft has about 35 miles of paved roads and another 50 miles of gravel travelways. Clukey said a lot of progress has been made with the 10-year plan and work for the upcoming seasons includes stretches of Essex, Elm, Cedar, Pearl and Depot streets and the North, Steadmans Landing and Foxcroft Center roads.
The money for bridge improvements is for work on Autumn Avenue and Grove Street, including culvert replacement.
Town meeting attendees approved appropriating $112,478 for the purchase of a snow groomer, which will be reimbursed by the Piscataquis Valley Snowmobile Club over a timespan of no more than two years.
"The snowmobile club will be responsible for all the upkeep and maintenance on the groomer," Clukey said. He said half of the club's contribution is already available and the remainder would likely come in via regular grants given for routine trail maintenance.
Lastly, an amendment to the land use ordinance was approved to change a parcel from the village district to the adjacent rural residential district.
Code Enforcement Officer Brian Gaudet said owner Scott Greene of Scooters Service Center on Summer Street "would like to grow his business a little further." Greene would expand on his existing property, which spans two districts.
Gaudet said this would "allow this business to grow in the way he would like it to grow."
Selectman Steve Grammont said he was part of the land use ordinance committee that drafted the original document, and considerable debate was had about the ending and starting points of the various districts including Scooters on Summer Street. "The ones right on the border are always a tough call," Grammont said.
"As someone who drew the line around this, I am in favor or redrawing it," he said.