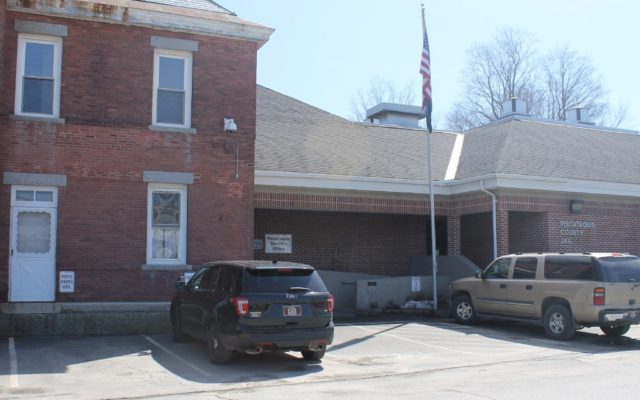 AX017_033D_9
The Piscataquis County Sheriff's Office in Dover-Foxcroft
Sheriff's office looking at patrol vehicle computers
DOVER-FOXCROFT — A formal decision will be made after the bid process, but the Piscataquis County Sheriff's Office may be equipping patrol vehicles with computers to enable tickets to be written electronically and for deputies to check information on site.
During a Piscataqus County Commissioners meeting on Dec. 7, Piscataquis County Sheriff's Office Chief Deputy Todd Lyford said the state will be requiring law enforcement agencies to issue eTickets for traffic violations. Lyford said the timeline may be 2023 but nothing final has come through yet.
Currently the department issues hand-written tickets for those caught speeding or committing other violations. Deputies also need to call in to dispatch for license and registration checks, and this could be conducted on the computers in the vehicles.
Lyford said the computer system used to issue eTickets would allow devices mounted in patrol vehicles to be removed for when deputies are working in the office. He said the Maine State Police uses eTickets, as do other municipalities across the state.
Lyford said the computer system does fit American Rescue Plan funding criteria, should the commissioners decide to go in this direction. He also said there may be grant funding available.
"We have a whole mountain coming down on us as far as the communications issue," Commissioner Andy Torbett said in encouraging the procurement of any grant monies.
The county had hired a consulting group to study the communications needs for emergency responders. Piscataquis County fire and police departments and ambulance services have been dealing with communications problems for several years, many of which stem from the hilly and mountainous terrain of the region and/or aging and out of date infrastructure.
There are no immediate, inexpensive solutions but Communications Design Consulting Group of Barrington, New Hampshire, has been working on a feasibility study for a nearly $5 million upgrade to the county's public safety radio system.
Commissioners Chairperson Jim White said he would prefer mandates not be imposed on local agencies but "with that said, I think it's a good tool."
The commissioners passed a motion for the computer system to go out to bid in order for them to discuss it more in the future.
In other business, the commissioners approved an updated purchasing policy. The amendment allows expenditures of up to $10,000 to be authorized at the discretion of the county manager, doubling the previous cap of $5,000.
"A number of years ago we dropped it down to $5,000 but at the time it wasn't costing as much as $8,000 to $10,000 when a culvert washed out," White said. "It makes it impractical to go out to bid every time there's a common road occurrence."
He encouraged interested contractors to get their name and contact information into the county office for when situations such as those requiring quick road repairs arise.