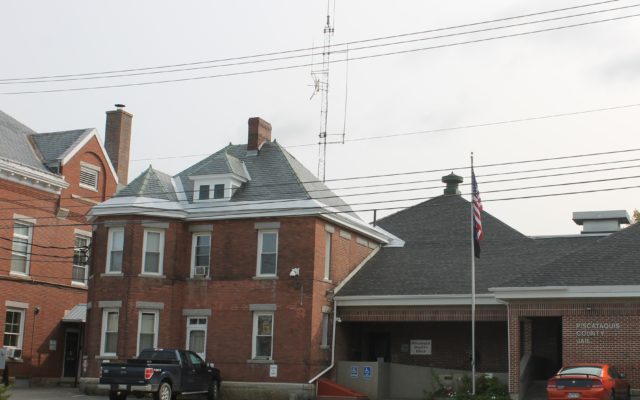 PO-countytower-38-20
Observer photo/Stuart Hedstrom BETTER COMMUNICATION -- Piscataquis County officials have sent out a request for proposals for a public safety radio system study to solve long-running communications problems for the region's fire and police departments.
County officials moving forward with communications upgrades
DOVER-FOXCROFT — The Piscataquis County Commissioners are awaiting more details on plans to upgrade the county's public safety radio system.
The commissioners hope to hear a presentation from Communications Design Consulting Group of Barrington, New Hampshire, after having recently received a lengthy report on a feasibility study, but in the meantime authorized the sheriff's department to explore all funding sources that could help cover the near $5 million cost.
Piscataquis County fire and police departments have been dealing with long-running communications problems, many of which stem from the hilly and mountainous terrain of the region.
During an Oct. 5 meeting with members of the Brownville, Dover-Foxcroft and Milo fire departments present, Commissioners Chairperson Jim White said the evening before he received an 87-page report on the project. He said he did not have time to read the document, and could not yet make any decision on how to proceed.
"We need to understand it more before we accept," White said. "It is our goal to do the best we can with communications, that's why we spent $27,000 to find what's out there."
County Manager Michael Williams said he will speak with Communications Design Consulting Group to arrange a meeting over the next few weeks, either during a regular commissioners meeting or at a special session if need be.
"I think the EMS people need to know we are in favor of this 100 percent, but we need to see it before we pass it," Commissioner Andy Torbett said.
"I know there's a great sense of urgency but this is not something we can rush into," Sheriff Bob Young said.
"I want to see that 9-1-1 out of the jail and I want to see the county have the best communication we can afford," White said.
Last month, the commissioners discussed putting the radio project out to bond on the November 2022 ballot.
Upgrades cited in the first phase of the study will cost $4,994,080. This does not include a potential move of the Piscataquis County Sheriff's Office dispatch center out of the cramped conditions inside the jail in Dover-Foxcroft and up Route 15 into the patrol and investigations division building in Guilford. The cost of this transition is to be determined by the consultant.
Williams said last month that should the $5 million be paid over a 30-year term, the yearly amount would be from $233,000 to $275,000 based on a 2.5 to 3 percent interest rate. He said bids from various financial institutions would be sought to find the best funding package.
In other business, Young and the commissioners discussed the possibility of adding another deputy to patrol the Unorganized Territories.
The sheriff began with some requested statistics. He said the department responded to 3,242 calls in 2019 with 413 of these coming from the UTs (12.4 percent). In 2020 there were 3,913 calls with 496 for the UTs (12.6 percent). Through the first three quarters of 2021 the respective numbers were 3,320 and 423 (13 percent).
"We will be over (2019 and 2020) I'm sure because fall tends to be busier in the UTs," he said, with hunters coming in.
"We have lacked a significant presence," Young said. He said in the late 1990s a three-year grant funded a deputy for the northern portion of the region, from Monson north, and this officer resided in Shirley.
"Since then we've covered with the deputy on the road," the sheriff said.
Williams mentioned a call in far north Piscataquis County could tie a deputy up for five hours with travel from the south.
"That's our goal, to provide a sustained presence there," Young said. "That sustained presence where you can be part of that community and people have the confidence you are there."
When asked, Young said he would like to hire a deputy and he would insist they live somewhere in the northern region. The sheriff said currently there are nine officers who work the road, including himself and Chief Deputy Todd Lyford.
"If the mountain proposal comes to fruition that will certainly change the dynamics of the north," he added about the proposed Big Moose Resort with year-round attractions and housing.
"It's budget season. Give us a proposal of what you think it will cost for another deputy and we will approach it," White said.
Williams said the budget committee is scheduled to have its first meeting at 6 p.m. on Thursday, Oct. 14. The ensuing schedule will be determined that evening, with the committee typically meeting over four weeks.
"Jaeme's starting on the 12th," Piscataquis County Emergency Management Agency Deputy Director/E-911 Addressing Officer Debra Hamlin said about new director Jaeme Duggan. "I'm setting up appointments for her to meet the town managers and showing her around."
Duggan previously worked as a full-time dispatcher for the sheriff's department for the last three and a half years.
At the end of July long-time Piscataquis County EMA Director Tom Capraro retired. Since Capraro's retirement after nearly 14 years with Piscataquis County EMA as both deputy director and then director, Hamlin has been leading the agency. Hamlin will remain in her current position once Duggan begins.