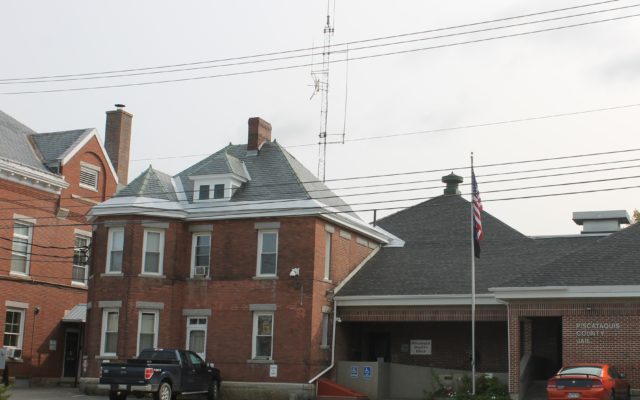 PO-countytower-38-20
Observer photo/Stuart Hedstrom BETTER COMMUNICATION -- Piscataquis County officials have sent out a request for proposals for a public safety radio system study to solve long-running communications problems for the region's fire and police departments.
County officials hear study findings from group looking at inadequate communications system
DOVER-FOXCROFT — The consulting group hired to study the communications needs for the county's emergency responders presented its findings to the Piscataquis County Commissioners on Tuesday.
Piscataquis County fire and police departments and ambulance services have been dealing with long-running communications problems for several years, many of which stem from the hilly and mountainous terrain of the region and/or aging and out of date infrastructure. There are no immediate, inexpensive solutions but Communications Design Consulting Group of Barrington, New Hampshire, has been working on a feasibility study for a nearly $5 million upgrade to the county's public safety radio system.
Normand Boucher and Anthony "Chick" Langone of Communications Design Consulting Group presented some of their findings to the Piscataquis County Commissioners and representatives of the Brownville, Dover-Foxcroft, Guilford, and Milo fire departments on Nov. 16. The firm had previously delivered a lengthy report to the county.
Communications Design Consulting Group was awarded the study bid about a year ago "and since then we've done a lot of work," Boucher said. He mentioned this has included meeting with members of area fire and police departments and touring various sites around the region, such as the locations of around a dozen transmitters throughout Piscataquis County and beyond.
Boucher said two key issues determined are "radio signal coverage in the county and end of life equipment." He said even in the face of a major snow storm or a hurricane, "first responders need to talk" with radio communications vital for public health and safety.
Mobile coverage from vehicles is not too poor in Piscataquis County, Boucher said. He said often firefighters and police officers need to be able to speak with one another and dispatch from where they stand and they cannot rely solely on a vehicle radio.
"The deficiency lies with handheld coverage," Boucher said.
The consultant said the firm has developed three reports for the county. One is dedicated to radio coverage — containing many current and proposed maps, and another outlines findings and recommendations with an analysis and cost estimates.
The third report deals with a preliminary study on a potential move of the Piscataquis County Sheriff's Office dispatch center out of the cramped conditions inside the jail in Dover-Foxcroft and up Route 15 into the patrol and investigations division building in Guilford. The cost of this transition is to be determined by the consultant, and move expenses are not part of the $4,994,080 cost for the radio upgrade.
"The lack of signal or poor radio coverage is probably the biggest issue," Boucher said.
"The system you have today is a basic system," he said, mentioning that what is in place for the region was designed in the 1960s to fit the needs of technology from that era. He said today each tower site is on its own, as opposed to all being on the same system.
"It's like having 12 or 13 different systems," Boucher said. Some parts of the county communications system are out of date, and usually when this happens the manufacturer is only able to provide service for several years after.
"At that point it's probably a good point to start planning for replacement," Boucher said.
He said a goal is to have 95 percent reliability from communications systems, and currently this rate is about 89 percent for Piscataquis County. "Which means it is an 11 percent failure and that would happen at the wrong time," Boucher said.
In talking about solutions to the communications problems, Boucher said the number of repeater sites would remain at 13, but these would be used simultaneously. He said there would be two channels for the county, fire and police, instead of nearly one for every town as is in place now. Equipment would be updated and/or replaced as needed.
Earlier in the fall the county commissioners authorized the Piscataquis County Sheriff's Office to explore all funding sources that could help cover the nearly $5 million cost. The sheriff's department also will work with Communications Design Consulting Group on bid specs for a request for proposals on the dispatch center move.
The commissioners have discussed the idea of putting a radio project out to bond on the November 2022 ballot.
County Manager Michael Williams said that should the $5 million be paid over a 30-year term, the yearly amount would be from $233,000 to $275,000 based on a 2.5 to 3 percent interest rate. He said bids from various financial institutions would be sought to find the best funding package.
In other business, the commissioners will hold a public budget hearing on the proposed 2022 Piscataquis County budget and 2022-23 Unorganized Territory budget at 6:30 p.m. Monday, Nov. 29, in their chambers in the Peaks Building at 163 East Main St.
Williams has been developing the spending plans with the department heads and budget advisory committee. The commissioners typically approve the budgets at one of their December meetings.
Sheriff's office Chief Deputy Todd Lyford mentioned a pair of promotions in the department.
Eric Berce and Alan Wintle were both recently promoted to the rank of sergeant. Berce is the supervisor for the communications division. Wintle is the supervisor of the corrections division.