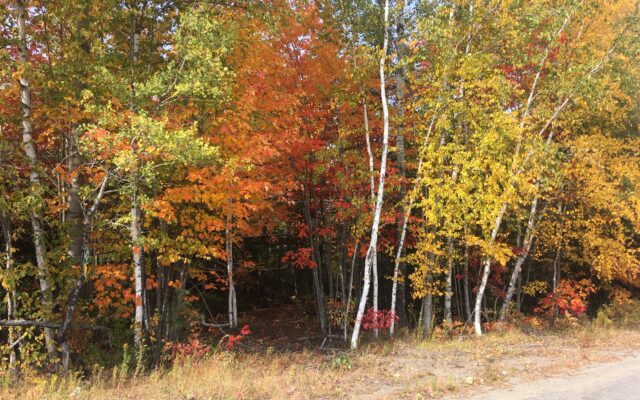 PO-MLEDChomes-0927-20
File photo courtesy of Moosehead Lake Economic Development Corporation WORKFORCE HOUSING -- Road frontage of property on Spruce Street in Greenville belonging to Moosehead Lake Region Economic Development Corporation that is available for development.
Special town meeting for Greenville housing district set for Dec. 6
GREENVILLE — A special town meeting concerning a proposed multigenerational housing district on Spruce Street will be held at 6 p.m. on Wednesday, Dec. 6 between the regular planning and select board meetings. The schedule was formally approved by the select board during a Nov. 15 meeting.
Planning Board Chairperson John Contreni said a public hearing on the matter was held earlier in the evening. He said 60-plus abutters were contacted, notices were posted around town, and an advertisement ran in the Piscataquis Observer.
"That generated two guests who came tonight at 5 o'clock," Contreni said, mentioning Northern Forest Center Senior Program Director Mike Wilson and some organization staff members were also present.
For more than a year the Northern Forest Center has been working on a Spruce Street housing project with the town of Greenville, Moosehead Lake Region Economic Development Corp., and Northern Light CA Dean Hospital to bring middle-income housing to the community to help remedy the housing issues near Moosehead Lake. The site is 5 acres on Spruce Street off Pritham Avenue owned by the MLREDC and the Northern Forest Center would purchase the property in the future.
To help bring the project to fruition a new overlay district is being proposed by the Northern Forest Center. An overlay is an additional layer of planning control for properties in a clearly defined area with a specified set of regulations. Greenville currently has three overlays, a scenic corridor, another for groundwater preservation, and the shoreland zoning district.
The new district would permit the construction of 22-28 units on the Spruce Street property, which would make these homes more affordable. The new district would help eliminate as many barriers as possible. The Northern Forest Center would like to see no minimum lot size, no minimum setbacks from property lines, no maximum lot coverage, no minimum frontage, and no maximum height.
Contreni said he felt the two residents' questions were answered for a successful public hearing.
"The next step is to have a special town meeting in which the voters of Greenville will vote on this proposed zoning change," he said
"We appreciate both you all and the planning board and folks kind of leaning into this, asking good questions and moving along the process is great," Wilson said.
Town Manager Mike Roy said he has sent three proposals for an environmental review for a public road and sewer and water infrastructure extensions into the housing area. He said these are due back by Dec. 1.
The Northern Forest Center would like to bring the proposal before its board in February, and everything should be in accordance with town ordinances before then in order for the project to proceed.
The Northern Forest Center has worked with the town to secure a $991,708 grant from Northern Border Regional Commission. An additional $265,000 to be raised by Northern Forest Center will also help offset the costs for sewer and water extensions, stormwater collection installation, and construction of a new road and sidewalks onto the property. The road, sidewalk, and water and sewer would be deeded to the town.
Contreni also said another article on the warrant will request an adjustment to the planning board quorum number from four to three members.
Contreni had previously said the planning board is looking to amend its by-laws to change the meeting quorum for the 5-member group. The by-laws have been in place since the establishment of the planning board in 1988, and there have been several amendments since then.
In other business, Roy said the town is set to receive an approximate $14,140 reimbursement from the Maine Office of Cannabis Policy.
He said communities who opted-in to adult use cannabis were eligible to apply to recoup some costs related to expenses for public hearings, legal review, newspaper advertisements, and more pertaining to a marijuan ordinance. Greenville's was approved in November 2020.
Roy said Contreni did a lot of the heavy lifting by compiling the various financial statements, with Town Clerk Bethany Young also playing a big role in the process. He said the application was for just over $17,000 and the majority of the request was granted.
"So thank you John for all you did," Roy said. "It was a lot of work in a short amount of time"
The town manager said he, Fire Chief Sawyer Murray, and Police Chief Jim Carr would be meeting with Sheridan Construction Corp. representatives the following week "to complete a punch list walk-through of the new (public safety) building so we are getting very close to completion." Roy said they would be making sure everything is painted as it should be and more as the project nears completion.
He said at 10 a.m. on Tuesday, Nov. 28 he will be part of a meeting with various community partners to continue planning for the April 8, 2024 eclipse. The session will include historical data on what other small towns have done in similar situations when thousands of visitors came.
"The purpose is to get it out there so people know what we might expect — 10,000, 30,000 people, all of the above you don't know," Roy said. He said the aim is to inform businesses such as gas stations, grocery stores, restaurants, and others so they can plan for next spring.
Northern Light Mayo and CA Dean Hospitals, fire and police departments from across the region, and emergency management agencies have been planning for next April, looking at areas such as food and fuel, safety, and preparedness as in Greenville there will be visitors coming to see about 3.5 minutes of total darkness around 3:30 p.m.