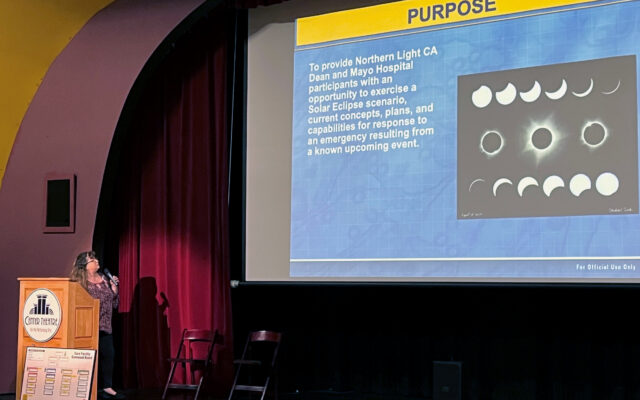 EP3
Photo courtesy of Northern Light CA Dean and Mayo Hospitals ECLIPSE PLANNING — Nikki Chadwick, RN, MSN, CPHQ, vice president of quality and education for Northern Light Mayo Hospital, speaks during a tabletop exercise to plan for the April 8, 2024 total solar eclipse on Oct. 24 at the Center Theatre in Dover-Foxcroft.
County officials planning for influx of solar eclipse visitors
DOVER-FOXCROFT — Around 3:30 p.m. Eastern Standard Time on Monday, April 8, 2024 the moon will be fully in front of the sun for a total solar eclipse, after leading up to the event starting at around 2 o'clock that day. Among the best viewing spaces in the country will be Piscataquis County with thousands of visitors projected to be coming to the region for the event.
To help plan for the influx of people five and a half months in advance, representatives from Northern Light Mayo and CA Dean Hospitals, fire and police departments from across the region, and emergency management agencies gathered at the Center Theatre for a tabletop exercise on Oct. 24.
"Instead of doing a full drill, basically we sit around a table," Nikki Chadwick, RN, MSN, CPHQ, vice president of quality and education for Northern Light Mayo Hospital, said a few days after the tabletop exercise. "We didn't have a table at Center Theatre but we talked about the event, 'here's what we think is going to happen' and we developed what we called a 'threat list.'"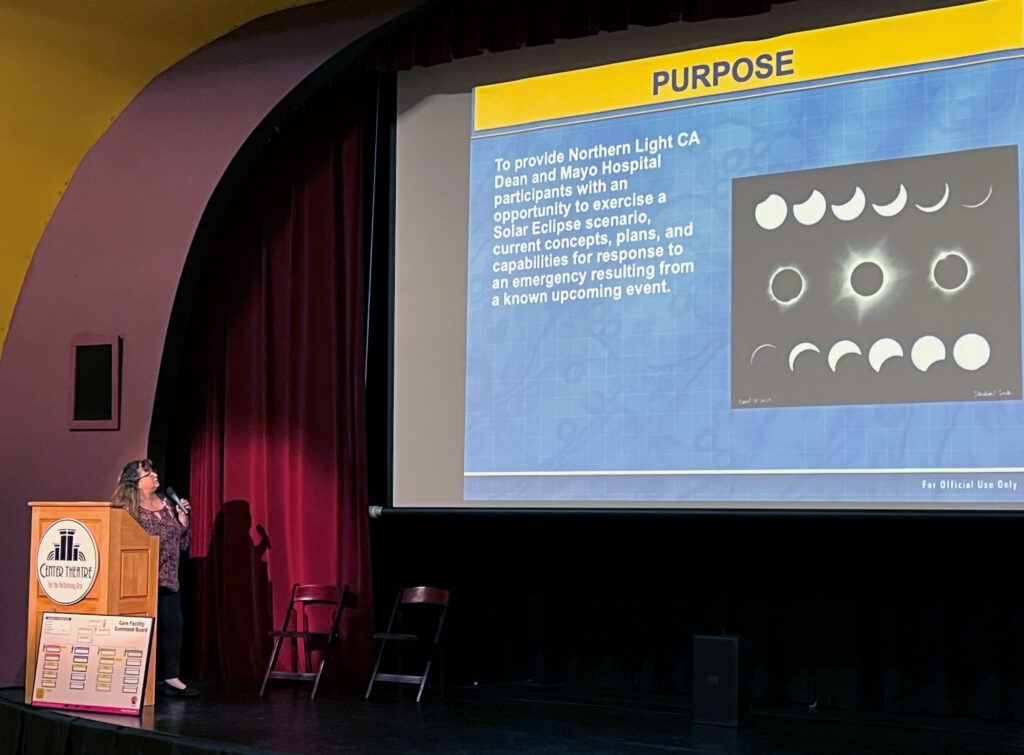 She said participants brainstormed major concerns, separated these into categories and discussed how to address the issues to be ready for April 8.
"We are still obviously very early on in the planning but it is getting those different groups to the table," Chadwick said. "We had firefighters from many different towns, police, sheriffs, Piscataquis County EMA, and the two major hospitals so that way we could sit down and talk about different issues from different viewpoints. So we had a lot of good interaction and discussion, really how are we going to prepare for this type of event."
"We have people go through the drills with fake patients, in cases like this we are just talking through what we would do and not actually going to sites or using props," Chadwick said. "More like a conversation about the event."
Northern Light CA Dean and Mayo Hospitals President Marie Vienneau, FACHE said county agencies were happy to participate and plan in the tabletop exercise organized by Chadwick. "They are concerned about the amount of people coming to Piscatquis County during the eclipse," Vienneau said.
Chadwick said those looking to come to Maine in the early spring will see the path of totality is in a lower population area, from Rangeley to Jackman, through Piscataquis County and over to Houlton. She believes the total solar eclipse will be visible for about two minutes in Dover-Foxcroft and a bit longer the further north travelers go.
She said it is early to get an idea of how many people may come to Maine, but preliminary estimates have this figure anywhere from 7,000 to 50,000 and the question is where in the state are they going to go. Chadwick said organizers before a viewing event in Wyoming in 2017 underestimated the audience of 150,000 by about half.
She said the tabletop exercise got her thinking about the traffic coming to the region on April 8.
"Our roads aren't really made for multiple lane traffic," Chadwick said. "You think about people even heading to Greenville to get the most out of the solar eclipse, there are not many roads that go there. Even that 5-way in Guilford, do we need somebody doing traffic there? How will emergency vehicles get through if there is a car accident?"
Parking and supply concerns were also brought up on Oct. 24. "Do we have enough gas trucks, and charging stations and tow trucks, and how are we going to get them where they need to be?," Chadwick said. "In mud season a lot of places close, is there going to be enough restaurants and food? This is not our typical vacation time."
She said Moosehead Lake will likely still be frozen, but the ice very well may not be safe, and are visitors going to be prepared for the possible conditions of mountaintops in the early spring.
Vienneau said retinal burning from staring at the eclipse without the appropriate protective eyewear is another concern — Northern Light Health will likely be providing eclipse glasses.
"We are certainly going to prepare for that and make sure our providers are up to speed on care, which is really just supportive care," she said.
Ophthalmologists are not typically on call in Maine as Vienneau said, "If you have an eye injury on the weekend you have to go to Boston. We will have care we can provide in our emergency departments, we won't be able to do the follow-up eye care that will have to be done elsewhere."
"Communications is also a big issue that we are worried about, cell tower usage," Chadwick said. "Our area's ready for some visitors and 16,000 people. Can the cell towers handle it if that number were to double or triple? People are going to want to live stream the solar event and all those things and do we have the capability to still have emergency communications and how do we best plan for that?"
Vienneau said somebody will likely try to summit Katahdin and some sort of rescue could be needed. "We are just trying to be prepared, making sure our employees are prepared, and that we take as many precautions as we can and are ready to take care of people if the influx that we predict does happen," she said.
Chadwick said the next steps are to take everyone's suggestions and evaluations from the tabletop exercise and use this information in the planning process, which includes community education for the April 8 eclipse.