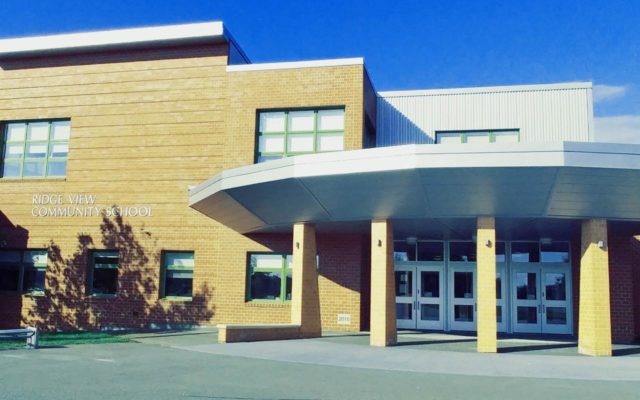 Ridge View Community School
The Ridge View Community School in Dexter.
SAD 46 board approves $16M budget
District meeting set for June 1
DEXTER — The SAD 46 School Board approved a proposed 2023-24 budget totaling $16,025,870 during a May 3 meeting at the Ridge View Community School. The gross figure is down by $399,507 (2.43 percent) from the current academic year's figure of $16.4-plus million.
Superintendent Kevin Jordan said SAD 46's state subsidy was down by about $292,000 from the near $11.5 million in 2022-23, "which put us in a more difficult budget situation starting out than we have been in in a few years." He explained through some reductions and good luck, the total budget was able to be reduced.
Mentioning SAD 46's per pupil cost of $15,957 is less than the state average of $17,999, Jordan said valuations in the four district communities have all risen and each community will have an increased assessment as part of the budget.
Between $2,873,847 in local required monies, $415,746 in local additional funds (annual monies district officials feel are needed to fund the full budget beyond what the state requires), $75,000 for food service, $36,716 for local debt service, and $70,738 for the district's proportional share of the Piscataquis Valley Adult Education Cooperative budget, SAD 46 has a combined $3,472,048 local assessment.
Dexter would see an $84,492 increase (4.457 percent) for a figure of $1,980,109 under the proposed finances. Exeter's $606,219 share is up by $31,492 (5.48 percent), Garland would have a $60,671 (12.56 percent) increase to $543,722, and for Ripley a $25,897 increase (6.193 percent) would bring its portion of the 2023-24 SAD 46 budget to $341,996.
"I think it's in line with the budgets that we try to present that maintains student services our students and staff need while thinking of taxpayers," Jordan said.
After approving its total budget, the school board also formally approved the SAD 46 share of the PVAEC budget.
"That's the best deal in town for our adult education population, being part of this collaboration" Jordan said. "This has been an outstanding group to be involved in."
The directors scheduled the annual district budget meeting and budget validation referendum for next month.
The annual district budget meeting will start at 6 p.m. on Thursday, June 1 at the Ridge View Community School. The total spending plan figure approved that evening will be moved to a referendum vote in the four district communities on Tuesday, June 13.
Jordan said the school board needs to validate the referendum totals within 48 hours, so the directors' June meeting will be Wednesday, June 15 instead of the typical first Wednesday of the month.
The superintendent thanked the budget committee for its work, meeting weekly since February. "We came to a resolution after lots and lots of work on the budget we will bring forward to you folks tonight," he said. "We're proud to have a budget to present."
In other business, Jordan mentioned recent stories in the Piscataquis Observer and Bangor Daily News on a proposed regional comprehensive high school that could serve SAD 46, SAD 4 of Guilford, the Milo-based SAD 41, and RSU 64 of Corinth.
Superintendents from the four districts were surprised to learn from the Maine Department of Education about a year ago they would have to fund preconstruction costs alone. A ballpark figure of $500,000 was mentioned for engineering studies, which could be split four ways. The to-be-determined state funding for the project is reserved for building the school at a location to also be determined.
"Essentially we were politely calling out the commissioner of education," Jordan said about the articles. He said Commissioner Pender Makin has said she wants to find a way to help the project and find the funding for the preconstruction costs.
He said an article from earlier in the week is the first time Makin had stated publicly that she sees the proposed regional high school as a model for future education possibilities in the state and the department has submitted language in its budget proposal to make funding available for startup costs.
For nearly half a decade Group Mission Trips — a non-profit, interdenominational Christian volunteer home-repair group — has come to Dexter to work on properties in town and in nearby communities.
The dates of the 2023 session are to be to be announced, but the group will again be staying at Ridge View for the week.
"It's really, really good for our community and the houses that need additional support," Jordan said.
In 2021 80 teenagers and adults from around the country spent close to a week in Dexter working on 13 home projects at no cost for area residents who otherwise could not afford to have the needed repairs made. Participants stayed at the school, while Group Mission Trips covered expenses such as food and kitchen and custodial staff.
In years in which COVID-19 has not been as prevalent, nearly 250 students and other adult volunteers have come to town.
"It's very rare this group comes back to a community once, let alone four times," Vice Chairperson Brian Sawtelle said. "It shows how well the community serves them."