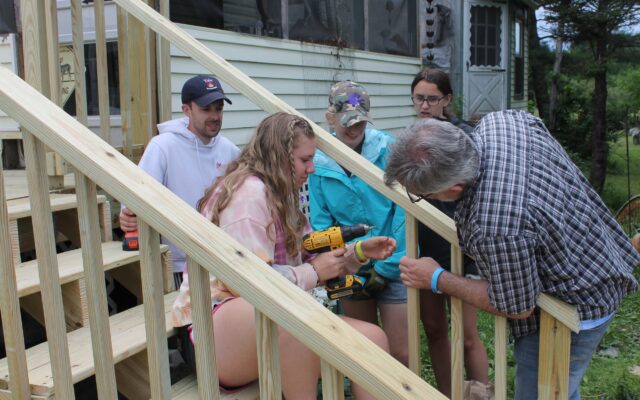 PO-workcampalldrill-28-21
Observer photo/Stuart Hedstrom STEP WORK -- A group from the Church of the Good Shepherd in Nashua, New Hampshire constructs front steps and a deck for a home in Ripley during the recent Group Mission Trip workcamp in the Dexter area. From left are Father Greg Baker, Aliyah Lewis, Audra Robinson, Samantha LeGallo and Father Michael Greene.
Home workcamp returns to Dexter area
For the second time in three years, volunteers from around the country spent nearly a week in and around Dexter from July 5 to 9 working on 13 home projects at no cost to residents who otherwise could not afford to have the needed repairs done.
The improvements carried out by about 80 teenagers and adults were made through Fort Collins, Colorado-based Group Mission Trips, a non-profit, interdenominational Christian volunteer home-repair group.
The local workcamp was sponsored by the town of Dexter and First Baptist Church with assistance provided by a number of businesses and organizations.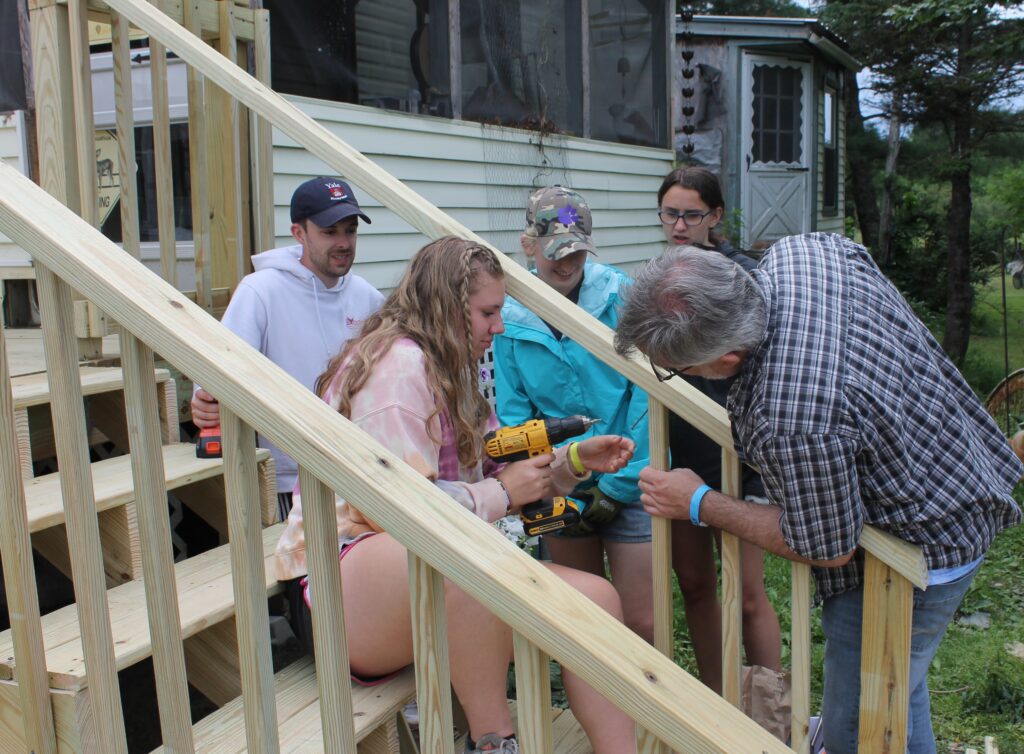 On Main Street in Ripley, two priests and three youth group members from the Episcopal Church of the Good Shepherd in Nashua, New Hampshire, were spending their time constructing new front steps and a porch.
"We are here on a week of service to build this porch, which I think is a first for all of us," said Father Greg Baker during the early afternoon on July 8.
Dexter workcamp director Jeff Bettinger of Hingham, Massachusetts, said the previous steps came off the home at an awkward angle and were unsafe.
"We had gone through and scored this out, working with (F[irst Baptist Church Lead Pastor Andrew Bermudez] and his group here in Maine, and said we're going to put a porch in here and steps," Bettinger said. "But then when they came out they literally had to figure out what to do. There was a pile of lumber and there was instruction that said build a 6- by 8-foot porch with steps."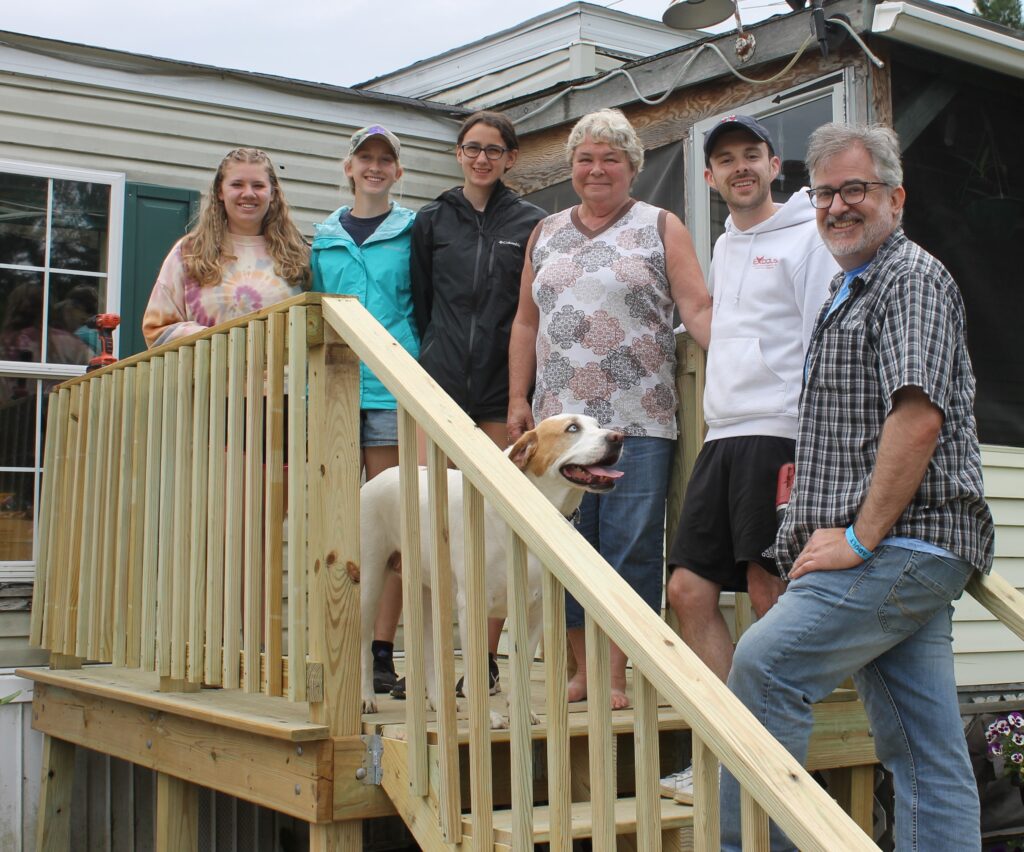 "They talked to the resident and came up with a design and executed it," Bettinger said about the group from Nashua.
He said a site coach, with construction experience, visited daily, but "literally, they made a plan and worked a plan and you can see the result here which is a great porch that is going to last a long time for these residents."
Father Michael Greene said they began working on July 5 and with "one more half day and I think we will be all set on it."
He said the day before featured just a half day of work "so everybody could enjoy some local hospitality and blow off steam."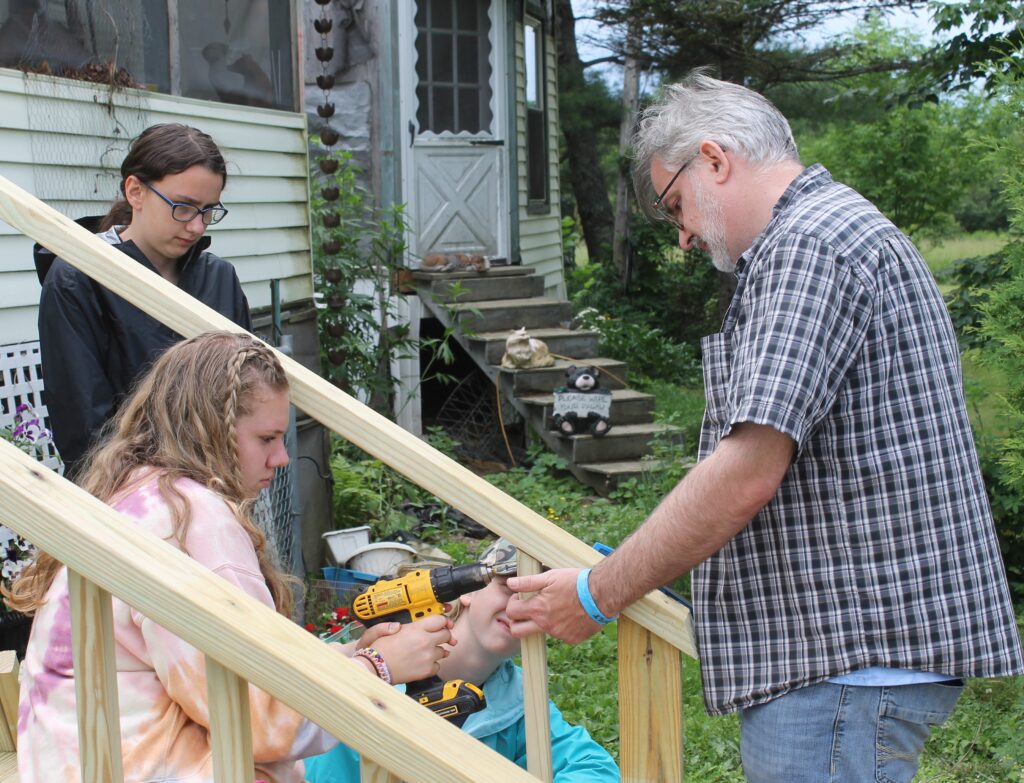 Workcamp volunteers had food and entertainment at the Lake Wassookeag beach, where they could try kayaking and also go on trips to explore the Maine woods or coast.
"We built the foundation, so the frame, right here on Monday and then we had all of the posts in and this all standing and flat on Tuesday and we did the railings yesterday and we're working on the stairs today," Aliyah Lewis, of Nashua, said.
Lewis mentioned she and fellow youth group member Audra Robinson, also of Nashua, had both previously taken part in a Group Mission Trips workcamp, and their duties included working on a kitchen and painting a living room.
"We had to cut our own stairs because the stairs they gave us were not long enough so we had to trace a different set of stairs and make the stairs longer so that added some time," Samantha LeGallo, of Manchester, New Hampshire, said.
"We hand out all the applications and connect with the community to see where the needs are," Bermudez said.
"It's a good partnership in that sense. Group is looking for places to send volunteers to do work and then we're looking for volunteers to come and do work and what's nice is only having to worry about raising the money for the materials," he said. "Group takes care of the food part and the lodging with the school. They do use the cosponsor to connect with the school or maybe another place in the community that would house a lot of people."
"It's a service project for all of these young people," Bettinger said. "They pay to come here. They do fundraising" to cover the $480 cost. The fee goes toward food, insurance and some building material expenses.
Lewis said a restaurant donated a portion of meal proceeds if patrons mentioned the trip, and she also sold Krispy Kreme donuts.
Greene said the Church of the Good Shepherd has a connection with a trust fund in Boston that supports youth ministry. "They underwrite a portion of this trip every year, as long as we keep them posted on what's going on and it's a service project," he said.
Bettinger mentioned that his church sells Christmas trees to benefit the mission trips.
"It's a really good partnership and so because of that and because it went really well in 2019 we had this planned for two years later, but we had so many applicants this year," Bermudez said. He said with the uncertainty around COVID-19, numbers were down in terms of volunteers and projects compared to 2019.
Bermudez said projects were selected in part on how the work would fit in with 2021 numbers, and the hope is to get to applications not chosen at a future year's workcamp.
He said with a smaller 2021 group, he has gotten to know everyone who came to town. Lewis concurred, saying she has done likewise with nearly all the youth and adults rather than just those who are part of her project crew and traveled from the same place to Dexter.
Once again, workcamp volunteers stayed at the Ridge View Community School. Custodial and kitchen staff are hired by Group Mission Trips.
Youth volunteers have come from New Hampshire, Connecticut, New Jersey, Pennsylvania and Indiana, and adult volunteers represent 10 states. "I have two staff members that drove here from Iowa [and] Illinois to volunteer," Bettinger said.