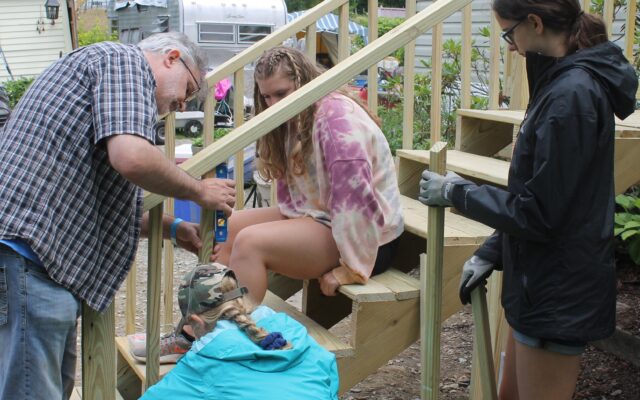 PO-sad46workcamp-29-21
Observer photo/Stuart Hedstrom RIDGE VIEW LODGING — From left, Father Michael Greene, Audra Robinson, Aliyah Lewis and Samantha LeGallo from the Church of the Good Shepherd in Nashua, New Hampshire, work on new front steps and a deck for a Ripley home as part of the July 5-9 Group Mission Trip workcamp. Program participants stayed at the Ridge View Community School while in the area and will do so again next summer.
SAD 46 will support home repair group again in 2022
DEXTER — Earlier in the month 80 teenagers and adults from around the country spent close to a week in Dexter working on 13 home projects at no cost for area residents who otherwise could not afford to have the needed repairs made.
Participants in the Fort Collins, Colorado-based Group Mission Trips — a non-profit, interdenominational Christian volunteer home-repair group — stayed at the Ridge View Community School, which covered expenses such as food and kitchen and custodial staff.
Participants in the summer 2022 workcamp will also stay at Ridge View, as the SAD 46 school board approved hosting the visitors again during a meeting in the school gymnasium on July 14.
"They really want to come back next year with their full complement," Superintendent Kevin Jordan said. "We would certainly support them coming back."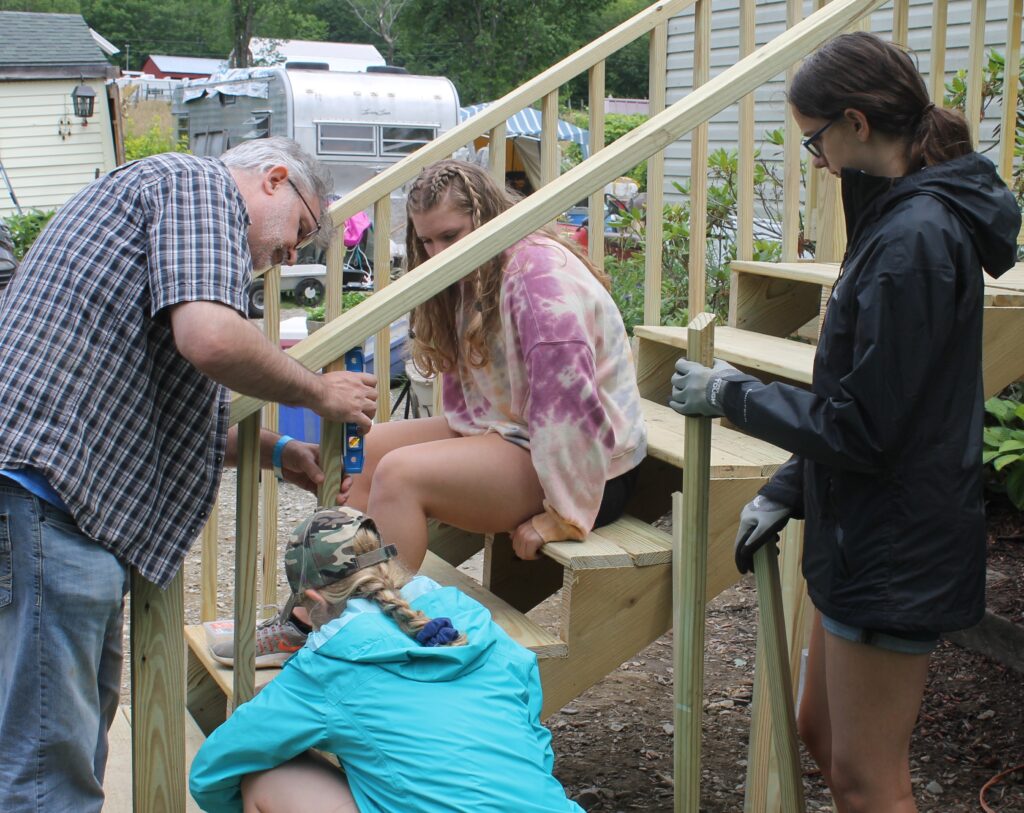 In 2019 about 400 Group Mission Trips volunteers worked on 60 projects around Dexter and adjacent communities, and the coronavirus pandemic canceled any plans for a 2020 workcamp. The program returned to the area July 5-9, but with smaller numbers of participants and sites.
"It's really a nice experience for kids coming here from around the country as well as our community," Jordan said.
When asked, Ridge View Principal Jessica Dyer said there were no negatives to having the Group Mission Trips volunteers stay at the school. "The only impact for us is scheduling, so we schedule around it," she said, about summer programs taking place during different weeks.
"I'm hearing and seeing that they did some good work for the community," Dyer said.
"We renavigate our schedule and go from there," Jordan said.
The local workcamp was sponsored by the town of Dexter and First Baptist Church with assistance provided by a number of businesses and organizations. Youth volunteers came from New Hampshire, Connecticut, New Jersey, Pennsylvania and Indiana, and adult volunteers represented 10 states.
In other business, the school board gave its approval for an application for a new second-year nursing program at the Tri-County Technical Center, "Allied Health," that will be offered in partnership with the University of Maine at Fort Kent.
"This is the final step before the application is sent out," Jordan said.
Tri-County Technical Center Director Brian Leavitt said Allied Health would begin in the fall of 2022. He said students who have completed their CNA certification would then go on to Allied Health. "They will essentially be getting their first year of nursing school out of the way," he said, while also being nationally certified in phlebotomy.
"It's an opportunity for them to save money. They can walk in through the door with 12-15 credits under their belt," Jordan said about TCTC program participants going on to nursing school.
The SAD 46 directors also approved a bid for two new 77-passenger school buses and one new 81-passenger vehicle at a cost of $280,419 with W.C. Cressey & Son Inc. of Kennebunk.
"These are buses that were approved in the regular budget," Jordan said. He said the district has worked with W.C. Cressey & Son Inc. for more than a decade and the company submitted the low bid.
The superintendent said SAD 46 applied to the state's school bus reimbursement program and was approved. "The following year they end up reimbursing us for our costs," he said.
"We had three bids from three different banks, Androscoggin Bank came in at 1.59 percent, which is outstanding," Jordan said. He said the interest rate will be for a term of four years and after each year, the state will reimburse all the bus costs for SAD 46.
In his report Dexter Regional High School Principal Steve Bell said, "The second floor bathrooms are under construction so we're very excited about that."
He said enrollment for the fall is currently right around 290 students but this could possibly increase to 300. Bell said three students from Athens will be attending Dexter Regional High School when classes resume, a first for the community which has school choice for secondary institutions and is part of the larger AOS 94 unit along with the SAD 46 institutions.
"We're working with the town to create a display for the downtown on Maine's Bicentennial," Dyer reported. Summer camp students decorated wooden shapes resembling the outline of the state and these were drying in the hallway.
"The final tally is 276 credentials earned by students," Leavitt said about various industry credentials attained by TCTC students in the past academic year. "If you look at pictures on our Facebook page you can see the pride in the students when they receive a credential like a CBL license," he said.