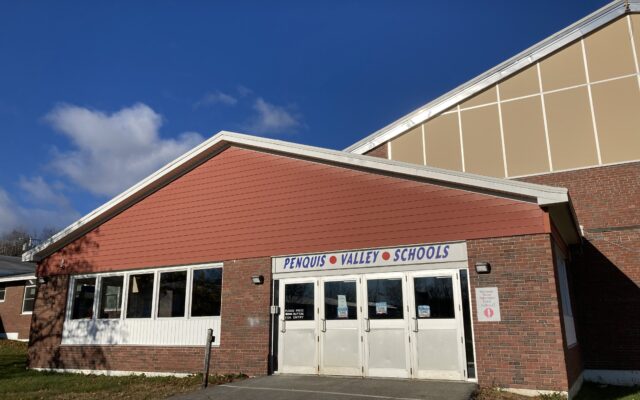 Penquis-Valley-High-School-Milo-111721
Observer photo/Valerie Royzman The Penquis Valley School in Milo.
$10.8M SAD 41 budget moved for Tuesday's referendum
MILO — A slightly adjusted proposed 2022-23 SAD 41 budget totaling $10,818,490 was approved during the annual district budget meeting in the Walter "Eddie" Oakes Gymnasium at the Penquis Valley School on Monday.
This figure will now go to the district communities of Brownville, LaGrange and Milo on Tuesday, June 14.
The approximate $10.8 million gross figure is an increase of $601,007 from the current $10,217,483 budget. The spending plan was adjusted at the district meeting.
Warrant articles are for different cost centers and for system administration, which includes expenses such as contracts for personnel and programs to run the school district. The recommended total of $378,470 was voted down 8-4. Two ensuing motions for $378,000 and then $378,400, respectively, were both voted down as well before a $357,109 total (the same as in 2021-22) was approved 5-3.
All other articles passed as written so the final budget totaled $10,818,490 or $21,381 less than what was brought to the meeting. Administrators will work on adjustments to reflect the $21,000-plus should the spending plan be approved on Tuesday.
SAD 41 will receive more than $6.95 million in Essential Programs and Services state funds, an increase of about $670,000. In order to receive these funds, district communities must raise $1,259,421, which is $75,678 less than in 2022-23. SAD 41 will ask for a $1,035,144 — revised to reflect the $21,381 reduction — in local additional funds.
The $1,035,144 was passed in an article by the required written ballot with a vote of 11-4.
The proposed 2023 budget has a $2,336,522 local contribution, consisting of the required funds and additional local monies as well as SAD 41's near $42,000 proportional share of the Piscataquis County Adult Education Cooperative budget. The $2.3 million is down by $97,059.
Individual town assessments still are to be finalized but each would be less than what they were in 2021-22.
"A lot of people like to focus on what's the difference with each community," Superintendent Michael Wright said.
Figures before the district meeting included a $1,142,003 total for Milo (a 4.41 percent decrease), a $779,226 contribution for Brownville (down by 0.84 percent) and LaGrange's share would be $436,673 (down by 3.62 percent). Shares are set by the state and based on pupil counts and community valuations
Wright said the referendum will include a question concerning a Revolving Renovation Fund project for the upgrades to the air system at Milo Elementary costing approximately $935,000. The project would be funded in large part through the Maine Department of Education's Revolving Renovation Fund.
"It's a $935,000 project that 70 percent is forgiven and we pay back 30 percent of it interest-free over 10 years," he said.
If approved by area voters next week, the state would cover 70 percent of project costs while the district would be responsible for the other 30 percent (a $670,000/$280,000 split). This would equal about $28,000 annually to be paid by SAD 41 for a decade, and this would be built into future budgets.
SAD 41 has utilized the school revolving renovation fund in years past. In 2017, SAD 41 residents approved an approximate $474,000 loan for a sprinkler system and elevator at Penquis Valley.
"We can take other monies and apply them in different places," Wright said, mentioning that COVID-related grants are being used for various purposes across the SAD 41 schools.
Business Manager Heidi Sisco said COVID-19 funds cannot be used to pay for part of the 30 percent portion of Revolving Renovation Fund monies.