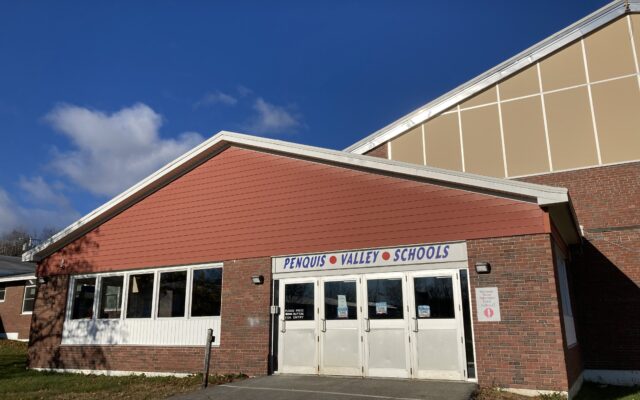 Penquis-Valley-High-School-Milo-111721
Observer photo/Valerie Royzman The Penquis Valley School in Milo.
SAD 41 schools planning to make masks optional
MILO — SAD 41 will be going with optional masking in its three schools starting on Monday, March 14, provided the number of positive COVID-19 cases is below a 5 percent threshold.
The school board approved this adjustment from universal masking in the district's Standard Operating Procedure during a meeting at the Penquis Valley School on Wednesday evening.
"As everyone knows, there's been a lot of talk on the change to the guidance from the CDC," Superintendent Michael Wright said, saying many school districts in Maine and beyond have already switched or will be switching from universal to optional masking. "The Maine CDC said as of next Wednesday, the 9th, optional masking would be the recommendation for schools."
Wright proposed a potential move to optional masking on March 14, after looking at the latest CDC and Maine Department of Education guidelines.
"In the last two weeks I have received many emails on both sides of this issue," he said.
Wright said 15 percent of students and staff in a building testing positive constitutes an outbreak, so he proposed a 5 percent positivity rate as a metric for whether masking is optional or required. The 5 percent would be based on a timeframe of from Saturday to Friday, with masking required or not beginning the ensuing Monday.
"If 70 percent or more of that number came from one school, that school would do masking for the following week," Wright said in response to a week by week decision on whether universal masking would be in effect for all of SAD 41 or individual schools.
"As of late, cases have been down," the superintendent said. He said he wants to look at the two weeks heading into a decision for March 14.
When asked about notifying parents, Wright said after looking at the Saturday to Friday data he would send out an all-call to let them know what happened and why. The mask status would also be posted on the school Facebook pages.
In other business, Wright said SAD 41 is eligible to receive approximately $960,000 from DOE's School Revolving Renovation Fund for upgrades to the air system at Milo Elementary.
"Seventy percent is forgiven and we would pay back 30 percent over 10 years," he said. This would equal about $288,000 at zero percent interest for SAD 41, with a cost of $28,800 annually for a decade.
"We will talk more about that next month at the capital improvement committee meeting," the superintendent said, with this taking place before the regular board meeting on Wednesday, April 6.
SAD 41 has utilized the school revolving renovation fund in years past. In 2017 SAD 41 residents approved an approximate $474,000 loan for a sprinkler system and elevator at Penquis Valley.
In 2016 SAD 46 Dexter was approved for $685,600 from the School Revolving Renovation Fund to fix a roof at Dexter Regional High School. The district had 70 percent of the costs forgiven, needing to only pay $205,680 over 10 years — $20,568 annually — at 0 percent interest.
Wright said not much has changed regarding a bill to allow for the first of its kind secondary institution in the region to operate as a community school district.
He said a work session was scheduled for the following day in Augusta on "An Act to Facilitate a Grade 9 to 16 School Project." Last month the bill was presented at a public hearing by Rep. Paul Stearns, R-Guilford — a retired superintendent of SAD 4 in Guilford — to the Maine Legislature's Committee on Education and Cultural Affairs. The bill is cosponsored by Rep. Steven Foster, R-Dexter, and Sen. Paul Davis, R-Sangerville.
The CSD would allow the regional high school to operate as a grade 9-16 district, in contrast to a K-12 school unit.
The regional high school project involves SAD 41, SAD 4 and SAD 46 of Dexter. RSU 64 of Corinth has shown interest but has not taken any formal action. Individual district votes on joining the regional high school will be taken in the future.
The first of its kind $100 million secondary institution in the state would be a CSD, defined by the Maine DOE as a combination of two or more municipalities and/or districts formed to build, maintain and operate a school building or buildings to educate any or all grades. The towns will maintain individual control over the education of their K-6 students or belong to a school union.
CSD school committees are apportioned according to the one-person, one-vote principle. The member municipalities share the CSD costs, based on a formula that factors in the number of students in each town and/or state valuation or any combination of either. CSD budgets are approved by a majority of voters present at a district budget meeting followed by approval at referendum.
Last month Wright said that the Legislature's approval of a CSD does not mean SAD 41 or the other districts are committed to do the project, with votes coming sometime in the future should more progress be made.
"I think it's safe to say, as I've said before, if it's in your backyard you're all for it, but not if it's 40 miles away," Wright said. "Everybody agrees that in theory it would be a fantastic opportunity for students, the question is the location."
"It's one thing to send 30 kids to (the Tri-County Technical Center in Dexter) every other day, but it's another thing to send every kid to Dexter every day," he said.
The next step if the CSD is approved is to finalize the governance, then potential high school locations will be discussed. The regional high school committee would appoint board members from each participating district to oversee the facility. Each district would have the same number of members.
The regional high school would be integrated with a career and technical school along with the University of Maine System and the Maine Community College System, and it would support industry training programs, according to a description on the DOE website.
The state will fund the project, though certain features and customizations to the school would likely need to be funded locally. The school also may offer post-secondary courses to area residents who have already graduated from high school.
Spring sports coaches were appointed. DJ Martin will lead the Penquis Valley baseball team, Hazen Conlogue will guide the softball squad, Sasha Bladen will serve as head coach of the track team with Josh Martin as the assistant, and Chelsea Richards will serve as middle school softball coach.