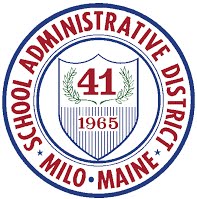 $10.2 million SAD 41 budget moved to June 24 referendum
MILO — A proposed 2021-22 SAD 41 budget totaling $10,217,483 was approved June 15 during the annual district budget meeting held in the Walter "Eddie" Oakes Gymnasium at Penquis Valley High School.
The $10.2 million spending plan will now go to a referendum vote at the polls in the district's towns of Brownville, LaGrange and Milo on Thursday, June 24.
The $10,217,483 total budget is up by $304,519 from the current year's figure of $9,912,964.
The state is requiring nearly $3,700 less to be raised by the district compared to 2020-21, District business manager Heidi Finson said. SAD 41 needs to raise $1,335,100 in order to receive $6,281,637 in subsidy, an approximate $65,500 increase from the state.
Between the $1.3 million-plus, $1,056,505 in local additional monies (which was approved via a 12-0 written ballot count) and SAD 41's near $42,000 proportional share of the $411,180 Piscatquis Valley Adult Education Cooperative budget, the total local costs are $2,433,581. This amount is the exact same as the previous academic year.
The individual town assessments have each changed by 0.30 to 0.75 percent. For Brownville a $791,463 assessment is $5,642 (0.72 percent) more.
LaGrange and Milo would both see a slight decrease in assessments. LaGrange would be responsible for $450,950 or a $2,116 (0.47 percent) reduction. In Milo a figure of $1,191,168 is $3,525 (0.30 percent) less.
Seventeen articles making up the $10.2 million budget were each approved as written, with several questions posed, over 21 minutes.
Superintendent Michael Wright said the district budget meeting would be the last planned public event at the school until the fall, and he wanted to honor retiring district employees.
He recognized Traci Williams, who had been in SAD 41 for 12 years including most recently as an administrative assistant. Ed tech Virginia Wentworth had worked in the district for the last 18 years.
Jeannine Martin had been with food service for nine years and Gary Page in district technology for 15 years. Current grade 5-6 science teacher MaryLynn Kazyaka will be retiring following 37 years in SAD 41.