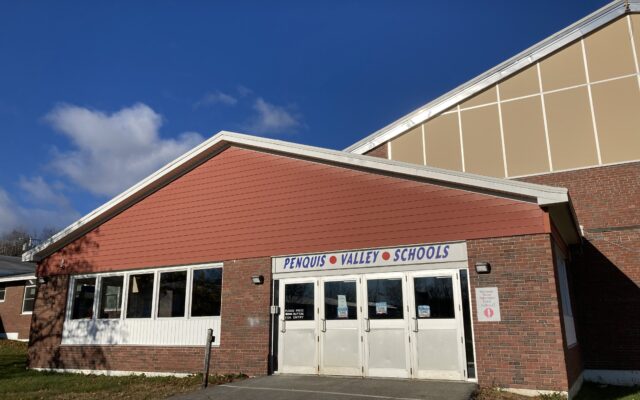 Penquis-Valley-High-School-Milo-111721
Observer photo/Valerie Royzman The Penquis Valley School in Milo.
Work continues on regional high school structure
MILO – Officials from SAD 41 and three other area school districts continue to work on a regional comprehensive high school project.
The first of its kind $100 million secondary institution in the state would be a community school district, but the Maine Department of Education is no longer approving new CSDs. As a CSD the regional high school would be allowed to operate as a grade 9-16 district, in contrast to a K-12 school unit.
SAD 41 Superintendent Michael Wright told the school board, during an April 6 meeting at the Penquis Valley School, that legislation has been put forth for the project to operate as a CSD. "That's been the focus right now of the group," he said.
SAD 41 is working with SAD 46 of Dexter, the Guilford-based SAD 4, and RSU 64 of Corinth on the regional comprehensive high school project. No districts are locked in as public votes on formally joining will be taken in the future if the project continues to progress.
Earlier this year SAD 46 Superintendent Kevin Jordan presented a proposal to the Maine Legislature's Committee on Education and Cultural Affairs. The education committee met again last month and Rep. Paul Stearns, R-Guilford — who is a retired SAD 4 superintendent — put forward a motion and the committee gave its approval.
Now the proposal is going through the legal process with the group working with Portland-based attorney Bill Stockmeyer
"There has also been concern of equal representation on the board for this school," Wright said. Plans for the regional comprehensive high school board are "one person, one vote" with three from each district for a total of 12 directors, who all come from local district school boards.
Wright said another critical step to be taken once governance is finalized is the location of the school. "The challenge will be logistically where can you put the school that will work for all districts?," he said. "We haven't gotten to that point yet."
The superintendent said some people have said Dover-Foxcroft is a central point between the four districts, but the Dover-Foxcroft school unit is not part of the project, so this would not be an option.
"There are a lot of questions still to be answered, but everybody recognizes the huge potential for this region," Wright said.
The regional high school would be integrated with a career and technical school along with the University of Maine System and the Maine Community College System, and it would support industry training programs, according to a description on the DOE website.
The state will fund the project, though certain features and customizations to the school would likely need to be funded locally. The school also may offer post-secondary courses to area residents who have already graduated from high school.
In other business, the school board heard from Home Liaison Daniel Fleming on his work so far to address truancy and other barriers students throughout the district are facing.
"I will spell it out right away, I have not solved truancy," Fleming began with, saying there are still a number of SAD 41 students who have missed many days this school year. "But there's hope, I wouldn't do this job if I didn't think there was hope."
Fleming, who said truancy officer is an antiquated term, said he provides transportation for students. He said several high schoolers need rides to get to the building early in order to take care of extra work they need to do to graduate on time. Others need rides because they experience anxiety by being on the school bus.
Another part of Fleming's job is tutoring, which "gives me the chance to connect with the kids more and show I am an option for them." He said he and students take part in activities such as workouts and carpentry projects.
For parents "I'm there as an additional resource," Fleming said.
"Some parents are extremely thankful for the additional help," but when he calls others he gets messages saying their mailboxes are full and/or they are never home when he stops by the address, he said.
Penquis Valley Middle School Guidance Counselor Stephanie Hurd said some staff members have wondered about the district going back to a universal start time across the schools, instead of the staggered beginnings that are in place. The schedules were adjusted at the start of the 2020-21 academic year in part to comply with restrictions on the number of students able to ride on buses.
Wright said surveys could be conducted to see how staff across SAD 41 felt, and this data would be brought back to the school for further discussions or possible action for this spring or the next school year.
"We are currently underway in the gym and I think next week we will be outside," Penquis Valley High School Principal Michael Rollins said in a response to a question on how spring sports were going during the early weeks of the season. He said baseball, softball and track athletes are able to practice without any COVID-related restrictions.