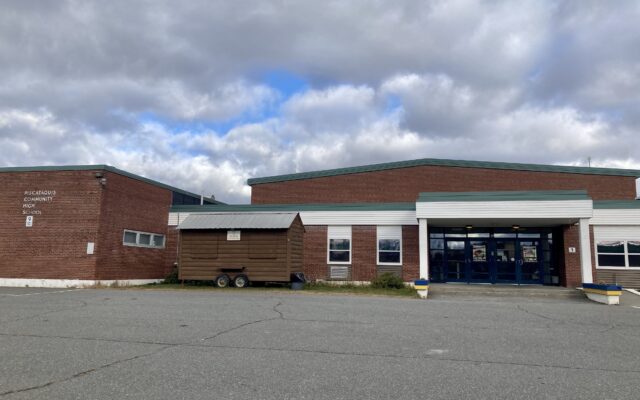 Piscataquis-Community-High-School-111621
Observer photo/Valerie Royzman Piscataquis Community Secondary School in Guilford.
SAD 4 continuing with mask optional schools
GUILFORD — Many school districts across Maine have switched from universal masking policies to optional and/or conditional masking following revised recommendations from the Maine CDC and Department of Education.
For SAD 4 the new Standard Operating Procedures won't bring as much of a change because the district has been mask-optional for all of 2021-22 under its Safe Return to School Plan.
The school board formally approved its latest version of the SAD 4 plan during a meeting at Piscataquis Community Elementary School on Tuesday evening.
Superintendent Kelly MacFadyen said the optional masking provision allows school boards to approve their own district policies, and for SAD 4 this would likely mean no change.
"We're still looking at how we distance students in the cafeteria and classrooms as much as possible," she said.
MacFadyen said contact tracing is no longer required and this had been taking up a lot of administration and nursing staff time. The state previously recommended that schools with optional masking do contact tracing, and MacFadyen said District Nurse Wendy Viera will continue to follow best practices as feasible and specific to SAD 4.
"Our numbers have been steadily decreasing," the superintendent said. She said from late January to late February, there were 24 positive COVID-19 cases, down from 51 over the previous time frame. These respective numbers were 20 and 42 at PCSS.
"I think our plan, as it stands currently, is effective," MacFadyen said.
Viera said pool testing will be conducted for parents who choose to have their children take part. She also said students coming back to school after testing positive will need to mask for five days.
In other business, board Chairperson Niki Fortier gave an update on the regional comprehensive high school project.
Fortier said the week before SAD 46 Superintendent Kevin Jordan presented a proposal to the Maine Legislature's Committee on Education and Cultural Affairs because legislative approval is needed for the the first of its kind $100 million secondary institution in the state to be a community school district. The Maine Department of Education is no longer approving new CSDs.
As a CSD the regional high school would be allowed to operate as a grade 9-16 district, in contrast to a K-12 school unit.
"The education committee seemed very receptive during that hearing," Fortier said. She said those involved are waiting for the committee's vote.
MacFadyen said in the meantime the DOE has a bill of its own to allow a regional school unit or RSU to be for grades 9-12 only. She said when a group presents a bill to a legislative committee, others will weigh in and the DOE is wondering why a new CSD bill would be needed should its own RSU bill be in place instead.
"One of the things we wanted is an appointed board," she said, whereas an RSU board would be based on population with proportional voting power. The superintendent said the regional comprehensive high school board would be "one person, one vote, three from each sending district" for a total of 12 directors who all come from local district school boards.
"We felt that might be a hurdle, a larger school district has more say than a smaller district," MacFadyen said.
She said the education committee met again on March 3 and Rep. Paul Stearns, R-Guilford — who is a retired SAD 4 superintendent — put forward a motion and the committee gave its approval.
"Now we're going through the legal process," MacFadyen said as the group is working with Portland-based attorney Bill Stockmeyer
Another legal statute concern that may need an amendment is Maine's Career and Technical Education districts. RSU 64 of Corinth currently sends high school students to the United Technologies Center in Bangor and not the Tri-County Technical Center in Dexter where SAD 4, SAD 46 of Dexter and SAD 41 of Milo pupils can attend.
"Before we can even talk about where we go, we need to talk about all these other things," Fortier said about a regional comprehensive high school location.
Board member Stephanie Hewitt said she has been asked about a timeline for the project.
There is no definitive answer, but Fortier said the CSD process began in November and legislation was not presented in Augusta until February. "And they just voted this past week for it," she said.
"The governance has to be done first before we can do anything else," she reiterated.
The regional high school would be integrated with a career and technical school along with the University of Maine System and the Maine Community College System, and it would support industry training programs, according to a description on the DOE website.
The state will fund the project, though certain features and customizations to the school would likely need to be funded locally. The school also may offer post-secondary courses to area residents who have already graduated from high school.
MacFadyen said the budget committee would be meeting next week to look at some numbers. She said SAD 4 is set to receive more state funding in 2022-23 than for the current academic year.