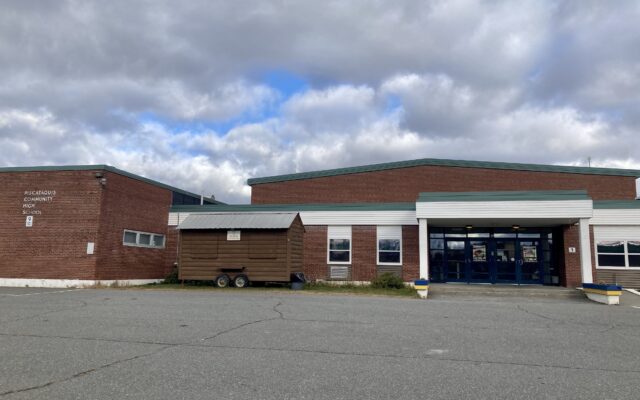 Piscataquis-Community-High-School-111621
Observer photo/Valerie Royzman Piscataquis Community Secondary School in Guilford.
Regional high school awaiting governance approval from Legislature
GUILFORD — An early step for a proposed regional comprehensive high school concerns the governance of the secondary institution. The first of its kind secondary institution in the state would be a community school district, or CSD, which would need Maine Legislature approval as the Maine Department of Education is no longer approving new CSDs,
SAD 4 Superintendent Kelly MacFadyen told the school board during a meeting at Piscataquis Community Elementary School on Jan. 11 that administrators from the area districts have been meeting with Portland-based attorney Bill Stockmeyer about taking the request for a CSD to the Legislature. She said the proposed legislation will be presented in Augusta by Rep. Paul Stearns, R-Guilford — who is a retired SAD 4 superintendent.
The project involves SAD 4, Dexter-based SAD 46, and SAD 41 of Milo. RSU 64 of Corinth has shown interest but has not taken any formal action. Formal district by district votes on joining the regional high school will be taken in the future.
The Maine DOE defines the CSD as a combination of two or more municipalities and/or districts formed to build, maintain and operate a school building or buildings to educate any or all grades. A CSD may be formed to build and operate a grade 7-12 school for all towns in the CSD. Those same towns will maintain individual control over the education of their K-6 students or belong to a school union. A community school district may also oversee education of all grades K-12.
CSD school committees are apportioned according to the one-person, one-vote principle. The member municipalities share the CSD costs, based on a formula that factors in the number of students in each town and/or state valuation or any combination of either. CSD budgets are approved by a majority of voters present at a district budget meeting followed by approval at referendum.
Representatives from the school districts have been meeting monthly to form a plan to consolidate the three high schools into one regional school to cut down on expenses and to pool resources. Two other attempts — one in the St. John Valley and the other in southern Aroostook County — failed and the state diverted the money to central Maine. The state had offered those districts $100 million and $120 million, respectively, toward a school, but Scott Brown of the MDOE had said there is no fixed amount for the current project.
SAD 4 board member Thelma Regan shared how she was very impressed with Blackstone Valley Regional Vocational Technical High School in Upton, Massachusetts, after touring the campus last month to see what could be built.
"Everyone was so engaged. Everyone was so excited about what they're doing," Regan said. She said the Massachusetts school has an enrollment of about 1,200 — about 300 more than would attend the regional high school from SAD 4, 41, and 46 and RSU 64 — and the facility covers about nine acres.
"Not one kid is lost," Regan said, saying staff and the outside community, such as automotive businesses, are involved at Blackstone Valley to help with students' aspirations.
"If we have the opportunity to do something like this I would be so happy because the kid who wants to go to Yale and the kid who wants to work on that diesel truck will both get what they want," she said.
Piscataquis Community Secondary School Principal John Keane said one student formerly attended a similar institution in Massachusetts, and she would be happy to speak about her experiences.
Board member Art Jette said the selectboard in Cambridge "wanted me to tell you they are all behind it. They see it as the salvation to sustain us."
"We have to remember we don't care where it's built, we care that it's built," Board Chairperson Niki Fortier said.
A potential high school location is to be determined once CSD approval is granted and governance is finalized. The regional high school committee would appoint board members from each participating district to oversee the facility. Each district would have the same number of members.
"We felt it was important for the communities, regardless of their size, to know we all have the same representation on that board, and that if there were a question of a tie, that just means … we need to have more discussions and come to some kind of consensus before we move on," MacFadyen said during a December school board meeting.
The regional high school got the go-ahead from the Maine Department of Education about a year ago.
The group of school districts originally applied for the project in 2017 and was rated third on the Major Capital School Construction Program priority list but moved up after the state scrapped two similar projects in Aroostook County. Now district administrators, principals and others are crafting a plan that draws on lessons learned from attempts in St. John Valley and Houlton and benefits all of the communities involved.
The regional high school would be integrated with a career and technical school along with the University of Maine system and the Maine Community College system, and it would support industry training programs, according to a description on the DOE website.
The state will fund the project, though certain features and customizations to the school would likely need to be funded locally. The school would serve grades 9-16, and potentially offer post-secondary courses to area residents who have already graduated from high school.
The Piscataquis Observer's Valerie Royzman contributed to this story.