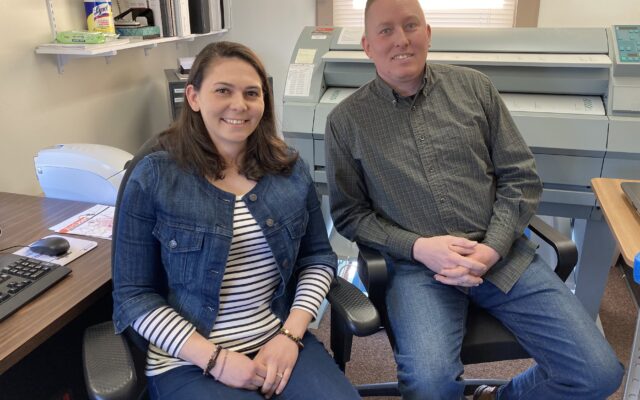 Piscataquis-County-EMA-planners-040422
Observer photo/Valerie Royzman HAZARD MITIGATION PLANNERS -- Alsina and John Brenenstuhl are working as hazard mitigation planners at the Piscataquis County Emergency Management Agency. They are pictured in their office at the agency in Dover-Foxcroft on Monday.
Dover-Foxcroft husband and wife hired to tackle Piscataquis County's emergency planning
The Piscataquis County Emergency Management Agency has hired a husband and wife team to update a plan that helps communities prevent and deal with natural and human-caused disasters.
Alsina and John Brenenstuhl of Dover-Foxcroft, who started their roles in January, have been surveying county residents and talking to towns about hazards and emergency planning to revise the county's plan, called a hazard mitigation plan.
The plan is crucial because it's much easier for municipalities to prepare and prevent emergency situations and disasters than to rebuild afterward, said Jaeme Duggan, Piscataquis County Emergency Management Agency director. The process is also about making communities stronger and more resilient, she said. The Brenenstuhls, who have experience as emergency personnel, have been working behind the scenes to keep the process on track and engage citizens and towns.
Piscataquis County is required by federal and state emergency management agencies to update its hazard mitigation plan every five years, and its current plan expires in March 2023, Duggan said.
Alsina Brenenstuhl has primarily focused on the hazard mitigation survey, which was available to all Piscataquis County residents online and via the Piscataquis County EMA app, and closed earlier this week. The survey garnered 18 responses, she said Monday.
"I have also talked to a lot of people in the county who don't have internet access and are not able to take the survey," she said.
Alsina Brenenstuhl is encouraging residents to attend upcoming meetings. There are more than 16,800 people in Piscataquis County, and it seems that few of them are fully aware of the emergency management agency's role and why the hazard mitigation plan — or simply creating a plan for their family — is important, she said.
Although Alsina Brenenstuhl is still reviewing survey results, she noted that county residents indicated they are most concerned about severe winter weather and drought and wildfires. It was interesting to hear that wildfires are worrying residents because "the firefighters are saying it's not a big deal, but the citizens are thinking it's a bigger deal," Duggan said.
Alsina Brenenstuhl, who previously worked as an emergency medical technician and a paramedic, has also updated data. She makes sure to include up-to-date census numbers and consumer price indexes for previous storms, which shows what a fire in 1947, for example, would cost today.
She and her husband moved from Pfafftown, North Carolina, to Dover-Foxcroft in 2018. Although they are both from New York, they met in North Carolina, while responding to a car accident.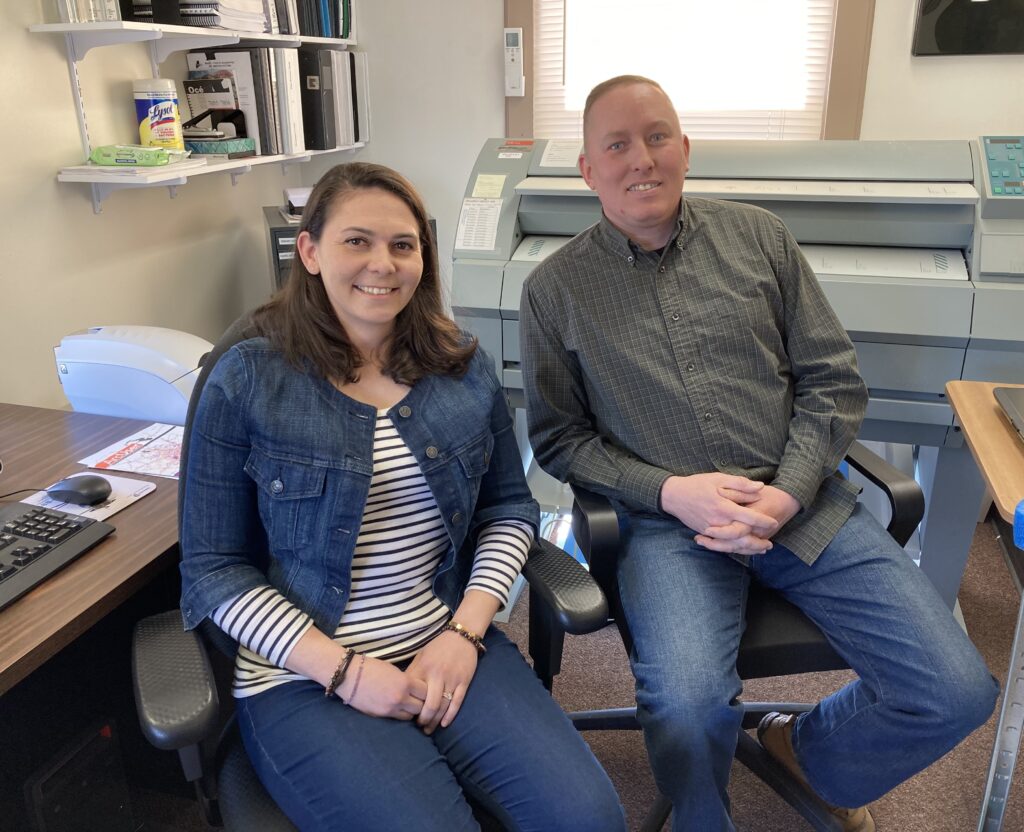 John Brenenstuhl has more than 23 years of experience in the fire service, including as a firefighter and fire chief. He assisted with the aftermath of tragedies such as 9/11 and Hurricane Katrina, he said.
The experiences prepared him for his work as a planner in Piscataquis County, he said. They illuminated how government and non-government agencies work together in emergency situations — and sometimes, how they run into communication issues that stall progress, he said.
John Brenenstuhl, who now works as a flight instructor at Highlands Aviation at the Dexter Regional Airport, has met with town officials across Piscataquis County to discuss their emergency operations plans, which address hazards and vulnerabilities in a community.
The plan outlines a procedure that would be used during an emergency, such as a tornado, so residents can evacuate or shelter in place, he said. Also included in the plan is a way to relocate government and communications personnel so that key operations can continue to function.
"Most of the towns either don't have one, or the ones that they do have are old and outdated," he said. "I've also been putting together tabletop exercises to evaluate the emergency operations plan that's being used."
A grant from the United States Department of Homeland Security and a BRIC — Building Resilient Infrastructure and Communities — grant from the Federal Emergency Management Agency fund the planners' positions, Duggan said.
They will be looking and applying for grants to help the emergency management agency and municipalities in Piscataquis County. For towns and unorganized territories, grant opportunities, low-interest loans and other forms of funding can help them better prepare for emergencies, Duggan said.
Piscataquis County residents will have a chance to weigh in with questions and comments about the hazard mitigation plan this week. Meetings are scheduled for 5-8 p.m. on Wednesday, April 6, through Friday, April 8, at the Peaks House in Dover-Foxcroft. People can also attend virtually.
"These [meetings] aren't reviewing the plan yet," Duggan said. "These are the very first meetings for people to find out what it's all about and what their input can be."
Once the hazard mitigation plan is written, which Duggan expects will be sometime around the end of summer or early fall, the public will have another chance to participate. That's when they can review the plan and suggest modifications, she said.
The plan will be sent to the Maine Emergency Management Agency, and eventually, the Federal Emergency Management Agency, she said.