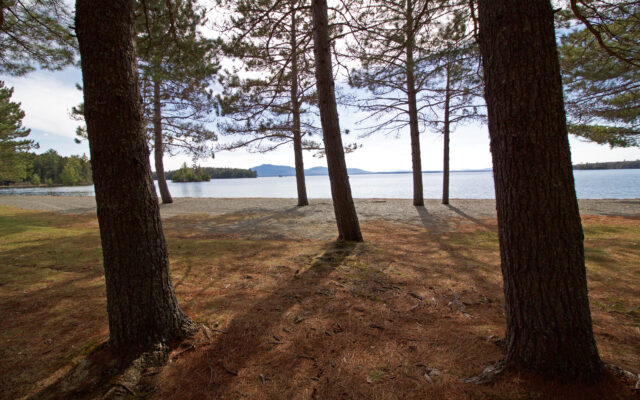 1minhike051716-5
In this file photo from May 2016, white pine trees line a small beach at Lily Bay State Park on Moosehead Lake in the town of Beaver Cove. (Aislinn Sarnacki | BDN)
Beaver Cove to adopt its first emergency operations plan
Beaver Cove officials have created the town's first ever emergency operations plan to have resources in place for disasters such as ice storms and power outages and keep residents safe.
The town and the Piscataquis County Emergency Management Agency collaborated to draft the plan. The Beaver Cove Board of Selectmen were scheduled to approve an emergency management ordinance during a meeting Thursday, Jan. 6. The emergency operations plan will be presented for approval at a special town meeting Jan. 18, Chairperson Gerard Hoag said.
The town's ability to recognize its weaknesses and craft a plan to mitigate disasters was impressive, especially considering its small population and one paved road, said Jaeme Duggan, the county's EMA director. All Piscataquis County towns should have an emergency operations plan — which assesses risks and resources and establishes steps to deal with emergencies — though some do not or haven't updated theirs in years, she said.
"It's really important because we are so rural," Duggan said. "We rely heavily on our neighbors and each other. To have something in place to know where to go, what to do when they have an event — whether that's a weather disaster or a log truck rolls over on the bridge — you can mitigate losses of lives, businesses and residences."
The town's new plan also helps move along the county's efforts, she said. The EMA is required to revise its hazard mitigation plan, which is due in 2023 and goes to the state and the Federal Emergency Management Agency for approval. Beaver Cove was the first community that the agency worked with in November.
"Now they [Beaver Cove] have a plan to pull off the shelf," Duggan said.
During a prolonged power outage in the winter, for example, the town's 109 or so year-round residents would go to the town office, which also serves as the heating and cooling center.
"As a little, teeny community, we don't have our own resources to deal with an emergency outlined in this plan, like a major fire or some kind of accident," said Alison Barkley, a Board of Selectmen member. "What the plan does is outline in a very clear way that we immediately set up an operations center."
An incident commander — likely an expert from Greenville, which provides police and fire services to Beaver Cove — would manage the operations center, she said. Several people in town would be ready to assist the commander. The plan helps ensure that residents know where to go during an emergency and where to watch for notifications, Barkley said.
When town officials and the EMA began writing the plan, the biggest concern was that Beaver Cove has one paved road, Lily Bay Road, and a bridge, Duggan noted. If for some reason the bridge were cut off and emergency vehicles needed to get into town, officials would need to act quickly, she said.
"They have been amazing to work with," she said. "They have a good sense of the risks and hazards for their area. … We will be working on getting dry hydrants for them as well as a designated LifeFlight landing zone."
Once the emergency operations plan is approved, it will be posted on the town's website, which is under construction, and available to the public. Then the Board of Selectmen will work to make sure the plan works on the ground, said Barkely, who is a retired U.S. diplomat and has experience with implementing emergency operations plans.
For example, they'll need to store proper documentation at the town office, decide who serves what role and other steps. Eventually, Barkley would like to see the plan practiced monthly or quarterly so that if an emergency occurs, a team is ready to respond quickly and efficiently, she said.
"We have specific routes marked out, how to get to specific residents," she said. "It is really broadly coordinated as it needs to be, but so granular that in an emergency, we would be able to tell you how we're going to get Lois out of her house immediately."
Duggan pointed to devastating tornadoes in Kentucky last month. Although Maine doesn't have as many tornadoes, it does encounter more severe winter weather and increasing days with a high heat index, where some people, like the elderly, may need more assistance, she said.
In rural communities especially, people are less likely to have air conditioning, so emergency operations plans are becoming more important, Duggan said.
Piscataquis County has mutual aid agreements with all of the other counties in the state, which were recently reinstated, she said.