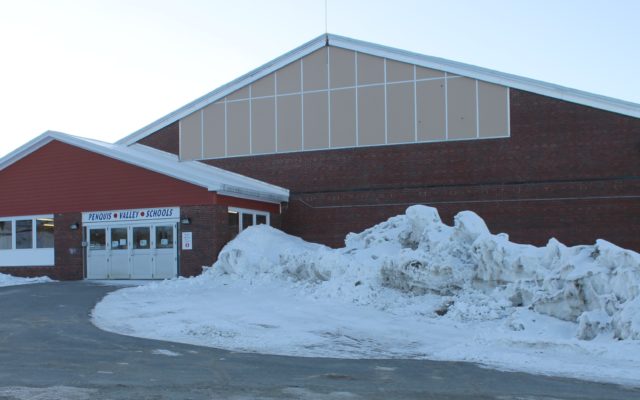 PO-penquisvalley-11-19
The Penquis Valley School in Milo
Regional high school seeking to operate as a CSD
MILO — An early step toward bringing a regional high school project to fruition among four area school districts was taken with the presentation of a bill to allow for the first of its kind secondary institution to operate as a community school district.
SAD 41 Superintendent Michael Wright said a bill paving the way for the formation of a CSD was presented the day before a Feb. 9 SAD 41 school board meeting.
"An Act to Facilitate a Grade 9 to 16 School Project" was presented at a public hearing by Rep. Paul Stearns, R-Guilford — a retired superintendent of SAD 4 in Guilford — to the Maine Legislature's Committee on Education and Cultural Affairs. The bill is cosponsored by Rep. Steven Foster, R-Dexter, and Sen. Paul Davis, R-Sangerville.
The CSD would allow the regional high school to operate as a grade 9-16 district, in contrast to a K-12 school unit.
The regional high school project involves SAD 41, SAD 4 and SAD 46 of Dexter. RSU 64 of Corinth has shown interest but has not taken any formal action. Individual district votes on joining the regional high school will be taken in the future.
The first of its kind secondary institution in the state would be a CSD, defined by the Maine DOE as a combination of two or more municipalities and/or districts formed to build, maintain and operate a school building or buildings to educate any or all grades. The towns will maintain individual control over the education of their K-6 students or belong to a school union.
CSD school committees are apportioned according to the one-person, one-vote principle. The member municipalities share the CSD costs, based on a formula that factors in the number of students in each town and/or state valuation or any combination of either. CSD budgets are approved by a majority of voters present at a district budget meeting followed by approval at referendum.
Wright said that the Legislature's approval of a CSD does not mean SAD 41 or the other districts are committed to do the project, with votes coming sometime in the future should more progress be made. "Ultimately the important piece is where would it be?," he said.
The superintendent said this led to a similar project in northern Aroostook County falling through as participants could not agree on the site of the school.
"I think it's safe to say, as I've said before, if it's in your backyard you're all for it, but not if it's 40 miles away," Wright said. "Everybody agrees that in theory it would be a fantastic opportunity for students, the question is the location."
"It's one thing to send 30 kids to (the Tri-County Technical Center in Dexter) every other day, but it's another thing to send every kid to Dexter every day,' he said.
The next step if the CSD is approved is to finalize the governance, then potential high school locations will be discussed. The regional high school committee would appoint board members from each participating district to oversee the facility. Each district would have the same number of members.
The regional high school would be integrated with a career and technical school along with the University of Maine System and the Maine Community College System, and it would support industry training programs, according to a description on the DOE website.
The state will fund the project, though certain features and customizations to the school would likely need to be funded locally. The school also may offer post-secondary courses to area residents who have already graduated from high school.
"They have $100 million to give to this part of the state to create this amazing opportunity for kids," Wright said. "It remains to be seen whether it can work in rural Maine."
In other business, the directors approved using nearly $50,900 received in supplemental subsidy from the state to reduce the local assessments for the three SAD 41 communities.
Wright said the subsidy came in from the state at the start of the year, six months into the 2021-22 academic year. The current budget totals a little more than $10.2 million with $1,335,100 needed to be raised in order to receive $6,281,637 in state subsidy.
Between the $1.3 million-plus, $1,056,505 in local additional monies and SAD 41's near $42,000 proportional share of the $411,180 Piscatquis Valley Adult Education Cooperative budget, the total local costs were $2,433,581. Individual town assessments were $791,463 for Brownville, $450,950 for LaGrange and $1,191,168 for Milo.
Business Manager Heidi Sisco said $50,871 would be divided proportionally among the three towns, $14,484 for Brownville, $6,938 for LaGrange and $29,444 for Milo.
"Additional assessments from March until June will be reduced by these amounts, based on the percentage they pay to the (SAD) 41 budget," she said.
Wright said he asked administrators to provide COVID-19 updates to the school board.
Penquis Valley School Athletic Director Jason Mills was unable to attend with his Patriots boys team having a basketball game in Guilford, but in an email Mills wrote about the challenges posed to winter athletics. Mills cited the shortage of officials and bus drivers in addition to the COVID- and weather-related cancellations.
"The bottom line is students had a chance to be in person and fans had a chance to watch athletic events," Mills wrote. He said about 90 percent of Penquis Valley games were played over the last several months.
"We had a flurry of cases affecting staff and students but I think things are calming down," Penquis Valley Middle School Principal Tina Dumond said. She said seven students are out due to COVID-19.
Brownville Elementary School Principal Carol Smith said two students are out at the moment.
"The most was five students at some stage of COVID," she said.
"I'm very happy to report it's quite quiet at the high school," Principal Michael Rollins said, saying four students are out.
Wright was asked about discontinuing the universal mask policy in district schools.
"There has not been a discussion," he said. "I think the most recent guidelines have increased the importance of masking to keep students in school."
He said he didn't think people want to wear masks forever, but that everyone has benefitted from the mask mandate.
"I think what we're trying to do is err on the side of caution," Wright said about decisions to switch to remote learning or not.