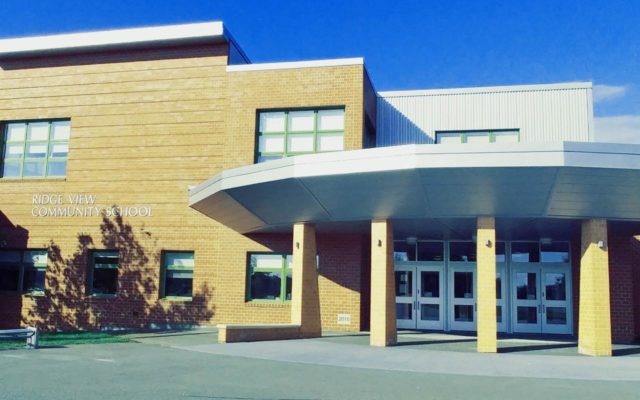 Ridge View Community School
The Ridge View Community School in Dexter.
SAD 46 classes adjusted to new standard operating procedure
DEXTER – For more than a month, SAD 46 and other school units across Maine have been holding classes in accordance with the Maine CDC's and Maine Department of Education's revised standard operating procedure since students returned after the holiday break.
"The new SOP changed significantly. It did away with contact tracing if you do universal masking," District Nurse Crystal Greaves told the school board during a Feb. 2 meeting in the Ridge View Community School gymnasium — the first in-person meeting of the directors since the fall. "Now if there's a positive, you don't need to notify close contacts."
She said some parents have inquired about their children still being in close contact with students who are testing positive. "I have easy access to close positives so I can say 'yes their class has two positives,'" the nurse said.
Greaves said another change is the isolation and quarantine periods for students and staff being shortened from 10 to five days, consistent with recently updated guidance from the U.S. CDC. She said those quarantining have either tested positive or are experiencing symptoms. Previously, close contacts would have to quarantine if they were not taking part in pool testing.
"We have had 243 positives this school year," Greaves said about Ridge View. She said since the start of Jan. 1 there have been 133 positives among students and 27 staff members tested positive.
Dexter Regional High School nurse Angie Buker said the secondary institution has had 139 cases so far in 2021-22, with 89 of these coming since the beginning of January. She said 15 students and three staff are in quarantine.
"When symptoms start or a positive test is day zero, the following is day one," Greaves said last month about the five-day timeline. "As long as you are improving, you can return to school," she said. Otherwise, such as with the development of a fever, the five days start over.
"Regardless of where you're exposed, you can continue to come to school," Greaves said. The nurse said if a family member tests positive, students can come to school as long as they are asymptomatic. Greaves said it's in part due to SAD 46's universal masking policy.
At-home tests are not accepted for a negative diagnosis, but the school can test students on site.
Ridge View Principal Jessica Dyer said most of the school board had probably heard that the building experienced a failure in the sewer pumping system, leading to remote learning on Feb. 2-3.
"The surprises just keep coming," she said. "They got a lot done today but not enough to have 750 people in this building."
Dyer said the sewer system problem led to an early dismissal the day before, and she praised staff for getting students ready. "As far as I know, these teachers don't even blink," being able to quickly shift focus from instructing to getting everyone ready to depart within a half hour.
The principal said the previous Friday was a day of remote learning due to a large number of staff being out and not having enough people to fill in.
"It's like a game of human Tetris," Dyer said about trying to fill in for absences throughout the school.
"We have people doing lots and lots of things outside of their job descriptions to keep students in the building," Superintendent Kevin Jordan said. He recently stopped by Ridge View and learned that all three administrators were subbing in classrooms that day.
In other business, Jordan gave an update on the regional high school project. The project involves SAD 46, the Guilford-based SAD 4, and SAD 41 of Milo. RSU 64 of Corinth has shown interest but has not taken any formal action. District by district votes on joining the regional high school will be taken in the future.
"There's a lot of work going on lately," he said, as a committee has been meeting regularly. Jordan said those involved have agreed on the governance structure.
The first of its kind secondary institution in the state would be a community school district, or CSD, which would need Maine Legislature approval. Jordan said this legislation is scheduled to be presented to the education committee in Augusta next week.
The Maine DOE defines the CSD as a combination of two or more municipalities and/or districts formed to build, maintain and operate a school building or buildings to educate any or all grades. The towns will maintain individual control over the education of their K-6 students or belong to a school union.
CSD school committees are apportioned according to the one-person, one-vote principle. The member municipalities share the CSD costs, based on a formula that factors in the number of students in each town and/or state valuation or any combination of either. CSD budgets are approved by a majority of voters present at a district budget meeting followed by approval at referendum.
"That's one checkmark with still many to go with site selection, cost sharing and things like that," Jordan said.
A potential high school location is to be determined once CSD approval is granted and governance is finalized. The regional high school committee would appoint board members from each participating district to oversee the facility. Each district would have the same number of members.
The regional high school would be integrated with a career and technical school along with the University of Maine System and the Maine Community College System, and it would support industry training programs, according to a description on the DOE website.
The state will fund the project, though certain features and customizations to the school would likely need to be funded locally. The school also would potentially offer post-secondary courses to area residents who have already graduated from high school.