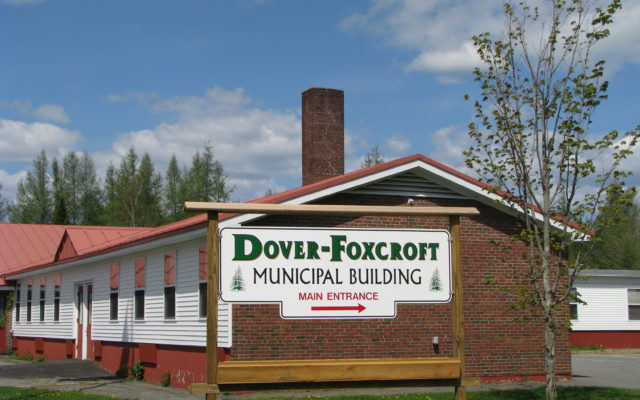 Morton Avenue
The Morton Avenue Municipal Building in Dover-Foxcroft
Dover-Foxcroft voters head to the polls on Tuesday
DOVER-FOXCROFT — On Tuesday, Nov. 2, Dover-Foxcroft residents will vote on four questions pertaining to adult use marijuana.
Four types of establishments are presented separately for consideration: adult use retail marijuana stores, adult use marijuana cultivation facilities, adult use marijuana products manufacturing facilities and adult use marijuana testing facilities being permitted in certain land use districts. A majority yes vote for any advisory question does not permit such a business to open on Wednesday, Nov. 3.
"If there's support for that, that doesn't create ordinances," Selectboard Vice Chairperson Cindy Freeman Cyr said during an Oct. 25 meeting. She explained that should a question have more votes in favor, then the land use ordinance committee would take it under advisement as it develops formal guidelines for the town, which would be voted on at a later time.
If the majority of voters are not in favor of a question, then related measures would not be pursued.
Selectperson Steve Grammont said there are several residences in town that have been converted into marijuana grow houses. These are not permitted because there are no ordinances allowing for these larger cultivation establishments in Dover-Foxcroft.
He said Police Chief Matt Grant and Code Enforcement Officer Brian Gaudet are likely aware of these locations and are looking into how the property owners can be cited. Grammont said the civil court route may be the avenue pursued as the grow houses are in violation of town ordinances.
"No place in town is zoned for that activity," he said.
The Dover-Foxcroft ballot will include an article concerning the creation of ATV routes. The ATV article asks "Do you favor having the Select Board create snowmobile and ATV access routes on certain public ways in order to facilitate access to snowmobile and ATV trails?" A favorable vote would allow the Select Board to designate the specific access routes at a later date.
In July, town officials, members of the Dover Rovers ATV Club and the public had a lengthy discussion about a proposed 1,400-foot extension of the current ATV access route on the Foxcroft Center Road. The extension would have lasted through the end of the season. The board did not approve the extension by virtue of a 3-3 tie vote.
A motion containing the Foxcroft Center Road extension, as well as directing the town to work with the Dover Rovers ATV Club to develop a question on ATV access on public ways to be placed on the November referendum, had a 3-3 vote and was not approved.
Residents will be voting on one candidate to fill a year and a half-plus-long vacancy on the Dover-Foxcroft Selectboard. Barry Hutchins and Sean Hadley are both running for the seat.
Brenda Schultz is listed on the ballot but earlier in the month she decided against seeking office. She made the announcement after ballots had been printed and made available for absentee voting.
Polls will be open for the referendum vote from 8 a.m. to 8 p.m. on Tuesday in the Morton Avenue Municipal Building Gymnasium.
In other business, the selectboard did schedule a special meeting for Wednesday, Nov. 3, to sign a warrant needed for an upcoming public vote for RSU 68 concerning a new superintendent's office.
Following Oct. 25, town officials learned the special select meeting would not be needed as the vote would be the school district's jurisdiction and not the municipality's so the selectboard will not need to sign any documents.
In the fall of 2017, the school board authorized RSU 68 Superintendent Stacy Shorey to make a $36,000 offer on the former Head Start building off of Autumn Avenue in Dover-Foxcroft. The structure located next to the SeDoMoCha School campus would house the superintendent's office to help alleviate space constraints, including storage issues. The administrative space is now located on the second floor of the school.
"They're aiming for a Dec. 7 special vote," Town Manager Jack Clukey said. "Our next meeting (Monday, Nov. 8) is not soon enough."
The RSU 68 Board of Directors is scheduled to vote during its Nov. 2 meeting to move a public vote forward for the following month.
Clukey said Shorey is scheduled to discuss the new superintendent's office and need for a town vote at the Nov. 8 selectboard meeting.
The town manager said the selectboard's promotion and development committee has met to discuss the Monument Square intersection, including what to do with Moosehead Lane coming out of the Mill complex to the traffic lights where East and West Main, North and Lincoln streets meet.
"Hopefully we can make it a little more friendly for pedestrians and vehicles," Clukey said.
He said another meeting on Monument Square would be held in late November or early December. Clukey said he expects to have a revised concept plan in this timeframe.
When asked by Freeman Cyr, Clukey said the promotion and development committee has been working on the formation of a municipal advisory committee to develop a long-term climate action plan for the community. He said another meeting on this is set for early next month.
Last month town officials opted to take a proactive approach to climate change with the formation of the committee. The membership and scope of work is all to be determined, but the promotion and development committee will work on some recommendations concerning the climate change advisory group and bring these to a future selectboard meeting.