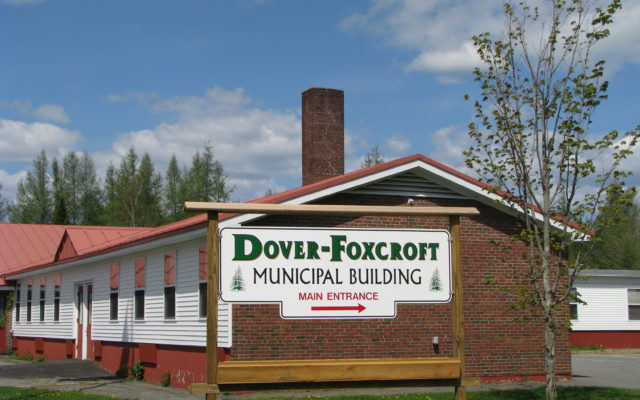 Morton Avenue
The Morton Avenue Municipal Building in Dover-Foxcroft
Dover-Foxcroft selectboard approves formation of climate change advisory committee
DOVER-FOXCROFT — The town of Dover-Foxcroft will be taking a proactive approach to climate change with the formation of a municipal advisory committee to develop a long-term climate action plan for the community.
The membership and scope of work is all to be determined but the Selectboard approved the committee during a Sept. 13 meeting. The board's promotion and development committee will work on some recommendations concerning the climate change advisory group and bring these forward at a future selectboard meeting.
For the last several months, a citizens' Dover-Foxcroft Climate Action Advisory Committee — consisting of Carole Boothroyd, Dr. Lesley Fernow, Chris Maas and Jan Barton — has been meeting to study and discuss the state "Maine Won't Wait" climate action plan released in January.
The four committee members were present to speak on steps the town might take to help reduce carbon emissions that cause climate change and recommend first steps.
"It is clear that we need to take aggressive action everywhere to reduce carbon emissions," Dr. Fernow said. She said everyone needs to do their part and for herself and other members of the citizens group, their part is to help the town. Dr. Fernow said actions taken locally may seem small with climate change affecting the entire world, but these can still make a difference.
She said the selectboard is being asked to form its own committee on climate change, "So that the group can keep abreast of changes in technology and changes in funding that are coming down the pike."
The Dover-Foxcroft Climate Action Advisory Committee chose items from the state plan that can be carried out in the short term and are fundable. Eleven recommendations include areas under transportation, broadband, climate resilience planning and the impact of the Maine Climate Plan on local ordinances.
Dr. Fernow said transportation concerns could be addressed with electric vehicles and with increased broadband residents, which would reduce the amount of traveling they do, thereby reducing CO2 emissions.
"You have seen this summer there are more and more climate emergencies happening across the country," she said. Mentioning Maine avoided these in 2021, Dr. Fernow said the town still needs to plan for climate resilience. She said any plans developed would be done in conjunction with local ordinances.
"I just want to thank you all for doing this body of work," Select Vice Chairperson Cindy Freeman Cyr said. "I am totally in favor of creating this committee."
Freeman Cyr also said having a climate change action plan in place could make the community more attractive to those considering a move to Dover-Foxcroft.
"I believe this is a plus when we apply for grants," Selectperson Jane Conroy added.
Boothroyd said the Dover-Foxcroft Climate Action Advisory Committee has spoken with Piscataquis County Economic Development Council Executive Director John Shea, who was supportive of the group's efforts, especially in working to fund high-speed broadband access for all town residents.
"It's really important to us that broadband infrastructure be equitable in its distribution," Dr. Fernow said. The aim is to develop a fund to help subsidize costs for low income households to bring fiber from pole to pole and promote programs that help subsidize low income residents' monthly internet access.
In other business, the board appointed Emmalee Reed as treasurer with a term to run through June 30, 2022.
"Emmalee's been here a couple of weeks now. She's doing a great job," Town Manager Jack Clukey said. He said Reed, who lives in Corinna, had served as deputy treasurer in Pittsfield for more than a decade.
He said many municipal positions are appointed annually, done in time for the start of a new fiscal year.
The board also formally adopted a remote meeting policy.
"What's meant by a remote meeting is a board member attending remotely," Clukey said, as the town intends to still have its meetings available for the public over Zoom in addition to being able to attend in person at the Morton Avenue Municipal Building.
"Now every single board and committee within the town has to affirmatively opt into this," the town manager said.
Clukey said there have been a number of inquiries into establishing new hangars at the airport at Charles A. Chase Jr. Memorial Field. He said a plan is scheduled to go before the planning board in October that would create six new hangar lots.
"Then we can proceed to let additional lots be rented and hangars to be built," he said.