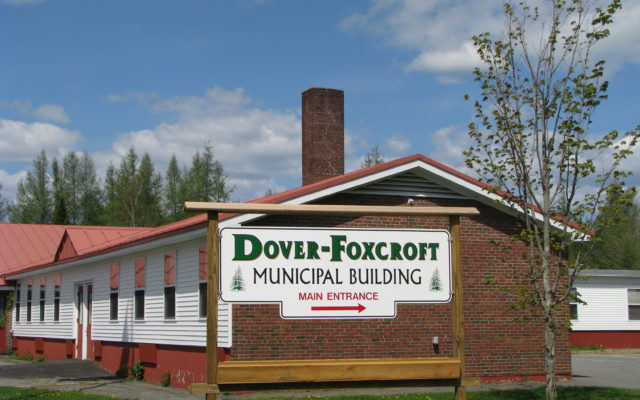 Morton Avenue
The Morton Avenue Municipal Building in Dover-Foxcroft
Dover-Foxcroft select candidate opts out of race
DOVER-FOXCROFT — Several weeks before the municipal election on Tuesday, Nov. 2, one of three candidates to fill a year and a half-plus-long vacancy on the Dover-Foxcroft Selectboard has decided against seeking office.
In an Oct. 11 post on the Dover-Foxcroft Area Hub Facebook page, Brenda Schultz wrote about how she had been seeing posts from fellow candidate Barry Hutchins — Sean Hadley is the third candidate for the seat on the ballot — and agreeing with a lot of what Hutchins says.
"Then we had a panel discussion at the library yesterday, and I learned more about Barry," Schultz said. "He's a conservative, but moderate. He's a retired law enforcement officer, understands budgets and local government way better than I do and he's passionate about our town and its direction. I agree with almost everything he is thinking. He is proactive, and digs into the town budget, attends town meetings and is very focused on this selectman role, even before he has it. That's what I like to see. He's not afraid to go toe-to-toe if he sees something is off or needs addressing. But in a friendly and professional way."
Schultz continued by saying she is currently flipping five houses "and for a sixth really huge plate to spin, I just committed to reopening the Mill Cafe. Super important for our town and for our viability in terms of visitors. I have the same passion for these hospitality businesses I'm running as Barry does for our local government."
She said she is supporting Hutchins' candidacy so "I can focus on where I feel I can make the biggest contribution to our community."
During an Oct. 12 select meeting, board member Gail D'Agostino wondered about the process should a candidate withdraw this late in the process, with absentee ballots already distributed.
"My understanding is she's announced she's no longer seeking office," Town Manager Jack Clukey said.
Town Clerk Lisa Bell Ronco said in her 21 years working for Dover-Foxcroft, she cannot recall a situation like this, but there is no formal process for withdrawing once on the ballot.
"With her deciding not to seek the office, I think it's doubtful she would get more votes than the other two candidates," Selectperson Steve Grammont said.
"We have the sample ballot posted on the website," Clukey said. He said residents will be voting on a question concerning the creation of snowmobile and ATV access routes on certain public ways and "a series of questions, four questions, pertaining to retail marijuana.
The selectboard confirmed Nanette Redmond as warden of the Nov. 2 election.
Rita Mountain retired after serving in the position for nearly two decades. Redmond had expressed interest in learning the warden position prior to Mountain's retirement, and Redmond served as an election/ballot clerk for the last two years.
In other business, again in 2021 the selectboard approved a resolution proclaiming October as Domestic Violence Awareness Month in the town. The proclamation urges residents to join others throughout the state in recognizing the month by honoring the survivors of domestic violence and dedicating themselves to making Dover-Foxcroft a safer place for all.
"If you've been down Grove Street, you may have noticed a lot of erosion around that bridge," Clukey said. "It's old and in disrepair."
He said the town has submitted a permit to the U.S. Army Corps of Engineers for the Grove Street bridge replacement project. The work is expected to go out to bid in December and construction will be done in August and September 2022.
The town manager said public works is trying to address some erosion issues on Lincoln Street around the bridge near the intersection with North Street. He said the town will do what it can now with major rehabilitation or even replacement taking place in the future.
He said the Piscataquis County Economic Development Council county-wide broadband assessment is underway and progressing on schedule for completion by the end of the year.
In July town officials learned more about the county broadband planning grant project from PCEDC Executive Director John Shea — the council is the grant applicant — and consultant Casco Bay Advisors of Gardiner President Brian Lippold.
Shea explained the PCEDC has been awarded a $30,000 broadband planning grant from the ConnectMaine Authority for a study to identify specific broadband issues in the region. Having documentation in place would aid in applying for larger sources of funding to rectify identified issues.
He said the Piscataquis County Commissioners showed support for the initiative by agreeing to cover about two-thirds of required matching monies — $19,890 in America Rescue Plan monies awarded to the county – during a June meeting. The county commissioners asked that the PCEDC request that the 18 organized municipalities in Piscataquis County contribute the remaining $10,110, divided proportionally, which is $2,600 for the Dover-Foxcroft share.
The grant will produce a study of the region and gap analysis that will be in place as grants and other monies are sought for broadband projects across Piscataquis County. The information will be used to produce GIS maps showing gap areas and other locations with service in place. The maps will help determine costs to extend broadband access.
Clukey and the selectboard received a letter from Foxcroft Academy Head of School Arnold Shorey thanking the municipality for its donation of loam to extend the secondary school's Harold Alfond Field.
"Your donation has made it possible to move the softball field so that soccer will no longer be played on the infield," Shorey wrote. "Most of the work has been completed, and we hope that the new softball field will be in use this upcoming spring and the new soccer field will be in use next fall. Your donation has saved a great deal of time and money, and we cannot say thank you enough for making this possible."
In August the board approved a donation of about 800 yards of loam for Foxcroft Academy to allow the school to ready its soccer field for the 2021 season. Foxcroft Academy's other soccer field closer to West Main Street, which had been used for games, is now under construction as the future site of the Jim Robinson Field House.
"We have an excessive amount of loam," Clukey said at the time, estimating a 15,000 yard total and little of the substance is used by public works.
"This seems like a nice way to give back a bit," Select Vice Chairperson Cindy Freeman Cyr said, as Foxcroft Academy has let the town use its facilities for youth sports.