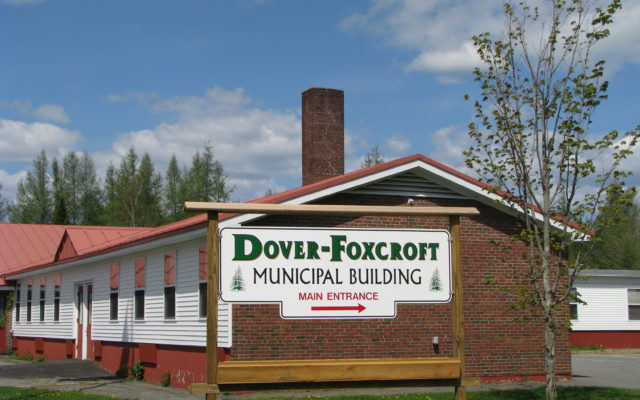 Morton Avenue
The Morton Avenue Municipal Building in Dover-Foxcroft
Dover-Foxcroft selectmen approve dangerous building order for Lincoln Street property
DOVER-FOXCROFT — Long-standing problems with a home and attached barn at 72 Lincoln St. may be remedied with the approval of a dangerous building ordinance by the selectmen during a meeting held over Zoom on March 8.
The family of the property owner has until June 30 to finish their plan to have a sales agreement in place so the work can be done and/or take care of the property under their ownership such as through repairs or demolition. Within 30 days a fence and signage needs to be posted on and around the barn. The formal document will be written by town attorney Jon Pottle.
"This goes back to 1991 when the first complaint that nothing was done about this property was made," Code Enforcement Officer Brian Gaudet said during a dangerous building public hearing on 72 Lincoln St. "Fast forward 30 years and we are in the same predicament."
"We have been getting numerous complaints about the condition of the property and we feel it's time it is removed," he said. Gaudet said the home was boarded up in 2017 but the attached barn poses more of a hazard.
"People can get in it, the roof has collapsed," the code enforcement officer said. "The barn is definitely not safe."
The 72 Lincoln St. property is owned by Alberta Luchetti of Little Falls, New Jersey.
"I hope this can be resolved," Luchetti said, mentioning her grandson Nick Bartley has power of attorney and is working on the issue.
"My grandmother has not been able to rectify the situation. She's in poor health," Bartley said. He said the family has a contract with Mallett Real Estate.
"We want to find the right buyer for this property," he said. "People with the necessary tools, skills and intent to rectify the property."
"We actually have received one offer, it was an offer I deemed not to be satisfactory," Bartley said.
"Is nothing going to be done to the building until it's sold?," Select Chairman Elwood Edgerly asked Bartley.
"That's correct," Bartley responded, saying he hopes a sale is reached in the timeframe.
Board member Gail D'Agostino wondered about any hazards the barn poses.
"Until this day we haven't had any problems with the property, but we can't predict what will happen in the future," Gaudet responded. Bartley then said he was agreeable to posting signage and putting a fence up as soon as enough snow melts.
"I will take every step and every measure to address this property," Bartley said. "I fully expect to resolve this as soon as physically possible given the circumstances.
Speaking of the barn, Bartley said, "We intend to knock it down if we need to, but we can't do so at this time." He said they have been in contact with another family member who is interested in the barn wood.
In other business, the selectmen approved a pair of meeting dates on the 2021-22 municipal budget for later in the month. A joint meeting between the board and budget advisory committee will be held on Wednesday, March 24. The annual public hearing on the spending plan will be held a week later, on Wednesday, March 31, over Zoom — time to be announced but likely starting at either 6 or 6:30 p.m. as in past years
Last month board members received a copy of the proposed 2021-22 municipal budget in their meeting packets. Town Manager Jack Clukey said the current version of the spending plan includes deferred capital item purchases, a new wheeler plow truck for public works, bridge capital improvements and daytime staffing for the fire department.
The net difference in the budget compared with last year is $105,671 or 3.78 percent. The estimated change in the mill rate, including the county assessment, is an increase of 1.49 percent.
At last year's town meeting, residents approved raising and appropriating $4,651,635 for town operations, Revenue and surplus funds raised to fund the article totaled $2,279,508 for a net amount of $2,372,127 to be raised. The 2020-21 mill rate is $21.40 per $1,000 in assessed property.
The selectmen granted a request to have a memorial marker for Judith Leighton placed near the flagpole at the municipal building in honor of her patriotism. Leighton was a long-time elementary school teacher who died unexpectedly on Feb. 11. The location — Morton Avenue Municipal Building served as Morton Avenue Elementary School before the fall of the 2007, which was also the year Leighton retired — was requested to honor Leighton's patriotic spirit and dedication to bringing her students outside to recite the Pledge of Allegiance.
Board member Jane Conroy said she is a member of the Piscataquis County Retired Educators Association, and the group is working with Leighton's family and Lary Funeral Home on the memorial. "It will be a 4-foot granite bench," Conroy said. "There will be no town dollars spent on this project."
In his report Clukey said the last vaccination clinic in the Morton Avenue Municipal Building for Northern Light Mayo Hospital was held on Feb. 27 as now vaccines will be given across town at the Piscataquis County Ice Arena. "They are able to do close to double the numbers in a day there," he said, going from 500 in the gym to 750 to 1,000 at the ice arena.
Clukey also said the land use committee continues to meet regarding proposed marijuana regulations, with sessions set for Monday, March 15, and Monday, March 29. The goal is to have regulations to put before the voters at the June referendum.