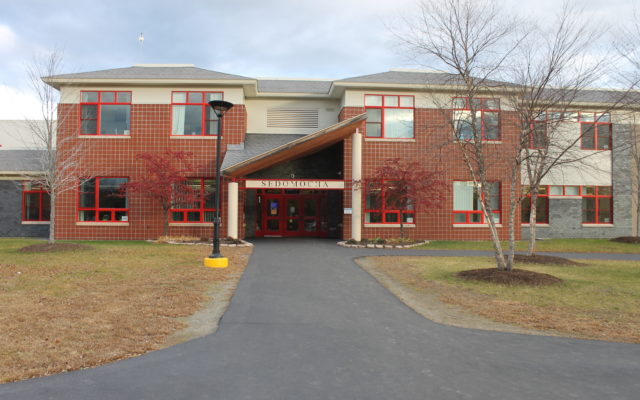 IMG_4585
The SeDoMoCha School in Dover-Foxcroft
RSU 68 central office moves to Bangor Road
DOVER-FOXCROFT — RSU 68 central office staff have moved out of the second floor of the SeDomoCha School several miles up Route 15 to the Richard M. Brown Building at 572 Bangor Road.
The facility, formerly the home of the Charlotte White Center main office before the organization merged with Penquis, will soon house Foxcroft Academy's business and alumni offices on the upper floor, and vacant space may serve 4- and 3-year-olds from across the region.
Earlier this year the district purchased the Bangor Road property from Penquis for $750,000 to serve as the new home of the central office. Last December RSU 68, residents approved a referendum for the construction of a new central office building to be located on the SeDoMoCha School campus.
The board later decided to purchase a building rather than construct one because it was more economically feasible with the construction bids coming in well over budget. The former central office space at SeDoMoCha has been converted into a pair of special education classrooms.
During an Oct. 4 school board meeting at the new central office, Superintendent Stacy Shorey said district administrators are working on applying for a grant to expand the pre-K program. This initiative would allow more 4-year-olds to take part and could create a new program for 3-year-olds. The superintendent estimated the grant to be for approximately $277,000.
Shorey said she has been meeting with superintendents from SAD 4 of Guilford, Milo-based SAD 41, and SAD 46 of Dexter as the pre-K program could be a collaboration between all four school districts. She said discussions have estimated 45 students in this age group are in need of programming before they start kindergarten, with 20 not being served at all right now.
Child Development Services would assist with teachers and ed techs. "The plan is for us to be up and running in September 2023," Shorey said.
In other business, SeDoMoCha Principal Adam Gudroe gave an update to the board on a number of happenings over the first month-plus of classes.
He said the annual One Book, One School shared family reading program kicked off Sept, 15 with this year's novel being "Matilda" by Roald Dahl.
"We're engaging in family reading and fun activities throughout October," the principal said.
The One Book, One School finale will be on the evening of Thursday, Oct. 27.
Gudroe said an after-school program is "well up and running a few weeks in" with about 90 students participating. Pupils will have English/Language Arts and math instruction before having time for physical and STEAM activities and snacks.
Shorey said grant funding is being used for the after-school program, and she thanked staff for working it.
Gudore said the middle school outdoor club has kayaking and the group took a trip to Lily Bay State Park to paddle Moosehead Lake and have a barbecue. The students are hiking and when the time comes will be ice fishing.
He also said that after some discussions, a decision was made to keep the no phone policy in place for indoor recess. To give the middle-schoolers more indoor activity options, board games have been purchased.
"They can't say they have nothing to do. They have something to do and they can do it with each other," Gudroe said.
In his sports update, Athletic Director/Assistant Principal Cameron Archer said, "We have had a great fall so far."
He said the student-athletes have done a great job in keeping grades up to maintain their eligibility, and parents, teachers and coaches deserve credit as well.
Archer said as of that day the Eagle football team had a record of 4-1, boys soccer was 8-1-1, girls soccer was 8-0-1, and field hockey had compiled a record of 8-0-2 and had clinched the top seed for the Penquis League playoffs.
The combined records were 29-2-4. "That's a huge shout-out to the kids and how hard they are working," Archer said, thanking the coaching staff as well.
He said five golfers were part of the SeDoMoCha team and they would be competing in the league championship on Monday, Oct. 10. The cross country team has 12 runners and they will be taking part in some postseason meets later in the month.
"We do start winter sports on Nov. 1, so that's a quick turnaround," Archer said as the basketball and cheer teams will start practices.