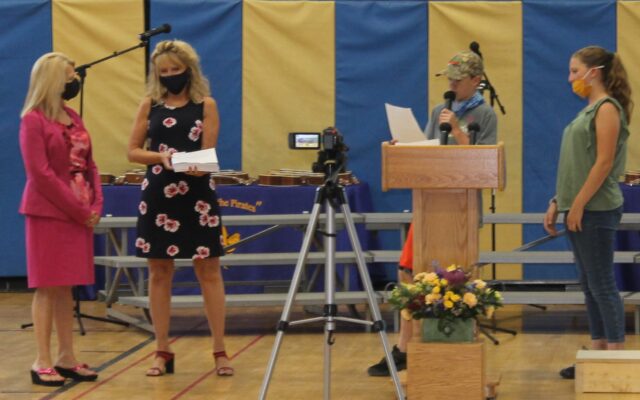 PO-PCESbooksmacfadeyn-24-21
Observer file photo/Stuart Hedstrom THANKING THE SUPERINTENDENT -- Jacob Knowles, who was joined by Reese Starbird, reads an acknowledgement of SAD 4 Superintendent Kelly MacFadyen, left, while PCES Principal Anita Wright holds copies of "Behind the Mask Our COVID Memories, '20-21" during a June assembly at the Guilford school.
PCES pandemic memory book honored
GUILFORD — Last year students at Piscataquis Community Elementary School captured their thoughts and feelings from the coronavirus pandemic in firsthand accounts, poetry, stories and art.
The students reflected on the sudden switch to remote learning in early spring 2020, a much different way of learning with the return to school for 2020-21, as well as life outside of classes. The result was "Behind the Mask Our COVID Memories, '20-21."
Principal Anita Wright told the SAD 4 School Board, during a Jan. 11 meeting at PCES, that "Behind the Mask" has received the 2020-21 Spirit of America Foundation Education Tribute Award. The honor is presented by the organization in the name of Maine school districts to local people, organizations and projects for commendable community service.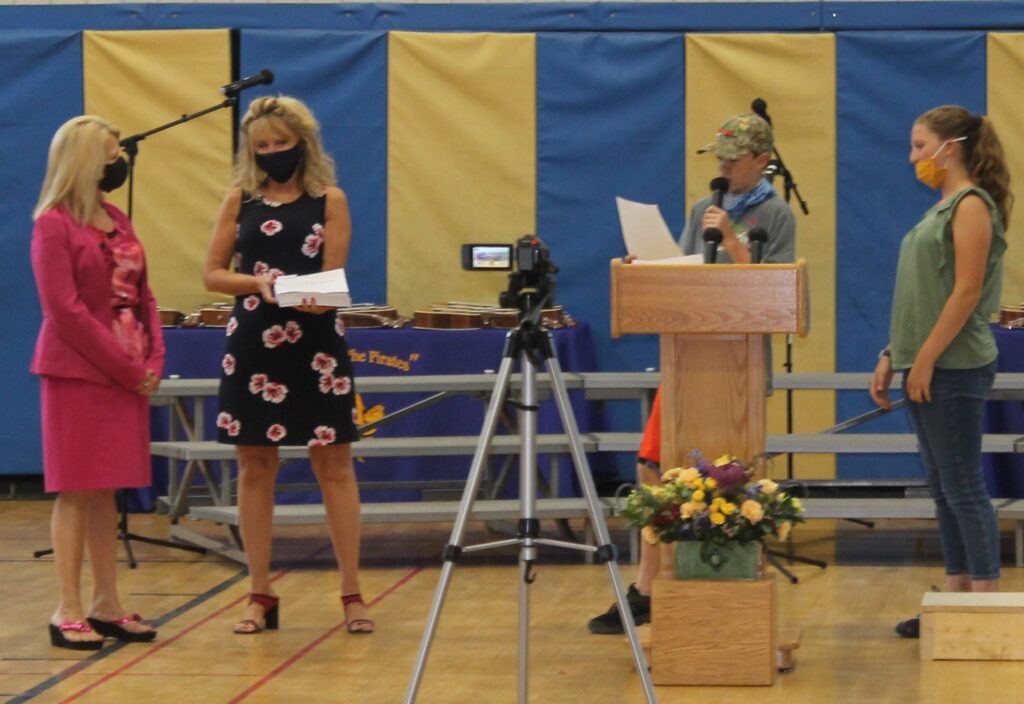 In her board report Wright wrote, "For those of you who do not know, it was a schoolwide writing project at PCES last year. I wanted to create a culture of authentic writing, and life in a pandemic certainly offered a rich starting point. Creating a book would also provide a tangible artifact of this historic time. This book shares our story at PCES, our feelings, and our ideas. Teachers and students were encouraged to write. Not every teacher chose to write, but the book has entries from every child pre-kindergarten through grade 6."
Wright said she organized material into chapters and her administrative assistant Debbie Crockett did the layout and design of the book. Every student and staff member received a copy of "Behind the Mask."
"I wanted children to have a voice and to reflect and recognize 'the good' that existed all around them," Wright wrote. "In the 20-21 school year, in-person learning occurred every day at PCES, and that feat was a shared responsibility."
An all-school appreciation assembly took place in mid-June as selected students gave speeches and presented honored recipients with copies of the book. Wright said those recognized included the superintendent and school board chairperson, all teachers and education technicians, bus drivers, custodians and cooks, the Valley Grange, Piscataquis County Sheriff's Office, and area Masons.
In other business, Piscataquis Community Secondary School English/language arts teacher Joseph Hennessey gave a report on his role as student engagement coordinator — a grant-funded position for the grade 7-12 institution.
He said the position will help with regular attendance and academic success, with a main focus on chronic absenteeism, which is missing 10 percent of the school year or about 18 days.
Hennessey said his efforts began with the start of classes as he focused on early engagement and identifying barriers to students attending school. He said he works with the district social worker, who focuses on attendance at the elementary level.
So far interactions with families have been positive, Hennessey said. He said he does not yet have data to present to the school board, but can do so toward the end of the academic year.
"We are scheduled to have our first budget workshop meeting on Feb. 2," Superintendent Kelly MacFadyen said. She said the session may be pushed back slightly as central office staff are working with a new system for the financial data.
MacFadyen said she has spoken with Jobs for Maine's Graduates about having a position at PCSS, and the district would need to share some of the costs. JMG partners with public education and private businesses to offer results-driven solutions to ensure all Maine students graduate, attain post-secondary credentials and pursue meaningful careers, according to www.jmg.org.
The superintendent also said the Tri-County Technical Center could offer a flight school in which participating students could earn a private pilot's license at the Dexter Municipal Airport. Various program funding sources are being looked into to see if the program can get off the ground.