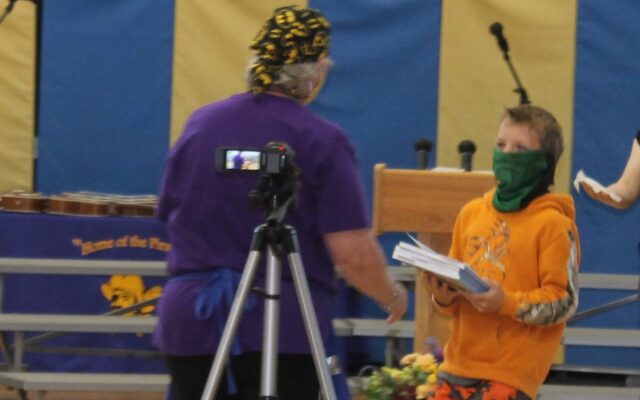 PO-PCESbooksgilbert-24-21 – Copy
Observer photo/Stuart Hedstrom ALL STAFF THANK YOU -- Piscataquis Community Elementary School student Braden Gilbert presents a copy of "Behind the Mask Our COVID Memories, '20-21" to his grandmother head cook Lori Gilbert during an assembly on June 16. Student writing and artwork chronicling their experiences during the pandemic was compiled in the book and copies were presented to thank all staff members for their work over the last year-plus.
PCES students look 'Behind the Mask' with pandemic memory books
GUILFORD — Students at Piscataquis Community Elementary School captured their thoughts and feelings from the coronavirus pandemic in firsthand accounts, poetry, stories, art and more. The pupils reflected on the sudden switch to remote learning in early spring 2020, a much different way of learning with the return to school for 2020-21 as well as life outside of classes,
The result is "Behind the Mask Our COVID Memories, '20-21" and copies of the book were presented to representatives of various teacher, staff and volunteer groups during an all-school appreciation assembly held June 16.
"For all of us that moment when we knew that school was closing was a landmark moment, a moment that would last for months and impact us still," Principal Anita Wright said to start the assembly on the next to last day of school. She said Dr. Martin Luther King Jr. once said, "'Only when it's dark enough can you see the stars.'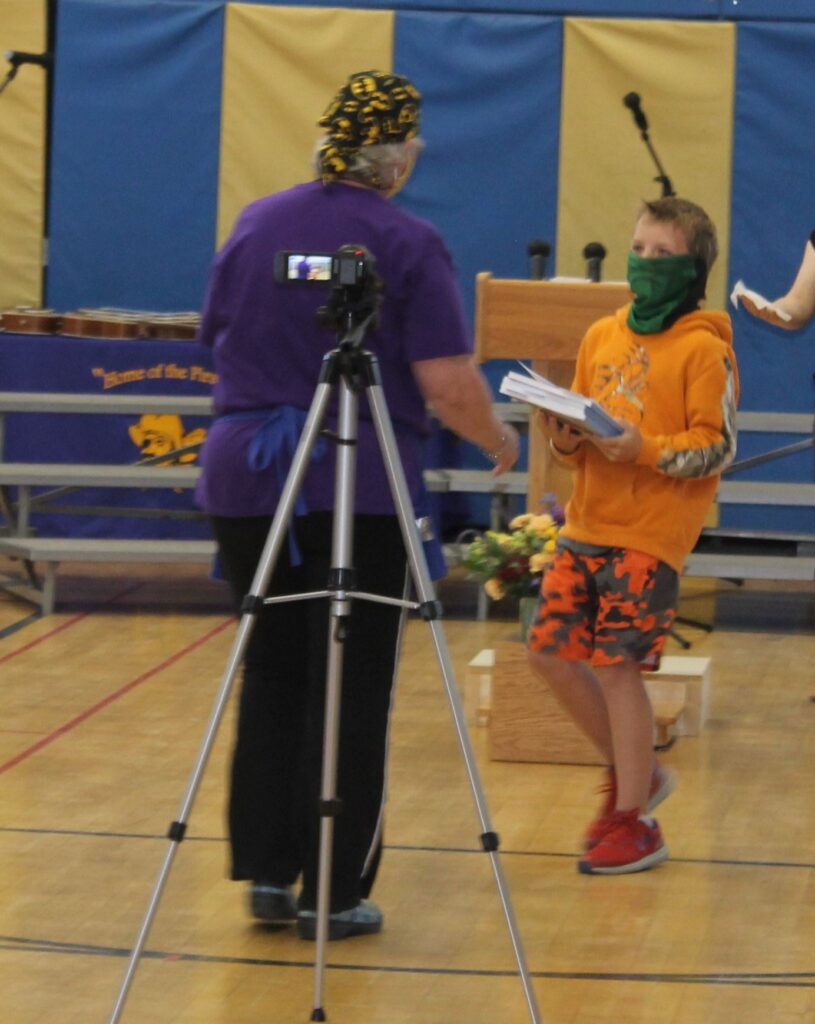 "Hard times show us our strength and support, and there's a lot of support in this community."
"We mobilized as a school and as a community," Wright said. "As stores, offices and work closed everywhere, we delivered schoolwork, teachnology, breakfast and lunch. The Masons rode with us to deliver Easter hams, the sheriff's department checked on the well-being of children and the Grange planned an end of the year celebration which did not happen. Today we celebrate what it means to be a public servant. Without a doubt it means to be bold."
The principal said the uncertainty carried over into the current school year.
"In this building we problem solved scenarios to offer in-person learning every day this year, even when we were down 13 staff members due to quarantine," she said, saying she believes PCES is the only school in the region that can make this claim.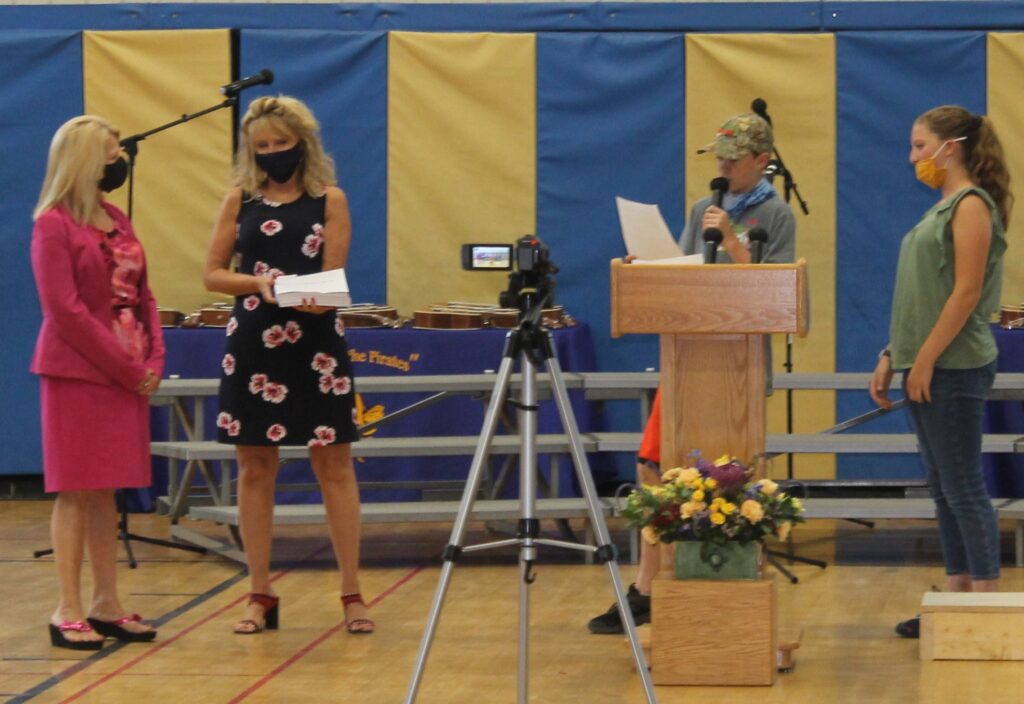 Wright said staff "masked up, washed down and squirted sanitizer, all while planning, teaching, redirecting and assessing. By nature teachers are selfless and humble and they willingly accept the responsibility of balancing society's needs and changing values. COVID has been the pinnacle of that responsibility. With the care and love that define what it means to work at PCES, the staff climbed that mountain every day, putting students first."
She said everyone will be able to reflect on the pandemic when it is over and "Behind the Mask" will share students' stories. "Writing is power, it allows everyone to share at once and still be heard," Wright said. "Through writing we can experience many ideas, feelings and stories."
Students across the various grade levels took turns presenting books to those who have made a difference in their lives.
Alyvia Tracy went up to the podium to tell everyone that "Behind the Mask" is being dedicated to school nurse Wendy Viera. "Mrs. Viera is a very nice person, she helps us be nice and kind," Tracy said. "She makes sure kids have their medicine, she helps people when they get hurt at recess. That is why we dedicate this book to you, Mrs. Viera."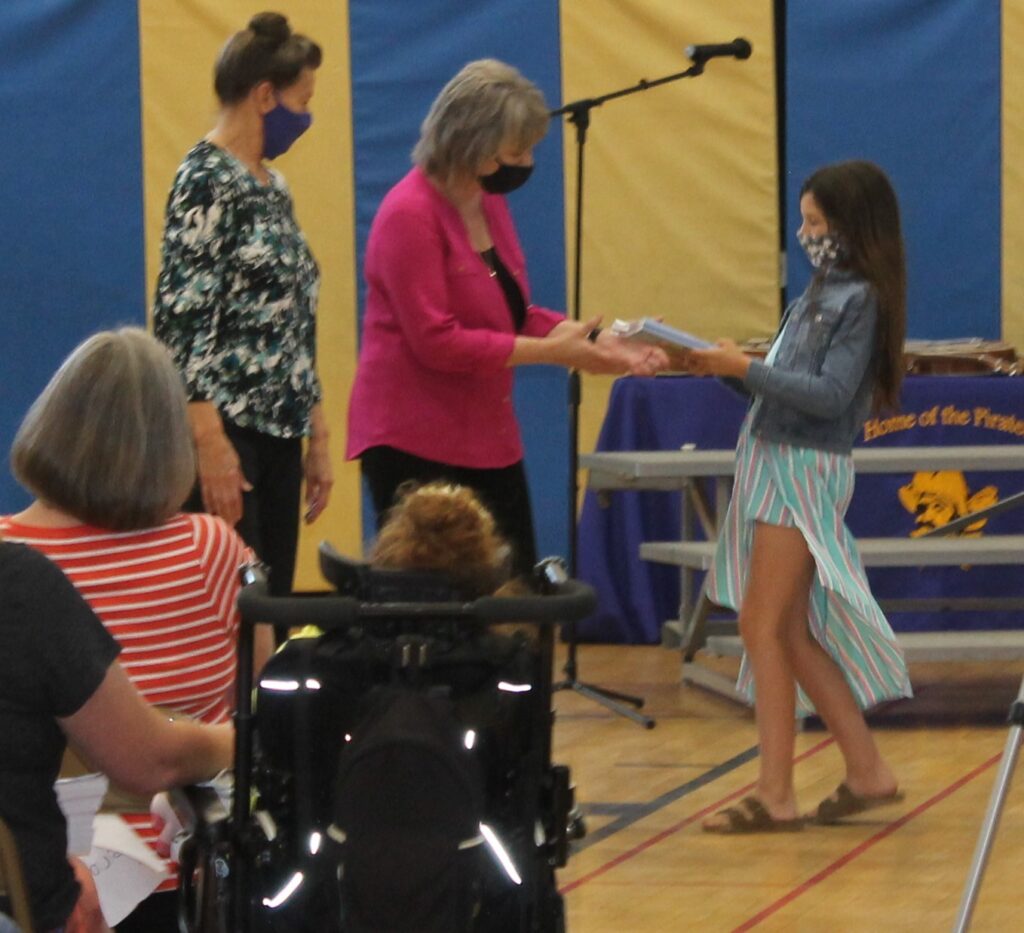 Reese Starbird and Jacob Knowles presented a book to SAD 4 Superintendent Kelly MacFayden. "I'm sure it was a lot of responsibility and we want to thank you for all the hard decisions you've had to make," Starbird said, mentioning social distancing guidelines and having a heat day when temperature approached 90.
Avah Hartford said her mother Holly is on the school board, which the younger Hartford said meets to decide how to make school better and how to spend money to help students.
"They had to make even more rules because of COVID," Hartford said as copies of "Behind the Mask" were given to her mother and Board Chairperson Niki Fortier.
"We are so thankful to you teachers for staying with us all year and not getting scared," Breelyn Gaw said, also acknowledging teachers who worked with remote learners. Books were presented to retiring teachers Brenda Post and Melissa Stearns.
Mya Knight said the ed techs and support staff help students read, write and do math and also "help us understand how other people communicate and calm kids down."
Lt. Jamie Kane and the Piscatquis County Sherriff's Office were thanked next and Kane was also acknowledged for his two decades-plus teaching D.A.R.E. at the school.
Lilah French said administrative assistants Deborah Crockett and Esther Jones "keep everything running smoothly." French said the two help students who don't feel well, have lost something, forgotten a bus note and more. In 2020 Crockett and Jones cleaned out lockers and bagged and labeled all students' belongings for pickup once the decision was made to go to remote learning for the rest of the academic year.
Madison Gunter and Bailey Ames thanked the bus drivers.
Gunter said the drivers worked hard under a number of new rules for the pandemic.
"During the shutdown last year the bus drivers kept working," Ames said, as they delivered food and schoolwork across the six SAD 4 communities
Olivia Goodwin presented a book to Walter Boomsma, who she said prints the school yearbook through his Abbot Village Press and for years has taken pictures at all the major school events. Goodwin said Boomsma is a member of the Valley Grange and Grange members have volunteered as bookworms to read with students, give dictionaries to third-graders every year and sponsor student-drawn ads for the Piscataquis Observer Newspapers in Education supplement.
"We wouldn't be here if it wasn't for the custodians to get us ready for the school year," Austin Clukey said. He explained the custodial staff set up desks and tables to adhere to health and safety guidelines and probably went through hundreds of rolls of tape to place directional arrows around the building.
"With COVID here they had to do so much more work than before," Joe Riitano said, mentioning setup and constant sanitizing. "We would not be here every day without them."
Ava Edes thanked technology department staff, student support staff, substitute teachers and the foster grandparents were also acknowledged during the afternoon, and Braden Gilbert gave "Behind the Mask" to his grandmother Lori Gilbert, head cook.
Finn Goulette was also able to present to a family member as Goulette's father Graham accepted a copy on behalf of the area Masons. Despite the pandemic, the Masons still rewarded students through the annual Bikes for Books program.
"Our principal Mrs. Wright has worked hard all year to be sure we had school this year," Chase Lander said in making the day's final thank you.
Copies of "Behind the Mask" will be given to the Guilford and Sangerville town offices as well as Guilford Memorial Library and Sangerville Public Library.