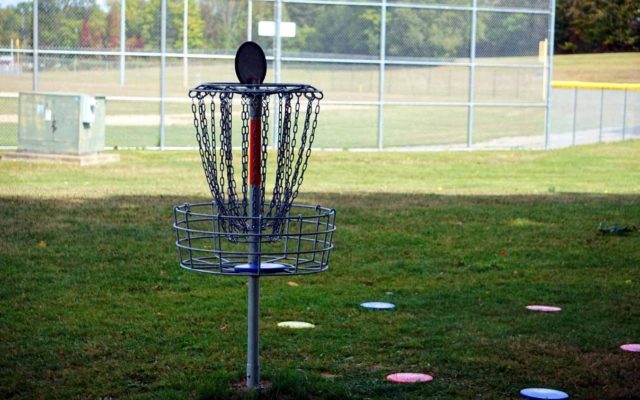 Disc golfers hitting the course in Dexter
DEXTER — The site along town trails at the Dexter Municipal Golf Course is still being worked on, but disc golfers now have an 18 hole course. The trail should be in place for the long term as the Dexter Town Council authorized Town Manager Trampas King to sign a lease agreement with George Peterson for a period of 10 years, during a Sept. 9 meeting.
Peterson told the council he has not been able to put in as much time as he would like at the town recreation trails between the golf course and Bud Ellms Field due to his work commitments, but "we've had a total of 50 or so people play."
He said word is getting out and he plans to erect signs to join the existing markers.
The trails can be used for snowshoeing and cross country skiing in winter months.
A course Facebook page is up at https://www.facebook.com/Dexterdiscgolf, and Peterson also said information is available through the UDisc app.
"People seem to enjoy it. They understand it's under construction and I hope to do more," he said.
Peterson said right now the Dexter disc golf course is free to play, but next year there may be a cash box and payment may be able to be made through the UDisc app.
"I am hoping this winter I can do some clearing and cleaning up and stumping so it will be a lot more attractive next year," he said. "Right now I'm really happy people are using it."
In other business, each member of the council indicated they are in favor of putting the 51 High St. property up for sale. The property, the former Reddy Building that once was Plummer Memorial Hospital, was donated by Dr. Challa Reddy to the town in the spring and since then has been leased to Frank Spizuoco Commercial LLC.
King said he and Spizuoco had been discussing the property since the spring. King said uncertainty in ownership, whether the town would keep the building or put it on the market in a year or two, could potentially make some interested parties hesitant to lease space.
Spizuoco agreed, saying now is the time to put 51 High St. up for sale.
"I redid the roof, a lot of flooring, tons of painting, I did the exterior lights yesterday," Spizuoco said, with his company to be reimbursed under a sales agreement with another buyer.
"I don't want to put money into it and hustling tenants if I don't have complete control," he said. So far one tenant has signed an agreement to lease for one year with an option for the year after.
"I'm very confident I can fill it with what it's designed for," Spizuoco said, mentioning medical and educational space.
"We will put it out to bid sooner rather than later," Council Chairperson Marcia Delaware said.
The council agreed to the formation of a committee — the exact size and membership to be determined — to decide how to utilize American Rescue Plan Act funds.
"I would like to set up a committee to look at all the ways we can spend it," King said. He said he has heard the town will receive around $369,000 or $391,000 in the federal funds, and these need to be allocated by 2024.
King said one potential use may be to work with Spectrum to extend broadband access out the Zions Hill Road. He said other Maine towns are also setting up similar committees and expanded broadband is likely to be a topic across the state.
Councilor Andrew Bermudez said SAD 46 has a community questionnaire on the use of its ARP funds at the district website at www.aos94.org. "I advise everybody to fill it out," he said. "It's a lot of money but they want to hear from everybody."
He mentioned the town may need to post an online survey of its own to hear from residents.
The council scheduled a public hearing for its next meeting at 7 p.m. on Thursday, Oct. 14, to determine whether a structure located at 85 High St. as part of the dangerous building declaration process. The home was destroyed by a fire in the fall of 2020.
According to the minutes of the August council meeting, King reported the property owner cannot afford to have the site cleaned up and this is not fair to neighbors. A lien can be placed on the parcel after cleanup.
In his report, King thanked all residents who took out nomination papers for seats on the council and SAD 46 School board. He said he is looking to set up a candidates night for October.