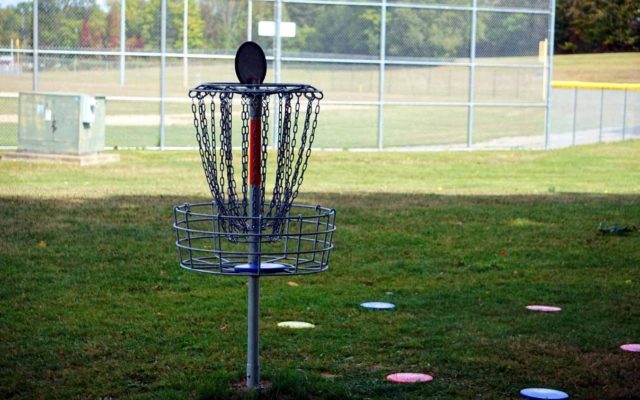 Disc golf may be coming to Dexter
DEXTER — Residents and visitors alike may have a new outdoor activity to participate in with the opening of a disc golf course near the Dexter Municipal Golf Course. A lease agreement for the town recreation trails between the golf course near Bud Ellms Field needs to be drafted and approved, but town officials were in favor of the concept of creating a disc golf course during discussion at a Feb. 11 meeting.
"I would like to propose a new outlet for recreation in town," Ryan Wilson of the Dexter Municipal Golf Course said about his plan. "Our next phase of recreation up in that neck of the woods is a disc golf course."
Wilson said work has been done already to clear the existing trails of blowdowns to make the paths safe for cross country skiing, snowshoeing and walking in the meantime, as well as potentially sharing the route with disc golfers in the future. Possibly by the end of the summer, a disc golf course would be ready for "quite the recreation outlet up there," Wilson said.
He said there would be no maintenance costs for the town, as the course is a "passion project" for himself and golfer George Peterson. "It's pretty much making safe pathways, nice easy walking areas and some baskets and flat teeing areas."
"I would like to keep this separate from the actual golf course," Wilson said, with the disc golf course having its own lease. He said the biggest connection to the golf course would be a shared parking lot.
Wilson said disc golf courses elsewhere in Maine have nine or 18 holes and Dexter's could have 18 to start and possibly another 18-hole route would be added.
"I really haven't seen anybody using the trails in any significant way," he said.
"I think the walking paths are a great part of it too," Town Manager Trampas King said.
A question was asked about the newly opened Outta the Ordinary restaurant at the golf course.
Wilson said the restaurant's first two weeks have gone very well and he said many customers have appreciated the delivery option.
In other business, the council formally approved an amendment to the town code to allow three types of marijuana businesses in town. Permitted are medical marijuana manufacturing facilities — limited to marijuana extraction only, marijuana products manufacturing facilities — also limited to marijuana extraction only — and medical marijuana retail stores. All other marijuana businesses are prohibited in Dexter.
"We have been around with this for some time and we are adding a retail business with this ordinance," Council Chairman Marcia Delaware said.
Last month the council authorized recreational marijuana facilities, medical marijuana manufacturing facilities and medical marijuana caregiver retail stores, provided each establishment operates in compliance with all applicable state and local requirements. The council also established corresponding annual licensing fees, $500 for a medical marijuana business and $1,000 for a recreational marijuana business.
To help determine the town's direction in terms of permitting marijuana-related businesses — and to take advantage of the high voter turnout — a pair of advisory questions were included on the November ballot to assist the council in the decision-making process.
Residents were asked if they were in favor of the town allowing a medical marijuana business and if they were in favor of the town allowing a recreational marijuana business? The first question had 1,183 yes votes to 642 no votes, and question No. 2 had a 974-827 advantage in yes to no votes.
Councilors also approved the Dexter Age Friendly Committee 2021 Action Plan.
When asked by Delaware what the plan would accomplish, Human Services Director Jean Jacobs said, "This document is designed so 10 years from now someone can see where we started, where we went and where we are looking to the future."
Jacobs said work began in 2017 and 265 survey responses helped develop the plan. She said the document is intended to be updated as time goes on.
A public hearing has been scheduled for the March meeting, at 7 p.m. on Thursday, March 11, concerning a potential $1.3 million bond for road/infrastructure improvements and equipment purchases.
King said with interest rates low, now may be an opportune time to pay off some existing debt and use the remainder for improvements and purchases. He said the 10-year bond would be for up to $1.3 million and after paying off the current bond, about $900,000 could be used.
"First we will get the money then we will divide it up for what we want," King said. He said some town roads are in need of work and municipal vehicles have issues "so we need to look ahead and get ahead."