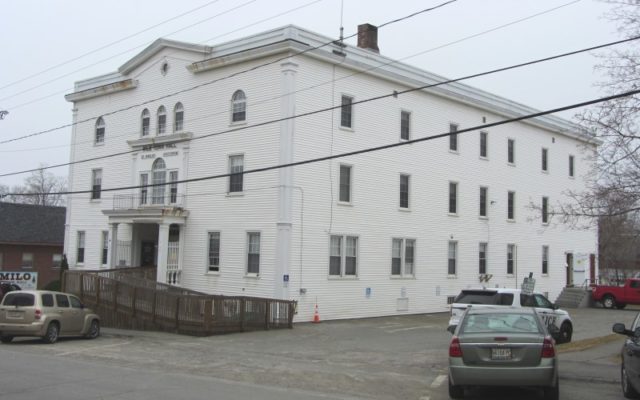 Milo Town Hall
Milo Town Hall
Milo hoping to get waiver on public safety building materials requirement
MILO — The town of Milo is currently in the early plannings stages of a new building to house the fire, police, and public works departments. The community can spend up to $6,375,000 in USDA funds for the public safety building, which will be located near the business park and across the road from the Milo Water District office less than a mile up Park Street from the 100-year-old town hall where the fire and police departments are currently located.
During a select board meeting on Aug. 1, Town Manager Robert Canney said he had thought that the public safety building was exempt from the Build American, Buy American Act passed in late 2021 but currently the project is not. Per the act, projects receiving federal funding must have 100 percent of services and materials sourced from the U.S.
Canney said this "will make the project exponentially more expensive, so there are some waivers that are available." He said one example is if sourcing materials causes the project to be 25 percent more expensive then a waiver likely would be granted.
"I'm trying to get a blanket waiver for us because we started this process way before that law was signed," the town manager said. He said he is working with the office of U.S. Sen. Susan Collins, R-Maine and the managing agency USDA on this. Canney said previous select meeting minutes and other documentation prove planning started well before the Build American, Buy American Act was approved.
He said he has a contact from Plymouth Engineering for engineering services.
"I've sent it to the USDA, they've looked it over, made some recommendations and sent it back," Canney said. "We've got those taken care of and it's with our attorney right now, just making sure there's nothing in there that they want us to make changes to before we sign it."
He said the contract would likely be signed later in the week or early the next.
In other business, Canney said he had applied for a grant through Congressionally Directed Spending for new town hall windows, heat pumps, and to get the kitchen refurbished.
"We did not get selected for that one so I'm still looking for some grants but I would like to move forward, if the board votes to move forward, to put some heat pumps in here," the town manager said.
He said had a $8,400 quote from Cold Stream Climate Control of Lowell for the town hall dining room, and Dave's World would be coming by the next day.
"This room gets used enough that I think it's time we do it," Canney said, saying the room is used as a warming center and through may be reimbursement monies available through Piscataquis County Emergency Management Agency.
The select board voted to pay for the heat pump costs with a split between the building capital account and remaining American Rescue Plan Act funds. The two sources have about $20,000 and $37,000 total respectively.
Town officials also heard from new Penquis Penquis Valley School Principal John Dow, who began two and half weeks prior .
Dow said he grew up in Pittsfield and has family ties even closer to Milo in Bowerbank. He most recently was at the North Haven Community School, where he spent some time as a teaching principal and previously served as an assistant principal in both Deer Isle-Stonington and Lee Academy. Dow also taught in England and the Philippines and at the University of Johannesburg.
The new principal said he is not one to sugarcoat things, saying, "We have our work ahead of us. We have a lot to do."
"Everybody knows this, and what we've been doing hasn't been working so I'm going to try a few new things," he said. "This year our mission is actually very basic. Jason Mills, who's my assistant, and I have basically three things we need to do this year to get ourselves set up to be successful. It's going to take some time.
"One, we need to get school management under control. Our processes, our expectations for kids, our delivery of education has to be timed up. That's just something that we have to do. That's going to require me to be in the halls, Jason and I are going to be in the halls. I am enormously loud which is good. Kids will always know where I am."
"The next thing we need to get turned around is – and I'm not saying it's not there — but when schools struggle we need to instill a sense of urgency around learning," Dow said. "Time is our most precious commodity to our kids and we don't start leveraging the fact that we haven't got a lot of time and we have a lot to do. So urgency needs to be there."
"The third thing is we're going to work with our staff and our team to just see what's working and when it's not, remove it and just go with what we need to do," he said.
Selectperson Stephanie Hurd, a parent of two children at the grade 5-12 complex who also works in SAD 41, said, "It's going to be a good change for Milo, I'm excited. I'm excited for our kids. I'm excited for our teachers and our school."