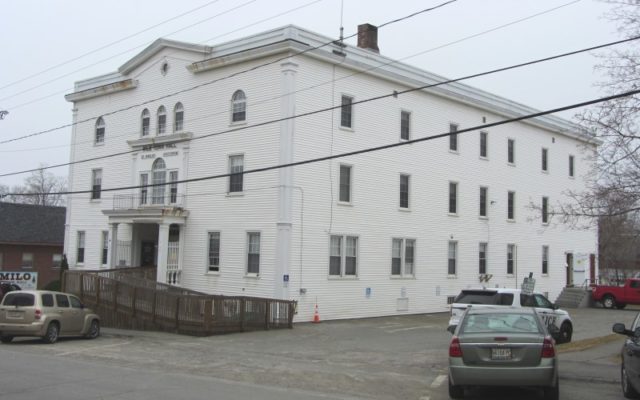 Milo Town Hall
Milo Town Hall
Milo residents sign off on public safety building
MILO — At the start of the year the town of Milo was awarded nearly $6.4 million to construct a new building to house the fire, police, and public works departments. Plans are for the structure to be located less than a mile up Park Street from the 100-year-old town hall where the fire and police departments are currently located. USDA is the managing agency for the project.
The planned multi-year project involves a number of steps, including a formal vote by residents to enable the select board to accept the near $6.4 million. Voters approved accepting the award during a July 5 special town meeting, via a 24-2 written ballot.
Town Manager Robert Canney said the result will be included in the grant paperwork.
"We have already identified where the location's going to be, we talked about that extensively," he said at the start of the public hearing. Canney said originally the town was going to need to cover 25 percent of the project costs, but this requirement was waived and now the community can spend up to $6,375,000 in USDA funds for the public safety building, which will be located near the business park and across the road from the Milo Water District office.
Canney said last month the select board hired Plymouth Engineering to design the structure. After seeing preliminary plans drafted by Plymouth Engineer, the select board opted to go with this firm rather than go out to bid, and more detailed blueprints are scheduled to be presented to department heads next week.
"There's plenty of space, we'll have room for growth on both sides of the building," Canney said, with the current square footage around 30,000. "It will give us room to park our equipment and do all what we need to do there."
When asked about fuel efficiency, the town manager said Plymouth Engineering has designed the new public safety building in Howland. Representatives of the Penobscot County town to the east told him they have had even better field efficiency than anticipated.
"We don't know exactly what it's going to cost to heat it but it's going to be very efficient," Canney said, between propane-fueled radiant heat floors and heat pumps in offices. He said in Howland ambulances will back into the bays in winter, and the snow and ice will melt off the bottom of the vehicle in about 15 minutes and the underlying floor will be dry within 45 minutes.