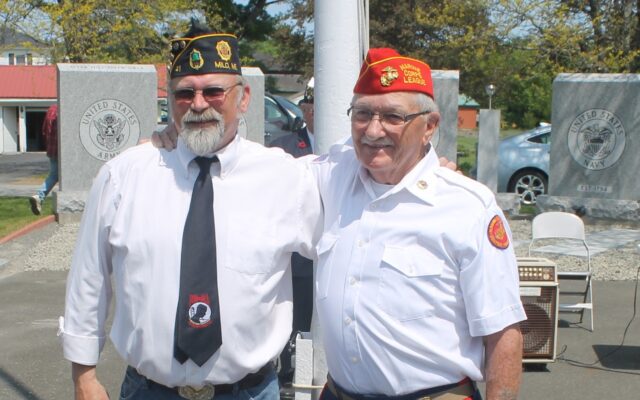 PO-knowles-22-23 – Copy
Observer photo/Stuart Hedstrom MISSION COMPLETE — A marble stone thanks Ronnie Knowles, right, for all the work he did to bring the Milo Veterans Memorial at Evergreen Cemetery to fruition and continues to do in overseeing the site. The stone was unveiled during the community's annual Memorial Day ceremony. Pictured with Knowles is his fellow American Legion Post 41 member, Milo Select Board Chairperson Donald Banker.
Addition to Milo Veterans Memorial honors man who made it possible
MILO — Those who served throughout the nation's history, in times of war and times of peace alike, are recognized at the Veterans Memorial at Evergreen Cemetery in Milo which includes monuments to past wars, the branches of the military, and stones engraved with names of local veterans. One man who worked to bring his vision for the site to fruition was recognized with the unveiling of a monument following the Milo Memorial Day parade on Monday morning.
A 2- by 4-foot black marble stone at the base of the memorial flagpole was revealed during a post-parade ceremony recognizing resident Ronnie Knowles for all the work he has done to develop the site and oversee it.
The plaque reads, "'The residents of Milo are eternally grateful to Ronald Knowles for the creation of the Veterans Memorial Park that you see before you. A Marine veteran himself, Mr. Knowles devoted countless hours of his time to bring to fruition this magnificent park which to memorialize the Milo residents who honorably served our country. Well done Marine, mission complete.'"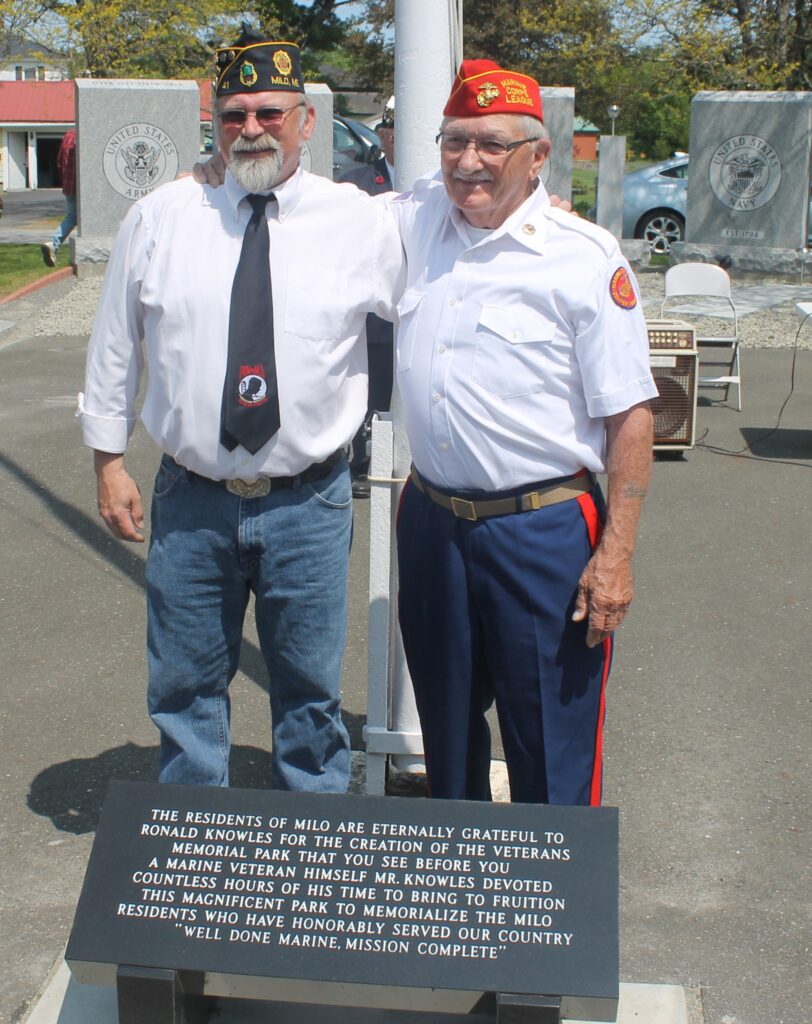 "Everything that you see here in this monument is due to Ronnie Knowles," American Legion Post 41 Commander Dan Nutter said in the opening remarks of the Memorial Day ceremony.
He said Knowles, a U.S. Marine Corps veteran of the Korean War, is a member of Post 41 and is also "just a tireless worker around this memorial, improving it. The pavers that he has down here are just great. This memorial is something this town should be proud of and also something to show what a small town can do because there are a lot of bigger towns that have memorials that don't look anywhere near like this."
Town Manager Robert Canney asked Knowles to come to the podium as Canney explained that he grew up in Milo but was gone for a number of years serving in the military as Knowles began his work to first fundraise for the Veterans Memorial. "This man here, as everyone in town knows, single handedly put all of this together," Canney said.
The town manager said he will have a gift for Knowles to show how much the community appreciates him.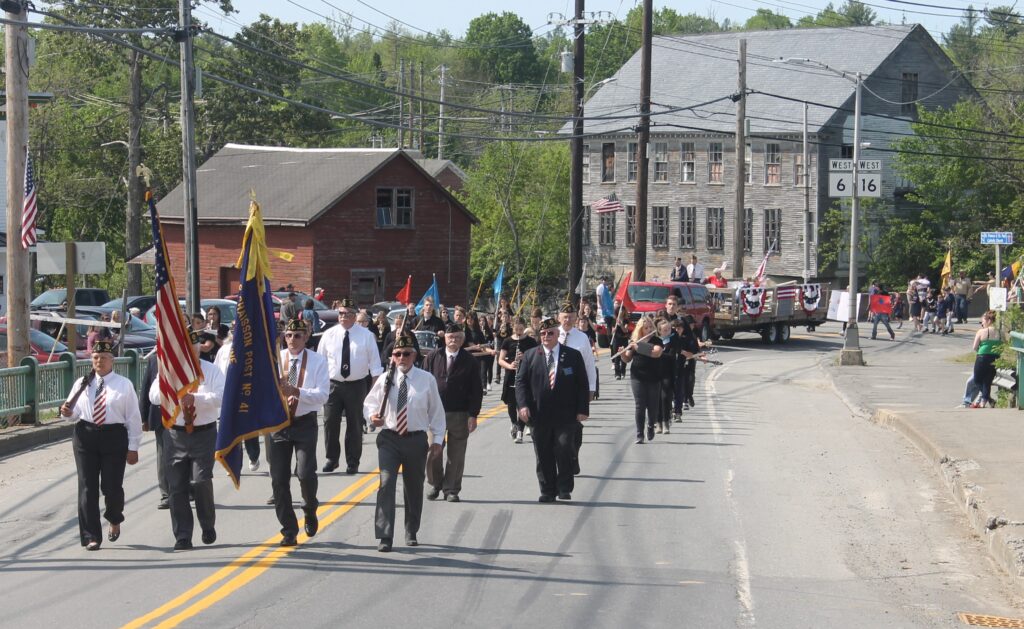 "We're going to be adding a little bit to our park here, there's going to be another wing here over where those bushes are as we dedicate and honor first responders from the fire department, EMS, and our police department," Canney said. He said those interested can speak with the department heads to learn more and/or assist with fundraising.
Canny said the Milo Fire Department already donated with some of the proceeds coming from this past February's 61st annual Schoodic Lake Ice Fishing Derby.
Former Milo Select Board member Tony Hamlin said the town is extremely fortunate to have a resident such as Knowles.
"When I think of the people whose names are etched on the ground in granite here, men and women both, they represent courage and dedication and fidelity and honor," Hamlin said. "Those characteristics are reflected in Ronnie and through his efforts day in and day out, baked bean suppers, jamborees, horse shoe tourneys, he cobbled together enough money to make this dream of his a reality that will sit here for generations. Your grandchildren will be able to acknowledge the fact that their mothers, fathers, grandfathers, and grandmothers who served the nation through that same fidelity and honor that Ronnie displayed in putting this together."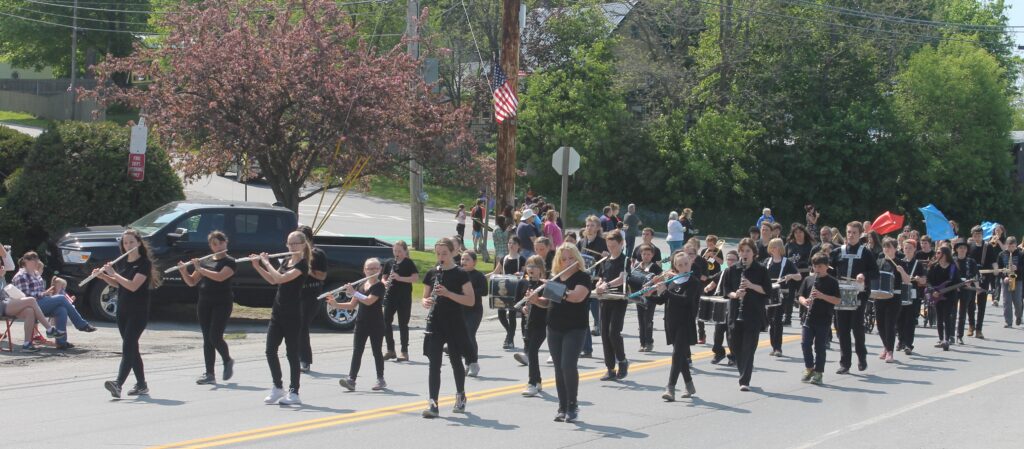 "When I walk by here every morning I see an 85-year-old man bent over with a trowel on his hands and knees going through every stone, resetting it, putting material in and around, raking leaves in the fall, mowing the grass<" Hamlin said. "It is literally a testimony to his greatness and his character that we have this facility together.
"In our society we think of greatest in large terms, he's a great athlete, she's a great singer, he's a great business person. But they're only great in that one aspect."
Hamlin said living in a small town, greatness has a smaller footprint than what he mentioned but "greatness is the small things that people do that Ronnie Knowles has done without asking for any adulation or credit, just simply going ahead and making his town and his state a better place to live."
"Greatness is self sacrifice, the self sacrifice that puts an 85-year-old man on his knees making sure that everything is being done the way it should be," Hamlin said. "It is our responsibility with this dedication to make sure that's indelibly printed on the memories of those coming after us."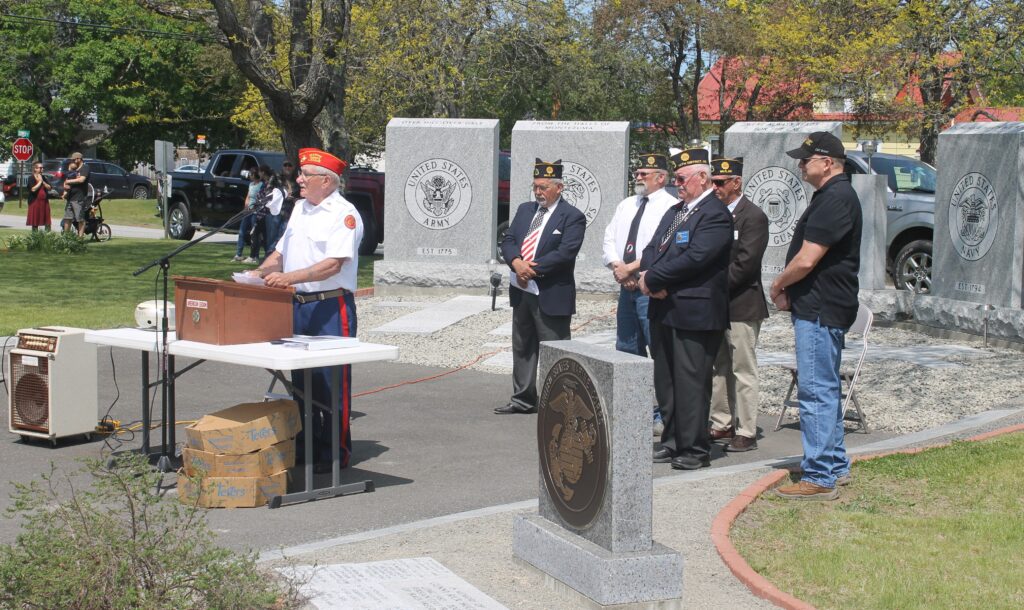 Knowles then thanked everyone involved in making the memorial possible.
Speaking on the day of remembrance he said, "Today we pay tribute to our brothers and sisters, they gave their lives to preserve our freedom and our rights. Freedom and rights that we cherish today that no other nation enjoys."
"Behind me is what I refer to as the field of honor, the names of American service members who were killed in action, missing in action, prisoners of war," Knowles said before naming those from town who made the ultimate sacrifice since the Korean War.
"I knew them all and I knew their families, all gave their life in defense of our freedom," he said.
"These men and women that wear the uniform, they must be acknowledged, we must not forget them." Knowles said. "This is our tribute to them. The walkways are lined with pavers of loved ones who served and they all came home. It matters not that they served in war time or peace time, they served. These men and women, they signed a blank check to the United States government and offered their lives if needed to protect our freedom if necessary. And that my friends is what this memorial is all about."
Knowles said recognition of all veterans, wherever and whenever they served, is a tradition that should never be breached. "Always remember your veterans," he said.