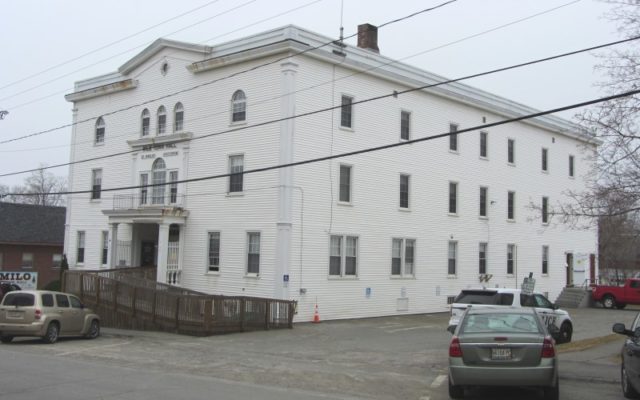 Milo Town Hall
Milo Town Hall
Milo residents approve $2.4M budget at delayed town meeting
MILO — At the March annual town meeting, many of the articles making up the warrant were not voted on by residents as an audit was awaiting completion. These budgetary items were instead voted on at a special town meeting held on May 2 and residents approved a 2023-24 municipal budget totaling $2,466,344 (an increase of nearly $79,000 from the current fiscal year).
Per the town report, Milo's financial obligations include the $2,466,344 in municipal appropriation, an early estimate of $1,137,919 for its share of the SAD 41 budget, nearly $208,500 for the TIF financing plan, just under $154,000 for the Piscataquis County tax and $25,300-plus in overlay.
After $1,212,285 in total allowable deductions, the estimated net amount of $2,478,089 to be raised in the tax commitment — about $35,000 more than in 2022-23.
Nearly all the financial articles passed as written. Residents did vote to adjust the amount to be used from the fund balance to reduce the tax commitment. Instead of the $100,000 listed on the warrant, $189,000 will be used from fund balance. Milo's fund balance totaled about $789,000 before the meeting.
Residents voted down an article to authorize up to $70,000 for the purchase of the property at 70 Main Street and the demolition of the storage building on site.
"This is the storage unit that's right next to where the Masonic building used to sit," Town Manager Robert Canney said. "Over the course of the last year and a half we had many discussions about demoing the lots, the two buildings, and repurposing the lots. A lot of residents said 'well, we need to buy the storage building, demo that, and then you have one big open lot right on Main Street to package and sell.'"
Canney said the 70 Main Street property owner said $70,000 is the minimum he would take. "I tried to negotiate that a little bit and he said it makes income that he depends on so that was the lowest amount he would go," the town manager said.
He said the former Masonic building site has gone out to bid, but no formal offers came in by the previous week's deadline. This will be discussed by the select board at a future meeting.
During the evening's regular select board meeting, Police Chief Nicholas Clukey said he and SAD 41 Superintendent Michael Wright have had discussions on creating a school resource officer for district schools.
Preliminary plans have SAD 41 putting $57,000 toward the position and Milo would cover the other $22,000, proportionally covering expenses when classes are in session and when students are off.
Clukey said a qualified officer would need to be hired as school resource officer and there are a lot of moving parts with coverage and details all to be determined – such as SAD 41 also having its grade 3-4 school in Brownville.
Canney said if the school district and town come to agreement, funding would need to be approved via special town meeting as it is not part of the municipal budget approved earlier in the evening.
"We're several meetings away," Clukey said, saying he would like to talk to the select board more in-depth about a potential school resource officer.
"I want to do this right," he said. "Sustainability for me is huge no matter what I'm doing, and it should be for whoever we hire."
Canney said he has been working for a monument at the Milo Veterans Memorial at Evergreen Cemetery to recognize resident Ronnie Knowles for all the work he has done to develop the site and later oversee it.
The town manager said he has a near $2,500 quote for a 2- by 4-foot black marble polished stone. "The idea would be to set it just in front of the flagpole as you're walking in, so that's the first thing that you see," Canney said.
He said the wording he has planned reads, "'The residents of Milo are eternally grateful to Ronald Knowles for the creation of the Veterans Memorial Park that you see before you. A Marine veteran himself, Mr. Knowles devoted countless hours of his time to bring to fruition this magnificent park which to memorialize the Milo residents who honorably served our country.' Then in quotes I put 'Well done Marine, mission complete.'"
Canney said funding would come from a special services account with about $17,000 in it presently. The stone for Knowles would be unveiled on Memorial Day, in conjunction with the annual parade and ceremonies in town.