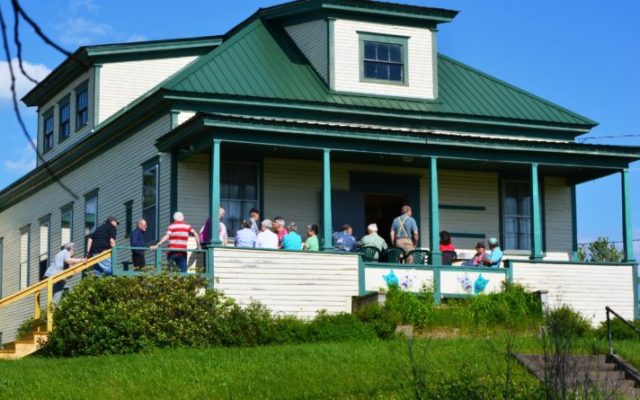 Grange-banner_1-720×445
Wayside Grange Theatre in Dexter
Wayside Grange & Theatre cooking up Memorial Weekend brunch & open mic
DEXTER — Wayside Grange & Theatre is excited to celebrate Memorial Weekend with you, your family. and friends, and new friends with their first brunch (hopefully) of the 2023 season on Sunday, May 28 from 11 a.m. to 1 p.m.
Grange members Corey & Jennifer will be baking up biscuits & sausage gravy, homefries, and other members will be preparing fresh fruit salad casseroles, juices, and lots more goodies. There will also be some "pretty good coffee" too being served in the old fashioned Grange kitchen.
In addition to filling your tummy with the all you can eat brunch for only $10, you can fill your body with live music during open mic. Grange Master Dave is setting up mic equipment for anyone young or old to strum their guitar, fiddle, ukulele, harmonia, etc and/or sing up a storm. Are your friends musical or family closet singers? Now's the time to share your talents.
The doors open for the bunch & Open mike at Wayside Grange in North Dexter at 11 a.m. and until 1 p.m., with plenty of free parking and is handicap accessible. The Wayside Grange & Theatre is at 851 North Dexter Road (Route 23).
In other Wayside Grange news, if you know of a band, theater group, debate club or social group that is looking for a venue to practice or perform to an audience of ninety or less, or just use the hall for music jams or sound checks please contact Grange Master Dave Pearson at 924-5035 and we can try to work something out for them.
The Grange volunteers have improved access by recently putting in a ground level handicap entrance and a chair lift and refurbished the grand old eight burner Grange stove. Also, if you would like to join Wayside Grange & Theatre and/or volunteer call Dave or Tim Breen at 207-355-5507 and please check out our Facebook page at www.facebook.com/waysidestage. Keep watching our Facebook page for family fun events.