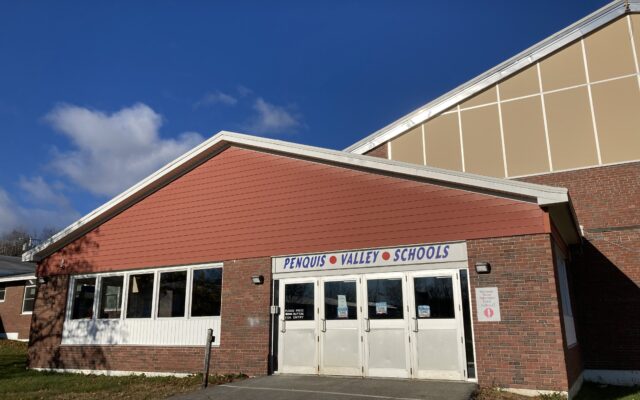 Penquis-Valley-High-School-Milo-111721
Observer photo/Valerie Royzman The Penquis Valley School in Milo.
SAD 41 superintendent will be retiring
LAGRANGE — After nearly 14 years on the job as SAD 41 superintendent, Michael Wright will be retiring at the end of the current academic year.
Several years after coming to the Milo-based school district in late summer of 2009, the position evolved into the AOS 43 superintendent job. This superintendent's duties consist of overseeing both SAD 41 and the neighboring SAD 31 of the Howland area. The school units have separate schools but share a central office. The AOS 43 superintendent position is currently being advertised on ServingSchools.com at https://www.servingschools.com/job/9yfnbq/superintendent/lagrange/me.
During a school board meeting May 3 at the Marion C. Cook School in LaGrange, Wright said the AOS 43 board — which is made up of directors from both SAD 41 and SAD 31 — would be meeting on Monday, May 8 to discuss the new hiring process for the new superintendent and what direction they would like to take.
In other business, Wright said a draft schedule for the budget process has been developed with the district still needing to finalize the dates with legal counsel.
Currently the AOS 43 annual district budget meeting would be at 6 p.m. on either Wednesday, May 24 or Wednesday, May 31.
SAD 41's annual district budget meeting would be Thursday, June 21, after the school board approves the spending plan at its next regular meeting on Wednesday, June 5. The budget validation referendum would be Thursday, June 29.
"We will get those out as soon as they are definite," Wright said.
The school board meeting on May 3 took place in LaGrange rather than the usual site at the Penquis Valley School complex due to the campus losing water earlier in the day. Principal Tina Dumond said students ended up being dismissed midmorning and water returned around 5 p.m.
"Staff did a great job," Dumond said. "We found out it would be off and then we found out it would be off longer than we thought."
The loss of water coincided with a boil water advisory issued that morning for customers of the Milo Water District as a precautionary measure after a water main broke on West Main Street near the Penquis Valley School.
On Friday, May 5 the boil water order was lifted after the system was tested and water district customers were given the go ahead to resume all uses of water consumption.
Dumond said bottled water was going to be provided at the school, before the order was lifted.